How Much It Costs To Own a Chick-fil-A Franchise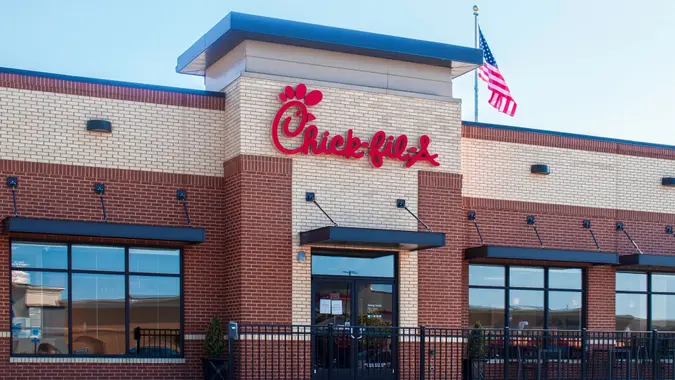 Susan Vineyard / Getty Images
If you're looking for a passive income stream or a side hustle you can manage while you pursue other endeavors, life as a Chick-fil-A franchisee is not for you. Some chains lower their standards for prospective franchisees in the pursuit of growth. Chick-fil-A is not among them.
Read: 6 Investments Everyone Should Make During an Economic Downturn
Find Out: How To Build a Financial Plan From Zero
To say the application process is competitive would be an understatement. In 2018, the Chicago Tribune reported that — with 40,000 annual applicants vying for roughly 100 spots per year — landing a Chick-fil-A franchise is harder than getting into Harvard. Two years later in 2020, FranchiseBusinessReview wrote, "Chick-fil-A may be the hardest franchise to buy into."
The good news is that for the highly motivated and highly qualified, it's also one of the cheapest and most potentially profitable.
First of All, It's Not Technically a Franchise Operation
In the franchise model, franchisees partner with well-established corporate brands to own and operate their own locations. In exchange for upfront and ongoing investments, the franchisee gains access to the franchisor's assets, business model, name recognition, advertising, equipment, relationships, products, services and corporate knowledge and support.
Make Your Money Work Better for You
Chick-fil-A is different. 
According to Entrepreneur, the company refers to its franchisees as "operators." Operators do not own their franchises, they do not hold equity and the corporation chooses their locations. Operators cannot sell their locations or pass them to heirs when they die, and the company leases them the real estate and equipment. At the end of their franchise agreement — which the company can terminate at any time — they don't own anything. [4]
If those restrictions aren't deal-breakers, you can get started with running a Chick-fil-A location for less than just about any other major brand.
No Large Chain Has a Lower Franchise Fee
Not only is Chick-fil-A a national brand with a fiercely loyal customer base, but its initial franchise fee is just $10,000. If you don't typically associate the word "just" with five-figure numbers, consider the competition.
According to FranchiseBusinessReview, it's $20,000-$30,000 for Checkers and Rally's and $40,000 for Wendy's. Business Insider says it's $45,000 for McDonald's and Taco Bell.
Make Your Money Work Better for You
Other Costs Add Up Quick 
Chick-fil-A makes up for its rock-bottom initial franchise fee with ongoing costs that are sometimes higher than many of its competitors. For example, McDonald's charges an ongoing monthly service fee of 4% of gross sales. Chick-fil-A, on the other hand, charges 15% of sales plus 50% of net profits.
According to Business Insider, fees for construction, real estate and equipment start adding up from the start, and they combine for a total initial investment of $582,360 to $2 million, which is closer to par for the industry, but still comparatively low.
Getting a McDonald's franchise up and running costs between $1.4 million and $2.5 million. Taco Bell's startup costs are more like $1.3 million to $3.4 million.
Not only does Chick-fil-A have lower startup costs, but it pulls in more revenue per location than any other chain. Last year, most locations averaged $8.1 million in sales, more than double McDonald's, which averaged $4 million.
Many Restrictions Apply
According to Business Insider, Chick-fil-A is one of the only major chains that don't require prospective franchisees to meet minimum thresholds for net worth and liquid assets — but the application process is among the most rigorous in the industry.
Make Your Money Work Better for You
Chick-fil-A produced a video about the three-stage "operator selection process," which can last 12 to 24 months, or even longer, in some cases:
First, interested prospects submit a simple application that covers basic questions.
Those selected then complete a series of tier-two applications that dive into their finances, education, work experience, leadership skills and community involvement. 
Those who make it through round two will begin the selection process, which examines personal traits and the ability to commit to the hard work and long hours the company says its operators have in store. 
According to Entrepreneur, about 0.003% of initial applicants make it through to final approval, and those who do must complete 160 hours of classroom training before they can launch.
Are You Even Chick-fil-A Material?
The chain is still governed by the values laid out by its late founder, the often-controversial S. Truett Cathy.
The rigorous operator selection process evaluates prospects' commitment to those values, which the company's mission statement summarizes: "To glorify God by being a faithful steward of all that is entrusted to us and to have a positive influence on all who come in contact with Chick-fil-A."
Make Your Money Work Better for You
According to Business Insider, the company prohibits franchisees from operating multiple locations so they can focus on their one as a full-time endeavor. Candidates must have long records of active community involvement, and the company often interviews friends, family members and those who give the required personal references
More From GOBankingRates
Make Your Money Work Better for You