Walmart's Success Story by the Numbers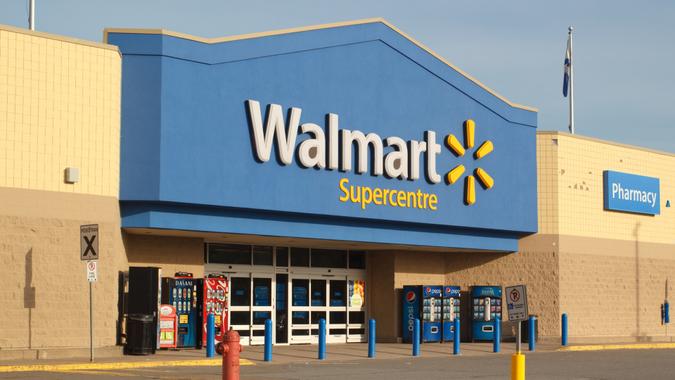 Kevin Brine / Getty Images
Walmart is the great American success story, rising from its beginnings in northwest Arkansas to the title of the world's largest retailer in a span of 60 years. It has grown from its first location to more than 10,500 across the globe, with annual revenues of $573 billion.
See: 10 Walmart Brands With the Best Bargains in May
Be Aware: 25 Extra Grocery Costs You're Probably Forgetting About
And while Walmart, like other retailers, continues to cope with challenges posed by supply-chain difficulties and rising fuel prices, its business model has allowed it to weather economic downturns in the past and remain profitable. In fact, it has returned increased dividends to shareholders for 49 straight years.
Just how did Walmart achieve such success — and stratospheric sales numbers? Read on to learn how.
Starting at the Beginning
Sam Walton operated nine Ben Franklin variety stores in 1960, but he sensed the future of retail wasn't in variety stores. Discount stores, instead, was the concept consumers would want, he knew.
So in 1962, he opened the doors of Wal-Mart Discount City in Rogers, Arkansas, with two more to follow two years later. Even the visionary Walton wouldn't have anticipated that 60 years later, Walmart would operate thousands of stores in more than two dozen countries. 
Make Your Money Work Better for You
"I had no vision of the scope of what I would start," he said in a comment shared by The Walmart Museum. "But I had confidence that as long as we did our work well and were good to our customers, there would be no limit to us."
POLL: Have You Skipped Any of These Essential Expenses Due to Rising Prices?
Innovating
In an ad promoting the opening of the third Wal-Mart Discount City in Springdale, Arkansas, Walton wrote a letter to the community, vowing a different kind of shopping experience. The store was owned by members of the northwestern Arkansas community, and Walton conveyed a downright neighborly feel. 
"Wal-Mart Discount City will carry only quality and name-brand merchandise from the country's finest manufacturers. Our policy will guarantee you complete satisfaction and the lowest discount prices on every item," he wrote.
"On all merchandise you buy at Wal-Mart, you are guaranteed unconditional, money-back satisfaction … and at Wal-Mart you'll find that every dollar in your budget will buy much, much more."
Make Your Money Work Better for You
Toward that, Walton introduced Action Alley, a huge aisle running across the store where customers could find the best values, the "Volume Producing Items" he bought at a bargain and sold at a discount, according to the museum. The VPIs included items such as toothpaste, detergent and antifreeze.
It was at this time that Walmart also perfected the department system in its stores, grouping like items together.
In the early years, Walmart's books were kept by ledger. In 1969, the growing chain installed an IBM computer system to track sales from each store, and computers also led to store associates being paid from a central payroll system instead of individually from each store.
Selling Stock
By 1970, there were 38 Walmart stores in five states, and they brought in more than $44 million a year in sales, according to the museum. Still, Sam Walton and his brother, Bud, who ran the company with him, knew their business model wasn't sustainable. To expand, they had to continuously borrow money from banks. In October of that year, the first 300,000 shares of stock were sold at $16.50, and within two years, the stock had quadrupled in value. Walmart began trading on the New York Stock Exchange on Aug. 25, 1972, listed as WMT.
Make Your Money Work Better for You
Anyone who had the foresight to buy Walmart stock in October 1970, and to hold on to it, would be very rich today. The Walmart Museum did the math: Because of growth and frequent stock splits, someone who invested $1,650 in 100 shares on Oct. 1, 1970, would have had 204,800 shares worth an estimated $17 million 40 years later.
Reaching Milestones
The continued influx of technology, investment and acquisitions allowed Walmart to quickly multiply its number of locations and annual sales.
By 1975, Walmart reached 125 stores with $340.3 million in annual sales, and in 1978, it added automotive, pharmacy and jewelry departments. In 1979, the corporation reached $1.2 billion in annual sales and had 276 stores that employed 21,000 associates.
"We hit a billion dollars in sales … I was amazed that Wal-Mart had turned into a billion-dollar company. But I couldn't see any logic to stopping there," Sam Walton said, according to museum documents.
Achieving No. 1 Status
And Walton didn't stop. By the time Walmart celebrated its 20th anniversary in 1982, the store had reached $3.4 billion in annual sales, according to the museum, and that sum seems paltry compared to the numbers that were to come. In 1985, Forbes named Sam Walton, who was 67 at the time, the richest man in America with his $2.8 billion in Walmart stock.
In 1990, Walmart assumed the title as the nation's largest general merchandise retailer in terms of annual sales with $32.6 billion, surpassing for the first time Kmart Corp. ($32.07 billion) and Sears, Roebuck and Co. ($31.99 billion). As of April 2022, only three Kmart stores remained in the United States, USA Today reported. And in December 2021, Forbes reported Sears had only 23 locations, but that number is believed to have dwindled since then.
Operating Today
Sam Walton stepped down as CEO at age 70 in 1988 and passed away four years later from cancer. In the 30 years since, Walmart — and its affiliates, including Sam's Club — have achieved numbers the founder probably couldn't have envisioned, as reported in the company's 2022 Financial Fact Book.
More than 10,500 stores and clubs
Fiscal year 2022 revenue of $573 billion, a 2.4% increase from FY2021
2.3 million associates worldwide
230 million customers per week
Locations in 24 countries
56% of sales from groceries, 32% from general merchandise, 11% from health and wellness
As of May 2022, Sam Walton's three surviving children — Rob, Jim and Alice — are ranked in the top 20 on Forbes' list of billionaires, each with a net worth of approximately $65 million. Four more Walton heirs were in the top 300.
More From GOBankingRates