No Compromise on Stimulus Plan for Biden and the GOP – See the Divide on Checks, Vaccines and More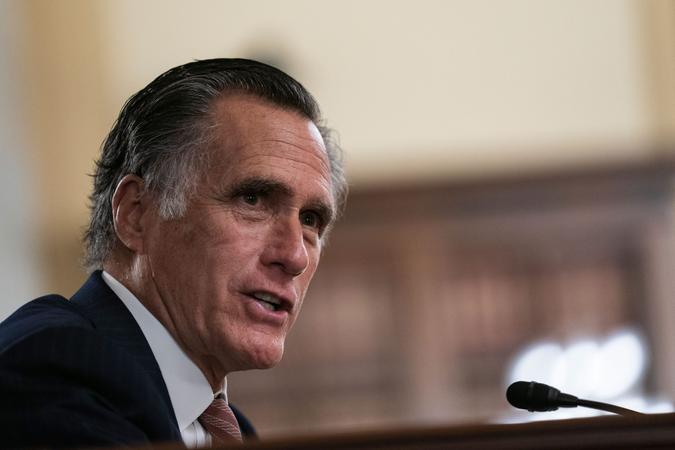 Shutterstock / Shutterstock
President Biden's $1.9 trillion American Rescue Plan is facing a much smaller $618 billion counterproposal by a group of 10 Republicans, and the plans widely vary in their details.
See: Republicans Try to Sell Biden on a $600 Billion Stimulus Plan
Find: Republicans Meet with Biden to Try to Lower Stimulus Checks to $1,000
The group of 10, which is led by Sen. Susan Collins (R-Maine) and includes Sen. Lisa Murkowski (R-Alaska), Sen. Mitt Romney (R-Utah), Sen. Bill Cassidy (R-La.), Sen. Rob Portman (R-Ohio), Sen. Shelley Moore Capito (R-W.Va.), Sen. Todd Young (R-Ind.), Sen. Jerry Moran (R-Kan.), Sen. Michael Rounds (R-S.D.) and Sen. Thom Tillis (R-N.C.), met with the president earlier this week to discuss their plan.
While one of the most contentious items in the plan is lowering the direct payment check amount to $1,000 compared to the $1,400 proposed in Biden's stimulus plan, other parts also substantially differ.
See:  Biden Prioritizes Schools, Childcare, Small Business with $2.04 Trillion COVID Strategy Plan
Find: Biden Unfreezes Billions in Federal Spending, Reversing Trump's Final Days' Actions

Stimulus Checks
Under Biden's plan:
Biden's plan calls for a direct payment of $1,400 per person to supplement the $600 Congress approved as part of the second stimulus. The $600 sum was decried by many, as it represented exactly half of the $1,200-per-person payment the first, CARES Act stimulus provided last spring.
Make Your Money Work for You
Under the GOP plan:
The GOP proposes a direct payment of $1,000 per person. For singles, the payment begins phasing out at $40,000 per year in income, with a $50,000 cap, according to the details of their plan. For joint filers, it begins phasing out at $80,000 per year with a $100,000 cap. In addition, the plan calls for $500 for dependent adults and children, and no checks to convicted inmates. The total amount of direct payment checks would be $220 billion.
See: GOP's Proposed Stimulus Plan Would Cover 29 Million Fewer Americans than Biden's
Find: Never Got Your Stimulus Check? Claim It on Your Taxes
Small Businesses
Under Biden's plan:
The plan would provide $15 billion in grants to more than 1 million of the hardest hit small businesses.
The plan would also leverage $35 billion in government funds into $175 billion in additional small business lending and investment. "With a $35 billion investment in successful state, local, tribal, and nonprofit small business financing programs, Congress can generate as much as $175 billion in low-interest loans and venture capital to help entrepreneurs — including those in the clean energy sector — innovate, create and maintain jobs, build wealth, and provide the essential goods and services that communities depend on."
Make Your Money Work for You
In addition, the plan says it would "make sure that restaurants, bars, and other businesses that have suffered disproportionately have sufficient support to bridge to the recovery, including through the Community Credit Corporation at the U.S. Department of Agriculture."
Under the GOP plan:
The plan offers $50 billion to help small businesses. This would include $40 billion for the Paycheck Protection Program (including $5 million for audits and investigations) and $10 billion for the Economic Injury Disaster Loan (EIDL) Program.
See: Paycheck Protection Program Loan Apps Open Tomorrow: Here's How to Claim Your Funds
See: Biden to Sign "Made in America" Executive Order
Unemployment Insurance
Under Biden's plan:
The plan calls for a $400-per-week unemployment insurance and an extension of these emergency unemployment insurance programs through September 2021.
Under the GOP's plan:
This plan would have a lower, $300-per-week unemployment insurance benefit, and it would only extend it through June 30 for all states. The plan estimates this cost at $130 billion.
See: Private Sector Bounces Back in January With 174,000 New Jobs
Find: Economy, Labor Market to Improve 'Rapidly' in 2021, According to Congressional Budget Office
Make Your Money Work for You
COVID Vaccination and Response
Under Biden's plan:
The plan asks Congress to provide the $160 billion in funding necessary to mount a national vaccination program, expand testing, mobilize a public health jobs program and "take other necessary steps to build capacity to fight the virus." In addition, the plan calls on Congress to ensure schools have everything they need to safely reopen. Altogether, this would put over $400 billion toward these measures for addressing COVID-19.
Under the GOP plan:
The plan asks for $160 billion in total COVID response aid. This is broken down as follows: $20 billion for a vaccination program in partnership with the states, tribes and territories; $50 billion toward expansion of testing; $30 billion for a disaster relief fund; $5 billion in Defense Production Act spending; $5 billion in PPE for first responders, doctors and dentists' offices; $15 billion to rebuild and restock the strategic national pile; and $35 billion for the Provider Relief Fund, including 20% set aside for rural hospitals.
See: Biden Administration Orders 200 Million Additional Vaccines
Find: When Can You Get The COVID Vaccine? Here's What We Know So Far
Childcare
Under Biden's plan:
The plan offers to create a $25 billion emergency stabilization fund for childcare providers, including family childcare homes, in order to cover their costs and safety. It would also request an additional $15 billion in funding for the Child Care and Development Block Grant program.
The plan would also increase tax credits to help cover the cost of childcare. Families would get back as a tax credit as much as half of their spending on childcare for children under age 13, a total of up to $4,000 for one child or $8,000 for two or more children. The tax credit would be refundable, meaning that families who don't owe a lot in taxes would still benefit. The full 50% reimbursement would be available to families making less than $125,000 a year. Families making between $125,000 and $400,000 would receive a partial credit so they would receive benefits at least as generous as those they can receive today, according to the plan.
Under the GOP plan:
The Republicans offer $20 billion for the Child Care and Development Block Grant.
See: How Coronavirus Revealed America Is Failing Children — and Parents
Find: Second Stimulus Majorly Changes How Child Support Payments Work
Items Only Included in the Biden Plan
Measures exclusive to Biden's plan include forestalling a coming wave of COVID-related evictions and foreclosures by extending the eviction and foreclosure moratoriums and continuing applications for forbearance on federally guaranteed mortgages until Sept. 30.
The plan would also help renters and small landlords by providing an additional $30 billion in rental and critical energy and water assistance. In addition, it proposes $5 billion to assist renters with home energy and water costs and arrears through programs like the Low Income Home Energy Assistance Program and would deliver $5 billion in emergency assistance to help secure housing for people experiencing or at risk of homelessness.
More From GOBankingRates: