Fed Chair Powell Says Rates Won't Rise — Yet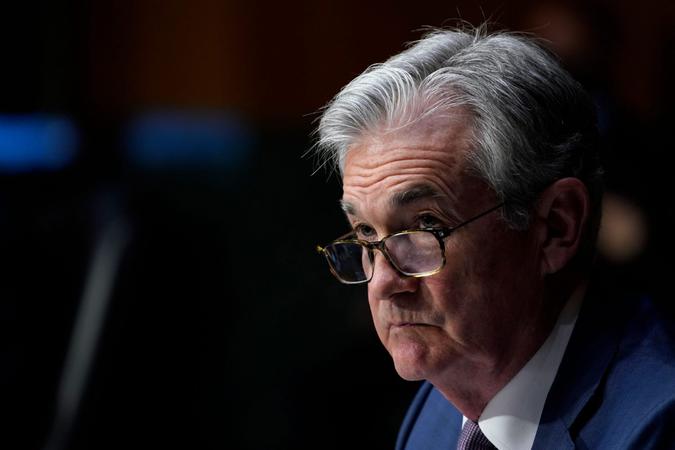 Susan Walsh/AP/Shutterstock / Susan Walsh/AP/Shutterstock
Federal Reserve Chairman Jerome Powell spoke at The Wall Street Journal Jobs Summit today and reiterated that the economy will continue to depend on the course of the virus, and that the decision for the Fed to raise rates will be "outcome based, not date based."
See: Biden Administration Kicks Off with 62% Approval for His Handling of the Economy
Find: Economy Explained — Understanding Interest Rates, How They Affect You and the US Market
Powell said that with rising vaccinations and an acceleration of the vaccine distribution, there is good reason to have a more positive outlook. However, he said that in order to raise interest rates above zero, strict conditions have to be fulfilled. These include inflation above 2% and getting back to "maximum employment," which will "take some time," he said.
He added that it'll depend on how strongly the labor market and hiring pick up once we pass the pandemic, and that the Fed wants to see wages moving up and broad-based gains in employment. "There's a lot of ground to cover. We have a high standard and it will take some time to get there," he said.
Make Your Money Work for You
Powell declined to comment on a specific level of rates, reiterating that a broad range of financial expectations need to be met. "I expect we will be patient," he said, adding that it is "hugely unlikely" it'll happen this year even if unemployment lowers to 4%. "It would be nice, but it will take more than that," he said. "We hope it happens as vaccinations increase. It'll take some time to get there."
See: A Look at US Unemployment One Year Into COVID-19
Find: COVID-19 Has Totally Undone Decades of Progress for Women Workers
Powell also addressed the economic lessons learned since the pandemic, as yesterday represented the anniversary of the two emergency measures the Fed took. 
He said the Fed implemented something it learned during the crisis of 2008: "the need to move quickly and powerfully, not wait." The passing of the CARES Act early on, combined with rates being cut twice, achieved these goals, Powell noted.
Make Your Money Work for You
When there's a real crisis, he said, the first lesson is to "attack quickly and don't hold back," and second, "don't stop until the job is done." During the last crisis, fiscal policy pulled back and became tight, which led to a slow recovery, he added. "We're committed to using our tools until the job is really done," he said.
See: Bank of America — The US Will Bounce Back Faster Than It Did in the 2008 Financial Crisis
Find: Economy Explained: What Does the Fed Do, Anyway?
Finally, Powell said that while the pandemic took a disastrous toll on lives, with more than 500,000 deaths in the U.S., and that the country is still "in a lot of pain," compared to the expectations and the scenarios contemplated a year ago, "we're in a good place."
He added that the country could get back to normal and avoid longer term damage. "We haven't done it yet but we are right there," he said, adding that the next couple of months are very important in terms of the progress that will be made, as it will define the economy.
Make Your Money Work for You
See: Stimulus Payments Drive 10% Increase in Personal Income in January
Find: 5 Experts' Predictions on When We Will Bounce Back From COVID-19
Asked about the $1.9 trillion American Rescue Plan set to pass this weekend, Powell declined to comment, citing the Fed's "independence from political interference." You have to "stick to your job," he said. 
Powell ended the conversation saying that there is "good reason for optimism," and that even in hard times, one should try to take counsel from your hopes as much as your fears. "We should never sell ourselves short — It's good to be optimistic," he said.
More from GOBankingRates
Make Your Money Work for You