Inflation Jumps as Oil and Rent Prices Surge — Here's What Experts Say You Should Expect This Winter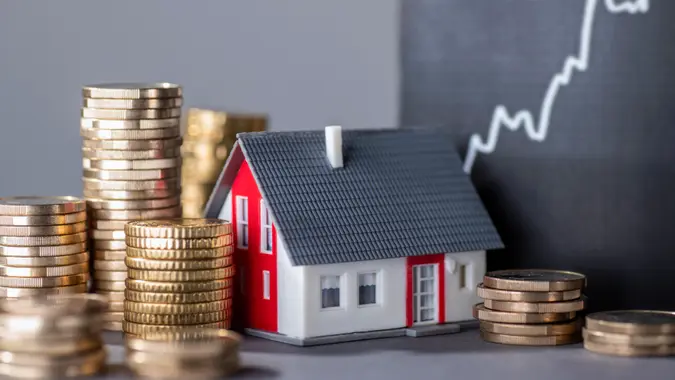 gopixa / Getty Images/iStockphoto
Contrary to most expectations, consumer inflation, bolstered by the rise in gas and shelter prices, rose again in September. It was up 0.4% for the month, and 3.7% in the past year-matching August's figure, according to the Bureau of Labor Statistics' (BLS) Consumer Price Index (CPI), released Wednesday, Oct. 12.
The index for shelter was again the largest contributor to the monthly all items increase, accounting for more than half of the rise in inflation, the BLS said. In addition, a hike in the gasoline index was also a major contributor to the all items monthly rise.
This latest set of data is higher than anticipated, as economists surveyed by The Wall Street Journal estimated consumer prices to increase 0.3% in September and 3.6% from a year earlier.
Core CPI — which excludes food and energy prices — remained steady at 0.3% in September, as it did in August. It however declined slightly to 4.1% over the past year, from 4.3% in August.
"Prices rose 3.7 percent on a year-over-year basis from September 2022 to September 2023," said Peter C. Earle, economist at the American Institute for Economic Research. "That's why even though we see reports that the Fed rate hikes are bringing the general price level down, regular Americans aren't feeling it. The question now is whether there's another 25 basis point rate hike before the end of the year."
Make Your Money Work for You
Whether this latest set of data will be sufficient to warrant a pause in rate hikes or reinforce the case for further tightening, as inflation is still a bit off from the Fed's 2% target, remains to be seen. To also put this in context, a year ago, the index was 8.2%.
According to Ben Vaske, investment strategist at Orion Advisor Solutions, markets should react positively to today's CPI print as this gives the Fed more reason to hold rates steady at their Nov. 1 meeting, despite the surprising strength coming out of the labor market last week.
"Though, while moderating CPI levels year-over-year is a positive sign for consumers and investors, price growth remained especially high in key areas like shelter and transportation," added Vaske.
How Does the Shelter Index Impact You?
The shelter index represented a whopping 70% of the Core CPI increase, increasing 0.6% in September, after rising 0.3% in August. This brings it up to 7.2% over the last year.
Specifically, rents rose 0.5% in September, a 7.2% increase over the past year.
According to Selma Hepp, chief economist of CoreLogic, today's numbers will indicate to the Fed that inflation is not yet under control.
"Furthermore, as home affordability remains depressed due to high-interest rates, the cost of renting continues to rise," said Hepp. "Unfortunately, these trends are likely to continue through the remainder of the year, especially if the Fed raises rates one more time."
Several experts echoed the sentiment, saying that while the figure is slightly down from August's 7.2% increase, it is still "more than double the 3.5% increases that were typical in the 2010s."
Make Your Money Work for You
Danielle Hale, chief economist at Realtor.com, said that she expects further slowing of shelter inflation in the months ahead, but for now, costs remain high. 
"Households looking to move to a new rental who haven't moved recently are likely to be in for some sticker shock," said Hale.
She added that even though rents dipped 0.6% from a year ago in August, they're up nearly 24% from four years ago.
"But even though rents are more expensive than they were, they're still a lower-cost option than buying a starter home in all but three of the 50 largest metro areas as rising home prices and mortgage rates raise the stakes for home buyers," added Hale.
In the meantime, she added that consumers who need to move and stick to a budget should explore a variety of options and consider different locations and types of rental homes to find one that fits.
"Even though rents are high, we're at the time of the year when prices tend to ease, seasonally, so consumers looking to move this winter may find some relief," she added.
How Will the Energy Index Impact Your Winter Heating Costs & Gas Prices?
The energy index rose 1.5% in September, yet it decreased 0.5% over the past 12 months. As for the gasoline index, it was up 2.1% in September, a 3% increase over the last year.
Other energy components of the index were mixed. The index for electricity jumped to a 1.3% increase in September, after increasing 0.2% in August. Meanwhile, the natural gas index decreased 1.9% over the month, following a 0.1% increase in August.
Make Your Money Work for You
"Against the backdrop of higher oil prices and an above-trend growth economy, we believe the Federal Reserve will need to keep financial conditions relatively tight through the better part of 2024 to achieve their inflation target," said Ivan Gruhl, CFA, co-Chief Investment Officer, Avantax. 
Will Food Prices Ever Go Down?
There was finally some relief in terms of food prices in September. Overall, they increased 0.2% in September, as they did in the previous two months, up 3.7% in the past year.
Food at home — your grocery bill — increased 0.1% over the month, after rising 0.2 percent in August, bringing prices up 2.4% over the past year, down from 4.3% last month.
Items that saw prices increase include meats, poultry, fish and eggs. On the other hand, the prices for cereals and bakery products decreased in September.
The food away from home — eating out — index rose 0.4% in September, up 6% over the last year.
The BLS said that other indexes with notable increases over the last year include motor vehicle insurance (+18.9%), recreation (+3.9%), personal care (+6.1%), and new vehicles (+2.5%).
What Does It All Mean for Consumers?
Ted Rossman, senior industry analyst at CreditCards.com, said that while the report is "not great," all things considered, investors will take it in stride.
From a consumer perspective, the Fed's "higher for longer" mantra is what's most important, he added, saying that while this report will probably encourage the Fed to stand pat rather than raise rates at its early November meeting, "the damage has already been done from a borrower's perspective."
Make Your Money Work for You
"Credit card rates are at their highest point ever, mortgage rates are at their highest level since 2000 and auto loan rates haven't been this high since 2008," said Rossman. "None of these are likely to fall significantly anytime soon."
In turn, high prices are leading to depressed consumer sentiment and are outweighing a strong job market.
"[Not only] psychologically but also in terms of many Americans dipping into their savings and/or taking on credit card debt, " he added.
Mission "Not Accomplished"
While this report is evidence of continued progress toward the Fed's 2% goal, it is not quite enough to declare the mission accomplished, so the Fed will keep its options open for another 25 bp rate hike and a 'higher for longer' policy, according to Jeff Rosenkranz manager at Shelton Capital Management.
In addition, Rosenkranz noted that today's CPI release will also be used to set the cost-of-living adjustment for 2024 at 3.2%, down from 8.7% in 2023 and 5.9% in 2022. 
"This deceleration will be another drag on the consumer already facing a myriad of other headwinds — higher prices, the resumption of student loan repayments, dwindling savings that had accumulated during the pandemic from stimulus and lack of spending to name a few," he added.
More From GOBankingRates
Make Your Money Work for You