Minimum Wage in Ohio: What You Need To Know in 2022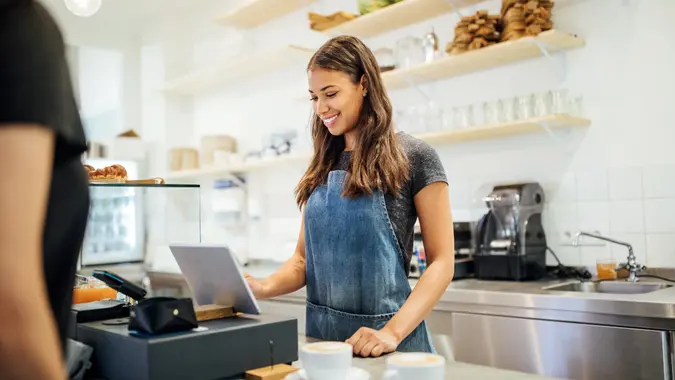 alvarez / Getty Images
Minimum wage is one of the most important topics across the country today, with employees in every state pushing the debate for higher wages. Inflation has now driven the federal minimum wage to its lowest real value since 1956, CNBC reported. But how are workers in Ohio specifically faring?
What Is Ohio's New Minimum Wage for 2022?
Ohio's hourly minimum wage is now $9.30 following an increase on Jan. 1, 2022. Ohio increased wages from the previous $8.80 hourly minimum to adjust for inflation.
Why Did Ohio Increase Its Minimum Wage?
Ohio's 2022 minimum wage increase wasn't triggered by a specific decision by voters or the government. Instead, it is the result of a 2006 law that automatically ties minimum wage to inflation. This isn't the first example of the law triggering an increase in minimum wages, with a previous 2019 adjustment raising the hourly minimum wage by 15 cents.
Make Your Money Work for You
Are There Exceptions to Ohio's Minimum Wage?
Yes, there are some exceptions to Ohio's minimum wage. One of the most notable exceptions is for tipped workers, such as servers at restaurants and bars. These employees are only guaranteed a minimum of $4.65 per hour by the newly increased minimum wage, up from $4.40 in 2021.
That isn't the only exception. Ohio minimum wage laws only apply to businesses with annual gross receipts of $342,000 per year or more, according to the Ohio Department of Commerce, providing potential loopholes for some organizations.
Businesses that don't surpass the $342,000 yearly threshold only have to pay employees a minimum wage of $7.25 per hour. This same $7.25 hourly minimum applies to paying 14- and 15-year-old employees as well. These values are tied to the federal minimum wage, which now sits at $7.25 per hour.
Will Ohio Have a $15 Minimum Wage?
Ohio's current minimum wage is below the $15 hourly minimum wage that many workers across the country have been calling for as a new standard. An increase to a $15 minimum wage could benefit as many as 1.6 million Ohio workers, according to a 2021 estimate from Policy Matters Ohio, along with the potential impact on the overall economy.
Make Your Money Work for You
There are efforts underway to implement a $15 per hour minimum wage in Ohio. State Reps. Brigid Kelly and Dontavius Jarrells co-sponsored House Bill 69, which would raise the minimum wage in Ohio to $15 per hour by 2027. The bill is expected to have a hearing by the end of 2022, but that doesn't necessarily mean that its fate will be decided at that time.
What States Have a $15 Minimum Wage?
While Ohio hasn't yet committed to a $15 minimum wage, many states are seeing significant progress. Although not a state, Washington, D.C., now has a minimum wage of $16.10, the highest in the country.
California has two minimum wages for two different categories of employers. While employers with 25 or fewer employees must pay a minimum wage of $14 per hour, larger employers must pay a minimum wage of $15 per hour.
Other states have adopted gradual increase plans or made commitments to reach $15 per hour. Connecticut and Massachusetts are set to reach $15 per hour in 2023. New Jersey will implement a $15 minimum wage in 2024. Delaware, Illinois, Maryland and Rhode Island have committed to doing so by 2025, and Florida and Virginia in 2026.
Make Your Money Work for You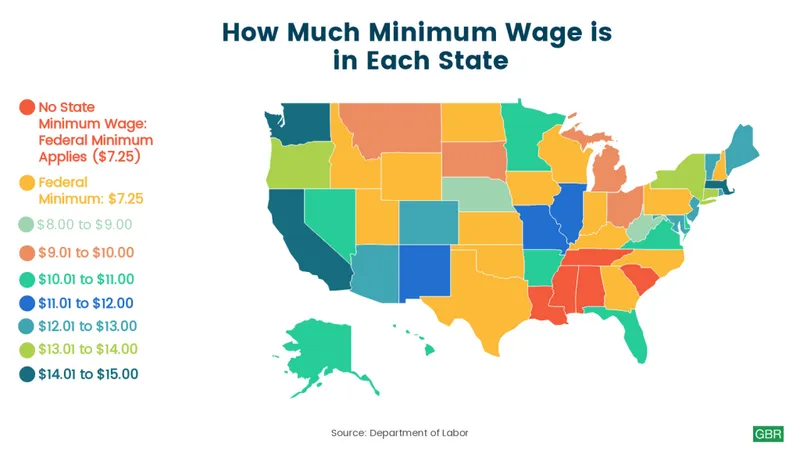 How Is Minimum Wage Enforced in Ohio?
Labor laws provide employees with a variety of protections, including the minimum wage, but that doesn't mean that employers always abide by them. However, through various types of illegal employment arrangements or wage theft, as many as about 213,000 workers in Ohio are victimized by minimum wage violations each year, according to Policy Matters Ohio.
New legislation proposed by Sen. Sherrod Brown could change how the minimum wage is enforced in Ohio. The Wage Theft Prevention and Wage Recovery Act would increase deterrence and penalties for minimum wage violations and provide workers with enhanced means for recovering wages.
What To Do About Minimum Wage Violations Today
Anyone in Ohio who wishes to file a minimum wage or unpaid wages complaint can do so by contacting the Ohio Department of Commerce. The Ohio Department of Commerce has a standard form that can be used to address issues, including minimum wage violations, unpaid overtime, unauthorized deductions and final paychecks being withheld.
The minimum wage is an important part of Ohio's labor laws, and reporting violations can help maintain the system and ensure fair dealing for everyone.
Information is accurate as of Sept. 7, 2022.
Our in-house research team and on-site financial experts work together to create content that's accurate, impartial, and up to date. We fact-check every single statistic, quote and fact using trusted primary resources to make sure the information we provide is correct. You can learn more about GOBankingRates' processes and standards in our editorial policy.
Make Your Money Work for You