How To Make Money on YouTube in 2023: 6 Achievable Ways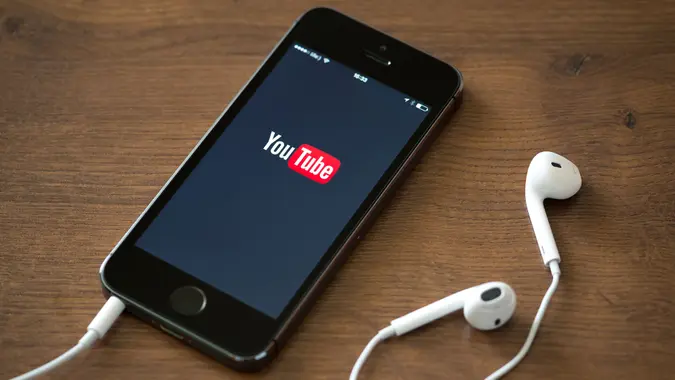 pressureUA / Getty Images
Being an online personality or content creator just might be the next move you should make on your career path. But is it possible to make a living as one? It's time to check the comments section and smash that subscribe button because if you are going to get those video views, you are going to need to know how to make money on YouTube.
How To Get Paid on YouTube
Making money with your video content can take studying and testing the waters. Focus on providing something more unique, different or interesting for the viewer than the average YouTube video. Perhaps you have particular knowledge about a certain subject, along with a compelling way of presenting that knowledge. Maybe you can teach people how to do something at home, like cook or fix things, or maybe, just pull a prank or two. 
There are a few basic things you can do to start answering these questions and try to monetize your YouTube videos. With a little hard work, these tips might become the secret to reaching your goal to get rich.  
Monetize your content.
Set up your channel for success.
Turn on display ads.
Grow your audience.
Incorporate product or affiliate marketing.
Create sponsored content.
1. Monetize Your Content
Perhaps the most useful thing you can do is understand your purpose for creating and publishing content on YouTube. If you don't make up your mind to earn money on the platform, you won't be intentional about sticking with strategies and tactics that will help you earn money from YouTube. You can learn how to monetize YouTube content, but it could take a considerable amount of effort. 
Make Your Money Work Better for You
Creating a plan that could be profitable is the key to success. Some good questions to ask yourself to organize your vision are:
What would you like to speak about or create videos on?
What will your niche be?
Who do you think your audience is?
How often will you post new content? Hint: consistency is key, even if it's only once per week.
Besides creating videos, how much time can you set aside each week to promote your content, respond to user comments and grow your audience?
Once you've fine-tuned your vision and put it on paper, it's time to post consistently and work on engaging and building an audience — you'll need subscribers if you plan on making money on YouTube.
How Do You Start Making Money on YouTube?

To make money on YouTube, you need to join the YouTube Partner Program. To do this, you need to:
2. Sell Merchandise
Once you have subscribers, you can set up an online shop to sell your merchandise — anything from t-shirts to accessories to mugs to calendars. You can create your own designs or hire a graphic designer to do it for you — sites like Fiverr and Upwork are a good way to find freelancers — then find a company that can produce them for you.
Make Your Money Work Better for You
Many YouTubers use print on demand services, like Redbubble and Printify, to handle the production and shipping. You could also partner with a merchandising company specifically for content creators, like DFTBA.
Your merch can be anything from your channel logo or name to designs based on inside jokes and references that your subscribers will understand.
3. Turn on Display Ads
You can earn money on YouTube by permitting ads to appear before, during and after your videos. To turn on ads for one of your videos:
Sign in to YouTube.
Go to YouTube Studio.
Select Content from the left menu.
Select a video.
Select Monetization in the left menu. 
Choose the type of ad.
Click Save.
Your content will be evaluated to make sure it's appropriate for the kinds of ads you have selected.  
4. Grow Your Audience
The more subscribers you have, the more money you can make. YouTube's Creator Academy provides some useful tips on growing your audience, channel memberships or YouTube premium subscribers if you're just starting your channel. Here are some simple tips that you can use to be found, seen and followed on YouTube:
Craft content and wording that allows the search algorithm to rank your video appropriately for keywords and phrases.
Write smart descriptions so other users can find your content related to the searches they are performing.
Publish content regularly — preferably on a schedule — so users will come back to your channel regularly.
Create compelling thumbnails to draw people to your videos.
Add calls to action on end cards so your viewers will take action related to your content.
Make Your Money Work Better for You
5. Incorporate Product or Affiliate Marketing
Ad revenue isn't the only source of income you can get from video marketing. You can also make money online simply by selling other's people's products on your YouTube channel or other social media platforms through an affiliate program.
This is known as affiliate marketing, and here's how it works: You put a link to someone else's product in the description area below your video. Every time someone clicks on that link, you get paid by the owner of the link. 
Many affiliate marketing programs will help you get set up for this. Amazon Associates may be the most popular, simply because you can find nearly anything on Amazon, and everyone uses it. But there are others as well, such as Google AdSense, and you can find videos on how to use these programs on YouTube itself. 
6. Create Sponsored Content
Imagine that your views are climbing and you're getting more subscribers. At this point, you might be prime time enough to start considering sponsored content. If you've got a sizable audience with very specific demographics, your voice could be used to promote certain products and services via your videos or live streams.
Brands will actually pay you to create sponsored videos that promote something they want you to sell to your viewers or find a way to naturally weave it into the content you're already creating. For example, if you provide instruction videos on how to play guitar, you might consider getting sponsored by a company that makes speaker amps.
Make Your Money Work Better for You
Learn, test and repeat what works for your YouTube channel. Learning how to make money online, especially as an online personality, is not an easy feat. But with a lot of determination and hard work, it's certainly not impossible.
How Much Can You Make on YouTube?
Most YouTubers don't make much. Influencer Marketing Hub reports that each view earns creators about $0.018 on average from Google AdSense. At that rate alone, you'd need over 5,500 views to make just $100, and viewers have to watch at least 30 seconds of the ad — or half of it for shorter ads — for the view to count.
However, once you have increased your subscriber count and begun using some of the strategies listed here, like selling merchandise and creating sponsored content, the income your YouTube channel generates no longer depends entirely on ad revenue. The most successful YouTubers earn millions, but it's possible to land somewhere in the middle and still earn a living on YouTube.
Whatever you decide to showcase on your YouTube channel, make sure it's unique to your audience so you stand out in the crowd.
How Much Does YouTube Pay for 1 Million Views?
Though YouTube doesn't technically pay per 1 million views, you can monetize your platform. You do this by accruing at least 1,000 viewers and 4,000 watch hours. Once you reach this point, you can earn about $2,000 per million views, on average.
How Much Does YouTube Pay for 1,000 views?
YouTubers are making an average of $7.56 per 1,000 views, according to YouTuber Greg Preece. The amount varies by topic, according to Preece, ranging from $13.85 per 1,000 views for videos on "Making Money Online" to just $1 per 1,000 views for videos on "Parenting."
Make Your Money Work Better for You
Who Is the Highest-Paid YouTuber?
According to Statista, the highest-paid YouTube star is Mr. Beast, aka Jimmy Donaldson, who has 104 million subscribers and earned $54 million last year. Having started at 13, he is known for money giveaways and conducting large challenges and experiments.
Final Take To GO
There are plenty of opportunities to make money on YouTube. The key to success is building a large audience or subscriber base that keeps coming back for your unique content. Once you're on a roll, you can expand your earnings through ads, affiliate marketing, sponsorships and even direct product sales. If you're committed, the sky's the limit.
Making Money on YouTube FAQ
How do beginners make money on YouTube?

To get started making money on YouTube, here are some tips for beginners to follow:

1. Monetize your content.
2. Sell merchandise.
3. Turn on display ads.
4. Grow your audience.
5. Incorporate product or affiliate marketing.
6. Create sponsored content.

How many views do you need on YouTube to make money? 

To join the YouTube Partner Program, you'll need at least 1,000 subscribers and over 4,000 public watch hours. However, depending on how you set up your YouTube channel, you can start making money selling products to just a few subscribers.

How many views do you need to make $1,000 on YouTube?

If you only take into account revenue from Google AdSense, you'd need over 55,500 views to make $1,000 at the average rate of $0.018 per view.
However, you can also earn money through making sponsored videos, affiliate marketing and selling your branded merchandise.

How many subscribers do you need to get paid on YouTube? 

To join the YouTube Partner Program and start making money, you'll need at least 1,000 subscribers.
Aja McClanahan and Cynthia Bowman contributed to the reporting for this article.
Editorial Note: This content is not provided by any entity covered in this article. Any opinions, analyses, reviews, ratings or recommendations expressed in this article are those of the author alone and have not been reviewed, approved or otherwise endorsed by any entity named in this article.
Our in-house research team and on-site financial experts work together to create content that's accurate, impartial, and up to date. We fact-check every single statistic, quote and fact using trusted primary resources to make sure the information we provide is correct. You can learn more about GOBankingRates' processes and standards in our editorial policy.