Can You Use a Credit Card on Cash App?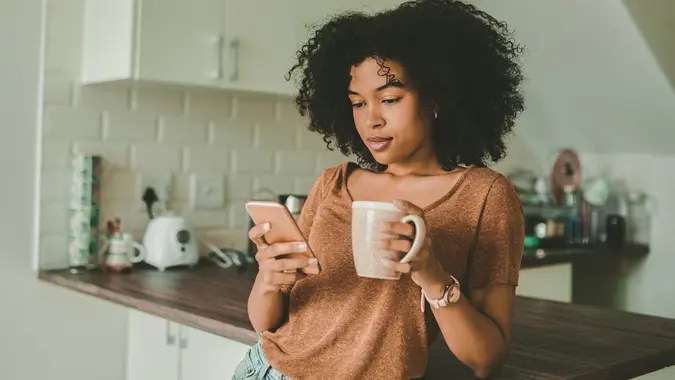 Moyo Studio / Getty Images
Cash App is a prominent mobile banking application that is available in the United States and the United Kingdom. It is a financial services platform that is owned by Block. Cash App provides features like money transfer, payments, direct deposits and even investing.
It is very easy to set up and use Cash App. To transfer money from the Cash App to your bank account, you would need to connect a card to your Cash App profile. However, you can still receive money if you do not have a card connected to your account.
Can You Link a Credit Card to Cash App?
Yes, Cash App allows its users to link a debit or credit card from Visa, MasterCard, American Express and Discover. Cash App also supports most prepaid cards, but users are not allowed to deposit money into them.
Currently, Cash App does not support ATM Cards, PayPal and business debit cards.
How Can You Add a Credit Card to Cash App?
To connect your credit card to your Cash App profile, you need to follow these steps:
Search for "My Cash" and tap on that tab.
Under the "Cash and Bitcoin" tab, tap on the "+Add Bank" option.
A new pop-up screen will appear where you will be asked to fill out the details of your bank account.
After entering the bank details, Cash App will ask you to enter the information related to your credit or debit card.
It is important to note that you might face problems in linking your credit card if you have entered incorrect details. Cash App will not let you add your credit card to your profile if the credentials are not matching with your card information.
Make Your Money Work Better for You
To link your credit card with your Cash App Profile successfully, you need to provide the following details correctly:
Credit card number
Name of the cardholder
The expiry date of the card
Once you have entered all these details, you have to input your PIN or touch ID to complete the process and add your card to your Cash App profile.
Can You Send Money through Cash App from a Credit Card?
Since Cash App supports the use of credit cards, you can use these cards to make payments to your contacts. However, Cash App charges a 3% fee every time you pay through credit cards. That is why it might be better to use a debit card for making payments.
Before you use a credit card, you should make yourself aware of the different types of fees charged by Cash App.
Is Using a Credit Card on the Cash App Considered a Cash Advance?
A cash advance can be regarded as a loan that a user can take against the available credit limit on a credit card. Although credit card cash advances are most common, they can also come in the form of payday loans or merchant cash advances.
Often, when you use a credit card to transfer money from apps like Cash App, your credit card provider might consider the same as a cash advance. Usually, the interest rate on a cash advance is very high and it starts accruing right from the time the advance is made. That is why you must check with your service provider before you send money through your credit card on the Cash App.
Make Your Money Work Better for You
You can consult the website of the respective service provider or contact the customer service representatives to know more about cash advance rules. Alternatively, you can check by transferring a small amount and look for it to be considered as a cash advance on your statement.
Your credit card statement might disclose that the cash transfer via Cash App is a cash advance. In such a case, it is better to avoid using a credit card on the Cash App for transferring money.
Why Can't You Link Your Credit Card on the Cash App?
You might often find that you are unable to link your credit card to your Cash App profile. Here are some of the reasons why this can happen.
You have entered incorrect card details including card number, expiry date or CVV.
The card that you are trying to link is not supported by Cash App.
There is an existing network issue in the Cash App server.
The Cash App version that you are using is outdated.
Even after checking for these reasons if you are still facing issues, you can contact the Cash App customer support representatives.
Why Was Your Credit Card Payment on the Cash App Declined?
Cash App periodically declines credit card payments due to the following reasons:
The credit card through which you made the payment is not in your name.
The recipient is not verified or is not reputable.
The recipient's contact details are incorrect.
You have not used Cash App in a long time.
If your payment has not gone through, Cash App returns the amount to your credit card or Cash App balance immediately or within 1-3 business days depending on your service provider.
Make Your Money Work Better for You
Final Take
Cash App is very useful, and you can enhance its utility by linking your credit card to it. Make sure you understand the rules for using Cash App to make sure you can avoid unnecessary fees or any other issues.
Editorial Note: This content is not provided by any entity covered in this article. Any opinions, analyses, reviews, ratings or recommendations expressed in this article are those of the author alone and have not been reviewed, approved or otherwise endorsed by any entity named in this article.