Cash App's Cash Card: What Is It and How Do You Get One?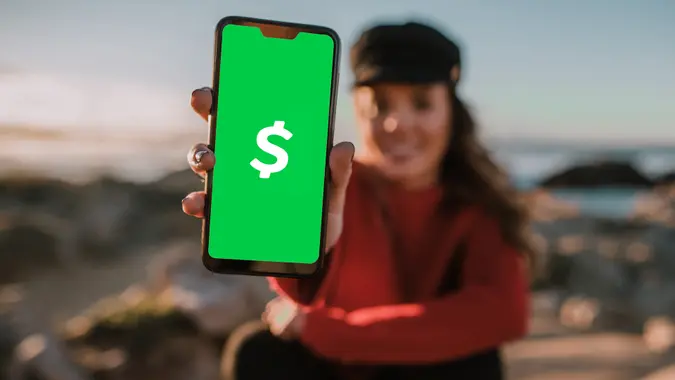 MarioGuti / Getty Images/iStockphoto
Cash App is a peer-to-peer money transfer tool. Users can send and receive money directly through the app or spend it in stores using the Cash App Cash Card1. Read on to find out what the Cash Card has to offer, how this debit card works and what you should know before getting one.
More: What To Do If You Owe Back Taxes to the IRS
How Does the Cash Card Work?
The Cash Card functions like any other Visa debit card or prepaid debit card. ‌This debit card is issued by Sutton Bank. When a user adds money to their Cash App balance, the balance is added to the Cash Card. To do this, make sure the account has a bank account linked and then follow these steps:
Tap the balance icon.
Tap "Add Cash."
Enter an amount and tap "Add."
Verification is done through Face ID, Touch ID or a PIN.
Cash Card: Key Features
One great thing about Cash App is that it brings online banking2 to a whole new level of convenience versus your more traditional banks. No need to search for free ATMs or withdrawing cash from a brick-and-mortar; this mobile app can help you with bank transfers, debit card transactions and can even come with cash-back rewards. Here are some key features to consider:
ATM fee reimbursements: If you get $300 or more deposited to your Cash App balance every month, Cash App will reimburse ATM transaction fees for withdrawals when they charge a fee.
Cash back in-store: When you use your Cash App as a debit card, you can get cashback up to your withdrawal limit.
Savings opportunities: You can use this feature at restaurants, coffee shops and retailers that offer items from certain spending categories. Essentially, you can open a separate Savings Balance right in the mobile app for free with no minimum balance requirements. You can transfer money between your Cash Balance and Savings Balance as many times as you want without the risk of monthly or overdraft fees.
Visa debit card: As the Cash Card is a Visa, it can be used anywhere Visa is accepted, both online and in stores. 
Cash Card rewards: Using this card comes with a variety of rewards and perks, like instant discounts called Offers. 
Customization and personalization: There are a variety of Cash Cards to choose from and they can be customized and personalized in a variety of colors and styles. 
Direct deposit: You can set up direct deposit to get your paycheck deposited directly into Cash App, up to two days early. Plus, there are added benefits when you direct deposit at least $300 each month.
Paper money deposit: This allows you to deposit actual cash at convenient locations. 
Google Pay and Apple Pay compatibility: You can add your Cash App card to both as a payment source.
FDIC-insured3: Cash Card is a Visa debit card issued by Sutton Bank and your Cash balance, which means it is protected up to $250,0000. 
Rounds Ups: This automatically rounds up your purchases to the nearest dollar, putting the spare change into Savings, bitcoin or stock.
Make Your Money Work Better for You
How To Set Up Cash App
Download Cash App via Google Play or the App Store.
Enter an email address or phone number.
Enter the code that Cash App sends to that email address or phone number.
Enter debit card information to link a bank account.
Enter your full name.
Choose the $Cashtag that will serve as your username.
Enter your ZIP code.
Any user with an activated account can get a Cash App card, as long as the user is 18 years old or older.
Requesting a Cash Card
Cash App account holders can request a card through the app by following these steps:
Tap the Cash Card icon.
Tap "Get Free Cash Card."
Choose a color for the card.
Choose whether to show the account's $Cashtag on the card.
Sign the card by tapping "Tap To Customize."
Enter your address and first and last name.
Review the details and terms and click "Continue" to order the card.
According to Cash App, cards arrive within 10 business days.
Activating a Cash Card
When a Cash App card arrives in the mail, it includes a QR code. To activate the card:
Tap the Cash App icon.
Tap the image of the card.
Tap "Activate Cash Card."
Tap "OK" to let Cash App use the phone's camera.
Scan the provided QR code.
You can also activate the card by entering the CVV code and expiration date printed on the Cash App card.
Cash Card vs. Competitors 
There are many options with not only peer payment platforms but also the accompanying cards that come with them. Here are a few comparisons to factor in when considering the Cash Card. 
Make Your Money Work Better for You
Cash Card vs. Venmo Card
Cash App and Venmo operate in many similar ways, but when it comes to choosing the right card for you, it can boil down to some of the finer details. Your balance in Venmo isn't FDIC-insured. And while Venmo doesn't charge to transfer money between family and friends, there is a 3% fee if you use a credit card.
Cash Card vs. PayPal Card
PayPal, one of the leading names in the peer payment game also has its version of the PayPal cash card with its debit card option. PayPal charges $2.50 per ATM withdrawal, similar to Cash App, which charges $2.50 for out-of-network withdrawals. You might see a difference if you want instant money transfers. Instant Deposits from Cash App only have a 0.5% to 1.75% fee, with a minimum of $0.25. PayPal, on the other hand, is a flat 1.75% fee, up to $25.
Final Take To GO: Is the Cash Card Right For You?
With the Cash Card, you can transfer money directly from a linked bank account. You can also use Cash App when you need a way for friends or family to easily send you money so it can be an ideal setup for your day-to-day transactions. Keep in mind, however, once money leaves your Cash App account it can become difficult to recover; but that is one of the few drawbacks compared to all the other conveniences it offers.
FAQ
Here are
answers to some questions
you might have about the Cash App Cash Card.
How does Cash App Cash Card work?

The Cash Card functions like any other Visa debit card or prepaid debit card. When a user adds money to their Cash App balance, the balance is added to the Cash Card for purchases.

How do I borrow $200 from Cash App?

When getting a loan through Cash App Borrow, you can secure a short-term loan of up to $200 by following these steps:

Open Cash App.
Tap on the home screen icon, if necessary, to navigate to the "Banking" header.
Check for the word "Borrow."
If you see "Borrow," you can take out a Cash App loan.
Tap on "Borrow."
Tap "Unlock."
Cash App will tell you how much you'll be able to borrow. Select an amount.
Select your repayment plan.
Read the user agreement.
Accept your Cash App Borrow loan.
Make Your Money Work Better for You
Ellie Diamond contributed to the reporting for this article.
1Prepaid debit cards issued by Sutton Bank.
2Cash App is a financial platform, not a bank. Banking services provided by Cash App's bank partner(s).
3Balance is FDIC-insured through Wells Fargo Bank, N.A., Member FDIC for up to $250,000 per person.
Editorial Note: This content is not provided by any entity covered in this article. Any opinions, analyses, reviews, ratings or recommendations expressed in this article are those of the author alone and have not been reviewed, approved or otherwise endorsed by any entity named in this article.