What To Do If Your Social Security Number Is on the Dark Web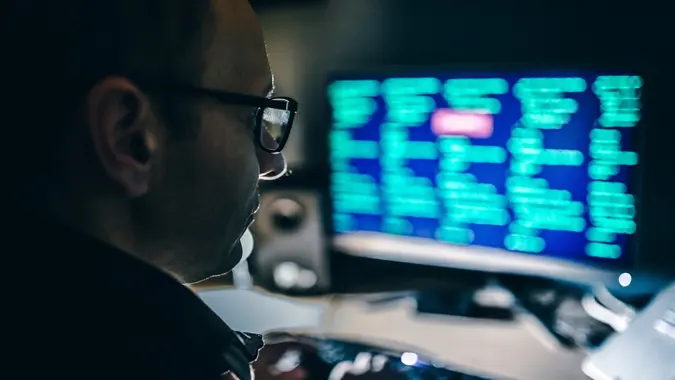 sestovic / iStock.com
Cyber fraud has become an unfortunate reality of day-to-day American society. Criminals nowadays can simply steal your digital information and sell it to the highest bidder on the dark web, which is a hidden portion of the internet not accessible to search engines and only visible using an anonymizing browser known as Tor. If information like your Social Security number somehow ends up on the dark web, there are many nefarious purposes criminals can use it for, so you'll have to take steps to protect yourself. Here are just a few of the ways you can help protect your identity and your finances if your Social Security number is on the dark web.
See: 10 Reasons You Should Claim Social Security Early
Check Out: 20 Best Places To Live on Only a Social Security Check
Place a Freeze on Your Credit Report
If your Social Security number is on the dark web, this means that unscrupulous people can use it to open new credit cards and other financial accounts in your name. One way to prevent this from happening is to put a freeze on your credit report. This blocks new accounts from being opened with your Social Security number, which is a great way to help prevent fraud. The downside is that this can be very inconvenient if you actually want to open up a legitimate account in your name, as you'll have to rigorously verify your identity.
Monitor Your Credit Cards Religiously
Once you know that your Social Security number is available on a public forum like the dark web, it may only be a matter of time before someone tries to use that information against you. In addition to blocking new accounts from being opened in your name, a good strategy is to closely monitor the cards you already have so that no one begins racking up charges on your legitimate accounts. Although your Social Security number itself doesn't provide access to your account numbers, thieves and scammers can use that number, along with other publicly available information about your identity like your name and address, to con credit card companies into believing that they are you. From there, it's a simple step to get an additional card sent to an address of their choice so they can run up charges in your name.
POLL: Do You Think Student Loan Debt Should Be Forgiven?
Set Up Alerts on All of Your Credit Accounts
There's no doubt it can get tiring monitoring all of your credit card accounts closely every day, particularly if you have a large number of them. The easy way to monitor them is to set up alerts on each and every account. These alerts can range from notifications of large or irregular purchases to emails and text messages for every single transaction. But since criminals can rack up transactions and max out your cards in the blink of an eye, being overly cautious when it comes to setting up account alerts is actually a prudent course of action. 
Get Your Free Credit Reports Regularly
Every American is entitled to view their credit reports from each of the three main agencies annually. This means that you can view one of your credit reports for free every four months. Viewing your reports as often as possible will let you check and see if any new accounts have been opened in your name. 
Some credit card companies, banks and other financial institutions also offer free credit monitoring services that will alert you automatically as soon as there are any changes on your credit report, including the opening of new accounts. Having access to one of these services can be an even better solution, as you'll receive immediate notifications rather than having to wait four months or longer. 
Keep an Eye on Your 'my Social Security' Account
The best way to keep tabs on your anticipated Social Security benefits is to make a "my Social Security" account at the Social Security Administration's website. This account is also a good way to monitor if someone with your Social Security number has filed for benefits in your name. Without checking, you may never know if some thief is living on a beach somewhere collecting your Social Security checks. 
Report Any Fraudulent Activity 
Sometimes, in spite of your best efforts, criminals will slip through the cracks and manage to open new accounts in your name and/or run up unauthorized charges on your credit cards. In this case, you should contact the card issuer as soon as possible. You'll also want to notify the credit reporting agencies and the IRS as quickly as you can as well. With your Social Security number, criminals can not only make charges in your name but take over your whole identity, even filing a tax return in your name to gain access to your refund. This is one reason why you'll need to contact the IRS as soon as you can.
More From GOBankingRates