72% of Remote Workers Admit To Napping on the Job, Survey Finds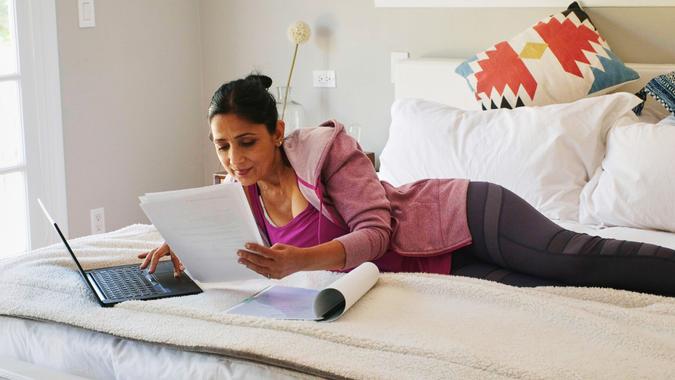 RichLegg / Getty Images
Americans have mixed feelings about returning to the office, and among those who don't want to return, some have some questionable reasons for wanting to continue working remotely. While the most common reasons for wanting to continue working from home are caring for children and lack of a commute, there are some other situational factors unique to remote work that some employees don't want to give up.
Dream Job Alert: These 10 Companies Let You Work From Home AND Have Unlimited Vacation Time
Check Out: Highest-Paying Work-From-Home Jobs
Here's a look at some of the probably-not-HR-approved reasons some workers want to keep working from home.
72% Want To Be Able To Nap or Exercise During the Day
A survey of 1,000 work-from-home employees conducted by Digital.com found that nearly three-quarters want to be able to take a nap or squeeze in a workout during the workday. However, several of the workers clarified that they would do this during their lunch break and not during "on" hours.
Make Your Money Work Better for You
"During lunch, I can go for a walk, take a nap or even just lay down for a while," one work-from-home employee said. "If I were to go back to the office, I'd be giving up this little luxury of mine and I've come to realize that it's something I'm not willing to part with."
Read More: The Best and Worst Things About Working From Home
73% Want To Watch TV While Working
Another large percentage of employees want to be able to watch TV, listen to podcasts or listen to music during the workday. Depending on the type of work these employees are doing, these activities may diminish productivity (if they're done outside of a work break).
Tips: 15 Ways To Work Better From Home
62% Don't Want To Have To Worry About Their Appearance
Thanks to the Zoom filter, you never really have to put in much effort to look presentable to your co-workers — and no one ever sees what you're wearing from the waist down, so you can dress in sweatpants every day. These perks are something over half of work-from-home workers don't want to have to give up.
Make Your Money Work Better for You
"The real reason I want to work from home is because I get ownership of my day," said one worker. "I don't have to dress up for work, worry about my appearance, or smile and make small talk when I feel like trash."
Find Out: 5 Unexpected Work-From-Home Jobs You Can Do Right Now
75% Want To Stay Home With Their Pets
Returning to the office means less time with your pet, which can result in separation anxiety (for both of you), not to mention the extra costs. This may be especially true for pets who were adopted amid the pandemic and don't know what life is like without their owners at home all day. Given these factors, it's no surprise that the majority of workers want to stay home with their pets rather than return to the office.
More: Companies That Let You Work From Anywhere
31% of Remote Workers Work From Bed
A separate study of remote workers conducted by Craftjack.com found that while 32% said they work from a proper office, nearly as many — 31% — work from their bedroom. Additionally, 65% said they have worked from their beds at some point during the pandemic, and the bedroom is actually the most popular place for workers to make video calls, with 29% saying they make these calls from bed.
Make Your Money Work Better for You
More From GOBankingRates
Make Your Money Work Better for You