Here's How Much Flight Attendants Make Per Year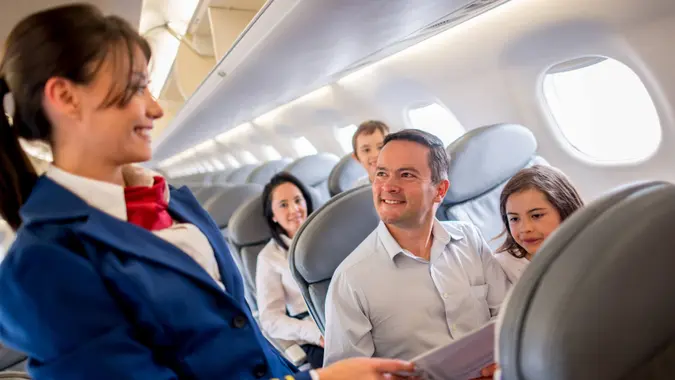 andresr / Getty Images/iStockphoto
From red-eye flights to meeting people from all around the globe, the life of a flight attendant can be one of excitement and new discoveries. But how much do flight attendants make per year, and is this money worth the drawbacks of working in the first-class cabin? 
How Much Do Flight Attendants Make Per Year?
According to the United States Department of Labor, the median annual salary of a flight attendant is $61,640. The Department of Labor anticipates that job growth for flight attendants is expected to increase at a rate of about 21% by May of 2031.
While the average flight attendant can expect to earn around $60,000 annually, most flight attendants are paid hourly based on the amount of time in the air. This means that the amount of money a flight attendant might earn may vary widely depending on the routes the attendant flies. 
Which Airlines Pay Flight Attendants the Most?
According to data averaged together by the team at Everyday Aviation, Alaskan Air Lines has the highest-paid flight attendants in the U.S., with the top flight attendants earning upwards of $110,000 each year. Some other high-paying airlines include United Airlines, American Airlines and JetBlue.
The salary of a flight attendant varies depending on factors such as the airline they work for, their level of experience and the region they operate in. Generally, airlines that are based in the U.S. tend to pay higher salaries to their flight attendants compared to other regions. 
What Factors Affect a Flight Attendants' Pay?
The salary of a flight attendant can be affected by several factors, including:
Airline: Different airlines have different pay scales for their flight attendants, which can vary significantly.
Experience: Those with more years of experience may receive higher salaries or be eligible for promotions to higher positions. Senior attendants who have been working in the field can demand higher rates and receive favorable opportunities when it comes to bidding for their schedule.
Geographic location: Location can impact salary. For example, flight attendants based in major cities with higher costs of living may receive higher salaries compared to those based in smaller towns or less expensive areas.
Type of aircraft: Flight attendants who work on larger aircraft or long-haul flights may receive higher salaries than those who work on smaller planes or shorter routes.
Union membership: Some flight attendants are represented by labor unions, which can negotiate higher salaries and better benefits on behalf of their members. 
Multilingual fluency: Flight attendants who speak multiple languages may also be paid more than those who only speak one language, especially if they work on international flights. 
Make Your Money Work Better for You
How Can I Become a Flight Attendant?
To become a flight attendant, you typically need to have a high school diploma or equivalent, be at least 18 years old and have a valid passport. Some airlines also require fluency in a second language and a minimum height requirement.
You may need to complete a training program that covers safety procedures, emergency response, customer service and other topics related to air travel. The training program may be provided by the airline or by an independent training organization.
You can search for flight attendant job openings on airline websites or job search platforms and submit your application. Competition can be high for flight attendant jobs, so having customer service experience, good communication skills and a friendly demeanor can be advantageous.
Final Take
While being a flight attendant comes with plenty of perks, including free travel, it's important to note that it's not always clear skies — the job has a number of disadvantages as well. Flight attendants may need to spend entire days on-call, preparing for the possibility of international travel at a moment's notice. This can make the role especially difficult for parents of young children or those living with physical disabilities. Flight attendants may also need to work holidays, especially in the first years of their careers. Be sure to consider more than just earning potential before starting the path toward your new career. 
FAQ
Here are the answers to some of the most frequently asked questions regarding flight attendants.
Do flight attendants make good money?

The median annual salary of a flight attendant is $61,640, which is enough for you to live comfortably in many areas.

Do flight attendants work 40 hours a week?

Flight attendants do not necessarily work 40 works a week. Their schedule can change monthly and sometimes they can work up to 85 flight hours each month.

Can you make a living as a flight attendant?

Yes, you can make a decent living as a flight attendant. The median salary is $61,640 per year and there are many opportunities to make more than that based on your experience level, the airline you work for and even your geographic location.
Make Your Money Work Better for You
How Much Do They Make Guides
Cameron Cole and Brandy Woodfolk contributed to the reporting for this article.
Information is accurate as of March 23, 2023. 
Our in-house research team and on-site financial experts work together to create content that's accurate, impartial, and up to date. We fact-check every single statistic, quote and fact using trusted primary resources to make sure the information we provide is correct. You can learn more about GOBankingRates' processes and standards in our editorial policy.