8 of the Weirdest Jobs in the World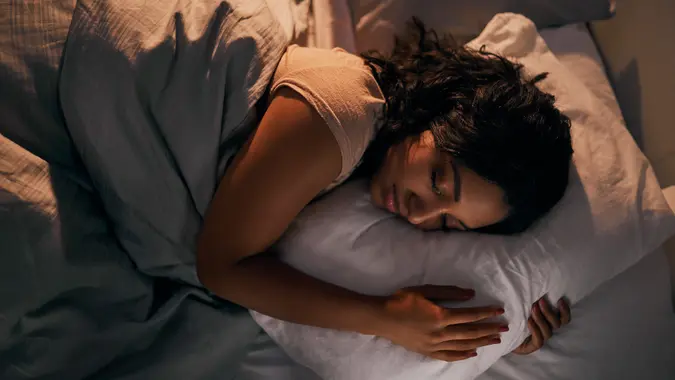 Adene Sanchez / Getty Images
There is a job for everything. The list of ways people make a living is long, but it can also have some unexpected entries. If you are tired of working a classic cookie-cutter job, it may be time to expand your horizons, think outside the box and start looking into more unusual jobs.
Read: With a Recession Looming, Make These 3 Retirement Moves To Stay on Track
The Weirdest Jobs in the World
Whether it is full-time employment or even a side gig, how you make money matters. Getting any of the following jobs would be worth it for the business card alone. Here are eight of the weirdest ways you can earn a paycheck:
Dog food taster
Mourner
Odor judge
Paint watcher
Scuba diving pizza deliverer
Sleeper
Snake milker
Train pusher
1. Dog Food Taster 
Being a pet food tester may sound like a prank gone awry but it is a real job. You may not be able to teach dogs new tricks but you can give a culinary review of their cuisine. Dog food tasting is a way to compare products such as biscuits, canned food or dry kibble to other brands and also human food. 
Make Your Money Work Better for You
2. Mourner 
A professional mourner is someone who is hired to emotionally display sorrow through loudly crying and weeping at a funeral, wake or other services. This is a common custom in cultures such as Egyptian, South East Asian, Chinese or Mediterranean. It is seen as a way of better assisting the departed to the afterlife.
3. Odor Judge 
For an up close and personal position, you could look into becoming an odor judge. This requires you to smell the armpits, feet or breath of those that have used certain products to gauge the effectiveness of those products such as toothpaste, deodorant or other odor-removing substances. These workers' sense of smell is routinely checked to make sure they are still keen to any off-putting funk or flavor. It has to be a rough day at work if the products aren't working as advertised.
4. Paint Watcher 
Just when you thought nothing could be more boring than watching paint dry, you might want to reserve your judgments when you find out that people can get paid to do so. Though not a common field, there are people hired to watch paid dry to see how long new mixes take to fully dry all the way. This assists in the company's quality control and advertising accuracy. 
5. Scuba Diving Pizza Deliverer 
Florida understood the assignment that if you are going to open an underwater hotel you better make sure your guests can order pizza. There is a pizza delivery service, where the pizza comes in airtight containers, and is delivered by scuba divers to the guests of the underwater hotel. Not a bad way to build a resume. 
Make Your Money Work Better for You
6. Sleeper 
To sleep may just be a chance to dream, especially if your dream is to be able to sleep for a living. Professional sleepers typically are involved in some sort of scientific research such as sleep studies. However, there are also hotels or mattress manufacturers who pay people to test out the comfort levels of what people are sleeping on.
7. Snake Milker 
If you are not someone who scares easily or is risk-averse, snake milking may be a career path for you. This job requires the snake milker to collect the venom of poisonous snakes. This venom is then stored for use as an anti-venom for victims of snake bites or other medical purposes.
8. Train Pusher
If you are someone that is used to a busy commute on public transportation, you might be glad to know that professional train pushers do exist. Prevalent in Japan, where they are called Oshiya, their entire job consists of pushing people into packed passenger cars to make more room and use as much space as possible.
Make Your Money Work Better for You
Final Take
Although these weird jobs may not have a water cooler to gather around, there probably isn't any shortage of interesting stories to share. Next time you feel a little stifled by your daily work routine, maybe look into one of these weird jobs for a nice mental health break.
FAQ
Here are the answers to some of the most frequently asked questions regarding weird jobs.
What are some really weird jobs?

Believe it or not, you can be a professional in such areas as a dog food taster, golf ball diver, face feeler, a professional bridesmaid at weddings or a professional mourner at funerals.

What are weird jobs that pay well?

Pay will always vary depending on the company you work for, but the fact that you can get paid as an odor judge, line stander, paper towel sniffer or to watch paint dry is something to consider.

What is the funniest job?

Some of the funniest jobs out there include being a professional scuba diving pizza delivery person, Netflix tagger, dog surfing instructor, train pusher or even a snake milker.

What is the most unique job?

One of the most unique jobs has to be a professional sleeper. This job is a real position and you literally make money by sleeping on the job.
Our in-house research team and on-site financial experts work together to create content that's accurate, impartial, and up to date. We fact-check every single statistic, quote and fact using trusted primary resources to make sure the information we provide is correct. You can learn more about GOBankingRates' processes and standards in our editorial policy.
Make Your Money Work Better for You