15 Best Places To Sell Your Gold for Cash and Get the Highest Payouts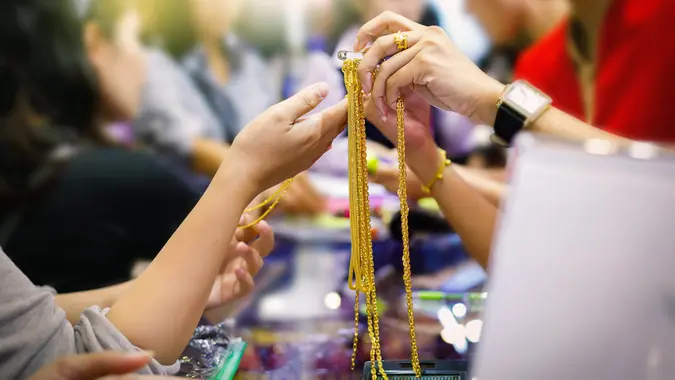 Pixfly / Getty Images/iStockphoto
If you have gold lying around your house, selling it could generate a fast profit. Before you can turn your gold into cash, you need to find where you can get the highest payouts for your loot. The good news is that it's relatively easy to get cash for gold. But a little bit of research into the details of where to sell gold could make a big difference to your final sale price. Keep reading to find out how to sell gold and get the highest possible payouts.
15 Best Places To Sell Your Gold for Cash
If you are looking for a place to sell gold, there is no shortage of options. Many buyers exist, both online and in person. Here are some of the top places to sell your gold for cash.
1. Cash for Gold USA
Cash for Gold USA, an established gold buyer, is a top choice for selling your gold items. They offer competitive rates for a wide range of gold items, including jewelry, scrap gold and gold coins, making them a reliable option for turning your gold into cash. The company boasts a highest offer guarantee, which means they'll beat any competitor's offer or return your valuables at no cost.
Cash for Gold USA has a solid reputation for excellent service. The selling process is user-friendly:
Fill out a form on their website.
Receive a prepaid envelope via USPS Mailer or FedEx.
Get paid within 24 hours after they receive your items.
Shipping is free and comes with insurance, providing peace of mind.
Make Your Money Work Better for You
Keep in mind that Cash for Gold USA primarily values gold items based on their melt value and doesn't consider collectible or numismatic values. For those with items of significant collectible value, other platforms may be more suitable. However, for individuals looking to sell scrap gold, jewelry or gold coins primarily for their gold content, Cash for Gold USA offers a convenient and trustworthy option with payment choices including check, bank wire and PayPal.
2. Express Gold Cash
Express Cash Gold is a well-established player in the gold-buying industry with a history spanning over 15 years. You can sell many different types of gold here, including engagement rings, watches, golden coins, dental gold and other precious metals.
Express Gold Cash emphasizes convenience and transparency in its dealings. An impressive 4.9-star rating on Trustpilot, backed by over 5,300 reviews, reflects their dedication to providing excellent service.
To initiate the selling process with Express Gold Cash:
You can request an Appraisal Kit by filling out an online form.
Once you've received the kit, follow the provided shipping instructions.
After they receive your package via FedEx Overnight, you can expect payment within 24 hours.
Express Gold Cash offers competitive rates, paying as much as 90% of the gold bullion value and up to 85% of refined jewelry value, dependent on the current market price. With its long-standing reputation and competitive pricing, Express Cash for Gold is a trustworthy choice for individuals looking to sell their gold items.
Make Your Money Work Better for You
3. Worthy
Worthy is a standout platform for those looking to sell jewelry online, including gold jewelry. The company facilitates the sale of various items, including rings, earrings, necklaces, bracelets and watches, connecting sellers with professional buyers through online auctions. Their rigorous appraisal process, which involves sending the piece off to a professional third-party grading expert, ensures the accuracy of valuations.
Worthy's user-friendly process involves shipping your items using a fully insured prepaid FedEx label, after which Worthy handles cleaning, appraisals and auction preparations. You receive payment via direct deposit, PayPal or a check after the auction concludes.
Worthy gives you an option to set a minimum reserve price, giving you more control over the selling process. While auction bids can be somewhat unpredictable, they often result in higher offers, making Worthy an appealing choice for maximizing your gold jewelry's value. The platform charges a fee of 18% of the final sales price for items valued at $5,000 or less, and this fee decreases for higher bids. And you'll only have to pay this fee if your item sells.
With thousands of 5-star reviews on Trustpilot, Worthy has built a solid reputation with people selling their jewelry.
4. Sell Your Gold
Sell Your Gold is another player in the gold-buying industry. The team of appraisers has over 50 years of combined experience in the field. The company accepts many forms of gold, including jewelry, bullion, coins, diamonds, watches and more. With a stellar 4.8-star rating on Trustpilot, supported by over 7,000 reviews, it's worth taking a closer look at the platform.
To sell your gold items to Sell Your Gold, you can follow these steps:
Start by visiting their website and filling out an online form to receive a free appraisal kit.
After securely packaging your gold items, you can conveniently ship the package via FedEx.
The shipping is not only hassle-free but also comes with insurance coverage of up to $1,000. If you require additional insurance, you can make arrangements over the phone.
Sell Your Gold promises a same-day offer once they receive your package, with a payout within 24 hours.
Make Your Money Work Better for You
One of the key highlights of Sell Your Gold is their competitive payouts. They claim to offer some of the best in the market, having paid over $60 million to their customers. But if you come across a higher offer from a competitor, Sell Your Gold is willing to match it. If you go with the competitor, Sell Your Gold will still send you $100.
5. Luriya
Luriya, a reputable name in Manhattan's renowned "Diamond District," has been buying gold for over two decades. If you can't visit their physical store in New York, you have the option to sell your gold online.
To sell gold to Luriya, you can do the following:
Start by filling out their mail-in kit form.
Choose your preferred delivery method from FedEx, DHL, UPS or the US Postal Service.
Once you receive the kit, simply place your gold items in the provided envelope and send it back to Luriya. The shipping is not only convenient but also comes with insurance coverage of up to $1,000.
If you require additional insurance, Luriya can make arrangements for coverage up to $1 million. While specific payout rates aren't detailed on their website, you can obtain an offer by either ordering a mail-in kit or requesting a free valuables appraisal. Their team of experts will meticulously evaluate your gold items, providing a fair and competitive payout.
6. Local Jewelry Stores
If you prefer an in person approach to selling gold, local jewelry stores could offer a solution.
Local jewelry stores, especially those that are independently owned and not part of a national brand, can be a valuable option when looking to sell gold items for cash. These stores are often more interested in buying gold rings, earrings and necklaces if the pieces are in excellent condition and have a design that's easy to resell.
Make Your Money Work Better for You
The advantage of selling to local jewelry stores is that you can receive cash payments on the spot. If you need the cash quickly, this can certainly be a worthwhile feature. To find local stores, you can open your favorite internet browser and search "gold buyers near me" or "sell gold near me." This will show you the stores that are closest to you.
However, it's essential to note that not every local jeweler may buy secondhand gold jewelry, and it largely depends on their business model and customer demand. If your town has a local jeweler, it's worth calling ahead to inquire about their gold purchasing policies before making a trip. The ability to get cash for your items without the need for shipping can be a significant benefit for those who prefer in-person transactions.
7. Local Coin Shops
If you are looking to sell gold coins, a coin shop is an obvious option. But many coin shops also buy other forms of gold, like jewelry.
Local coin stores are an excellent option for selling gold, especially if you have coins and bars made of precious metals. These stores not only buy gold for its metal value but also consider its numismatic value. Some of the most sought-after items include pre-1933 US gold coins, rare coins and bullion coins with legal tender value.
One of the advantages of dealing with local coin stores is the potential for higher rates, particularly for gold bars and coins. These stores may also be open to purchasing other gold items and estate collections, which can be advantageous if you have a diverse collection to sell. However, it's worth noting that when selling gold scrap or jewelry, you may receive lower payouts compared to specialized gold exchange stores.
Make Your Money Work Better for You
8. Pawn Shops
Most cities have a few pawn shops around town, which makes them a convenient option for selling gold. One of the main advantages of pawn shops is the ability to receive instant payment, making it a hassle-free and expedient way to convert your gold into cash.
However, it's important to be aware that payouts from pawn shops tend to be among the lowest in the market. If you possess rare or valuable items, other specialized platforms or dealers may offer better rates. For instance, pawn shops are not the ideal choice for selling items like rare coins or high-end watches, as you may receive considerably lower prices.
The appraisal value and purchase offer can vary between pawn shops, often depending on the expertise of the appraiser. It's advisable to seek out pawn shops that offer certified gold appraisals if you opt for this route. While other outlets may offer more competitive prices, the appeal of instant payment and an effortless transaction makes pawn shops a practical choice for those who prioritize ease and convenience.
9. Consignment Stores
Consignment stores present another option for selling gold jewelry and gold-inlay housewares. While consignee fees vary depending on the specific store and the type of item you're selling, you can generally expect to pay up to 20% of the selling price for jewelry.
The payment process in consignment stores typically involves receiving cash or store credit once an item sells. Opting for store credit often results in a higher payout. However, it's important to note that if an item doesn't sell promptly, the store may gradually reduce its price to stimulate interest. While these price reductions may affect your potential income, selling your items at a reduced price can be a preferable option compared to having to retrieve unsold items or having them donated to charity.
Make Your Money Work Better for You
10. Local Selling Platforms
If you have a piece of gold jewelry to sell, finding an end user who wants the jewelry to wear themselves can lead to a higher profit. However, this strategy comes with a bit more work. Apps, such as Facebook Marketplace, Craigslist and OfferUp, can help you find the buyer. Unlike online marketplaces that may charge platform fees, these apps allow you to list your items for free. You can arrange cash transactions at a local meetup or accept payment via a payment platform like PayPal.
While this approach may require more legwork, it allows you to sell your gold items directly to collectors and the general public. This means you can potentially sell coins and bars for less than the current premium that coin dealers or gold buyers might charge. These platforms offer a wide range of items containing gold, from fine jewelry and collectible coins to less valuable costume jewelry. They can also be useful for selling gold-plated items, primarily composed of a composite core with insufficient gold content for melting.
Depending on the item, providing official authentication or appraisal value can make the selling process smoother and give buyers confidence in the authenticity of your offerings. While this approach involves finding a buyer and potentially obtaining official appraisals, it offers a chance to maximize your returns and sidestep platform fees commonly associated with online marketplaces.
11. Sotheby's
Sotheby's is a well-known platform for selling gold and gold collectibles, particularly if you possess rare and highly valuable items. Sotheby's is known for attracting wealthy collectors who may have a keen interest in your offerings. They accept a variety of items, including jewelry, watches, coins and other valuable collectibles containing gold. But the items must have some collectible factor, so broken chains or average gold chains likely won't make the cut.
In terms of jewelry, top-quality gemstones from high-end makes, like Tiffany & Co, are likely to do well through this platform.
Sellers on Sotheby's have multiple options for selling their items, including auctions, fixed-price "buy now" online sales, private sales and even in-person sales through retail locations. To determine the most suitable sales method for your portfolio, a dedicated sales agent can offer recommendations after appraising your items.
It's important to note that the platform fees vary depending on the listing method you choose, and you will receive a personalized quote. Additionally, sellers may incur shipping fees as part of the process.
12. JM Bullion
While JM Bullion's core business is the sale of precious metals, they offer a straightforward process for selling gold items. Sellers can use their user-friendly website to initiate the selling process, with guidance on how to sell gold coins and bullion to them. This simplicity, coupled with its reputation for quality service, makes JM Bullion a viable choice for individuals looking to sell gold for cash.
13. SD Bullion
SD Bullion is a reputable player in the precious metals industry, known for both buying and selling gold and silver products. They offer a platform for individuals looking to sell their precious metals, making them a versatile choice for those seeking to convert their gold holdings into cash. The company's 4 out of 5 star rating on Trustpilot indicates that many customers have a positive experience.
14. AMPEX
American Precious Metals Exchange is another well-established name in the precious metals industry. The company specializes in buying and selling gold, silver, platinum and other precious metals. Their extensive experience and reputation for quality service make them a reliable option for individuals looking to sell their gold holdings for cash.
15. Money Metals Exchange
Money Metals Exchange offers a user-friendly experience for sellers. The website provides clear guidance on how to sell gold and precious metals, offering a straightforward and hassle-free process for sellers. Their long-standing reputation in the industry and dedication to customer service make Money Metals Exchange a trustworthy option.
Factors That Impact The Value Of Your Gold
When it's time to sell your gold, the value of what you are selling varies based on several factors. Here's a look at some of the things that will impact the value of your gold.
Purity
The purity of your gold is one of the most critical factors influencing its value. Gold is typically measured in karats, with 24-karat gold being the purest form. Jewelry is often made from 18k or 14k gold. In many cases, this information is stamped somewhere on the piece of gold itself.
Of course, a higher karat leads to more valuable gold. Buyers will assess the purity using acid tests or electronic testers to determine the exact gold content.
Weight
The weight of your gold is another key factor. Gold is priced per ounce. With that, the heavier your item, the more it is worth. Whether you have gold bars, coins or jewelry, the weight, when combined with purity, plays a crucial role in calculating its value.
Rarity
The rarity of your gold item can make it more valuable to collectors and investors. Rare coins, limited-edition bullion or vintage gold jewelry with unique designs can often command a premium price. Historical significance or unique characteristics can increase the desirability and, therefore, the value of your gold.
Market Conditions
The overall market conditions and the current price of gold can greatly impact the value of the gold you are selling. Some factors that impact the price of gold include economic, geopolitical and market sentiment factors.
If you are looking to sell gold in the near future, it's essential to stay informed about the current market conditions to make informed decisions about when to sell your gold. Selling your gold when the market is down could be a mistake.
Final Take
It's possible to sell your gold for cold hard cash. Regardless of your reason for selling your gold, it makes sense to look for the top offer you can get. As you explore your options, consider both in-person and online buyers. If you opt for an in-person buyer, don't be afraid to negotiate for a better deal if you can.
FAQ
Here are the answers to some of the most frequently asked questions regarding selling gold.
How much will I get if I sell my gold?

The price you should get for selling gold varies based on the amount of gold you are selling, the quality of the gold and the buyer. In general, you should expect to receive between 50% and 90% of the market value.

Is it worth it to sell my gold?

Gold is generally considered a valuable asset. If you choose to sell your gold, you'll likely earn a significant amount of money. But you'll have to decide if you'd prefer to hold onto the gold or trade it in for the cash value.

How much can I sell 1 oz of gold for?

The price of gold fluctuates regularly. As of October 2023, the price of gold is around $1,960 per ounce. But the amount you can sell your gold for varies based on the buyer.

Who pays the most for gold?

Some of the buyers who pay the most for gold include Cash for Gold USA, Express Gold Cash and Sell Your Gold.

Are cash for gold stores legitimate?

Cash for gold stores can be legitimate. You can take your gold there and leave with cash. However, like all industries, it's possible some cash for gold stores are scams. Do your research about a company before initiating a transaction.
Information is accurate as of Oct. 23, 2023.