Make Money With AI Bots: How To Earn $1,000 or More a Month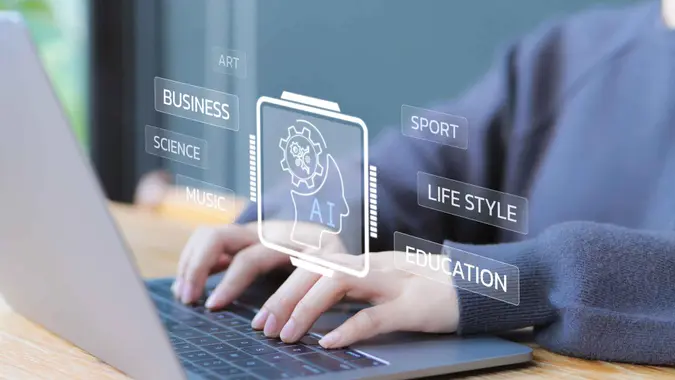 Supatman / Getty Images
Many people talk about earning money with ChatGPT but there are plenty of other chatbots that exist to help people boost their retirement savings, pay down debt or save for a vacation. AI bots, or chatbots, are a form of artificial intelligence that can speak conversationally. They can answer questions, respond to search queries and provide information from an ever-growing database of knowledge.
But how can you make money with AI bots? Keep reading to learn more.
How To Make Money With AI Bots: 5 Easy Ways
You don't have to be a large corporation like Apple or H&M to make money with bots. If you own a small business, you can use a custom chatbot to provide customer service to people who visit your website. If you have a Facebook page, you can set up Facebook's Messenger Assistant to answer questions when people message you.
Perhaps one of the most lucrative ways to make money with bots, however, is to create them for other people and sell them. Here are five simple ways you can monetize AI bots.
Make Your Money Work Better for You
1. Build Chatbots for Businesses
Building chatbots for businesses can be lucrative. You can even use ChatGPT to help you write the coding to develop the bots. Best of all, you can earn passive income for managing and adapting the bots as needed.
Businesses need bots for tasks such as:
Setting appointments
Offering customer service
Qualifying leads
Answering questions
Good To Know

Businesses use chatbots to make money all the time. Realtors can use chatbots to help set up virtual tours of properties.

Companies use embedded chatbots in social media messenger programs. This helps to qualify leads before bringing in a human salesperson to close a deal.

Clothing retailer H&M uses a chatbot "Virtual Assistant" on its website to steer customers to local stores that carry the items they want.
2. Sell AI Bot Templates
Some businesses and AI bot developers prefer to use templates to create and customize their bots. If you can create a collection of templates, you can sell each one many times over to generate significant, ongoing passive income.
3. Build AI Bot Plugins
Once you've got a steady base of customers for your AI bots and are comfortable with your coding skills, you might want to branch out. You can start to develop and sell plugins or add-ons for your bots.
Make Your Money Work Better for You
Maybe a company that originally needed a customer service bot now wants payment processing capabilities. Or perhaps a customer likes the chatbot embedded on their website so much that they want to integrate the same technology into the Facebook or Instagram messenger platforms.
AI bot plugins provide endless possibilities to upsell existing customers as well as to grow your customer base.
4. Create Courses on How To Build, Use and Sell AI Bots
After you've got a handle on developing, marketing and selling your bots, you can create courses that teach others how to do the same.
Don't worry about training your competition; this field is wide open and bot developers are in demand. By helping other entrepreneurs launch their businesses, you are creating a healthy marketplace and raising the visibility of the industry.
5. Create an Auto Stock Trading Bot
Of course, you don't have to sell your bots to make money. If you have coding skills or know how to develop bots, you can create an auto stock trading bot. Use your bot to help you invest in the stock market and potentially reap the rewards. If you have a successful bot, you can sell it to others interested in trading. Remember, any investment carries risk so don't trade more than you can afford, even with the best auto stock trading bot.
Make Your Money Work Better for You
ChatGPT vs. AI Bots

AI bots have carved out a niche long before ChatGPT came on the scene. They are often used in social media messaging apps or on websites to help companies provide 24/7 customer service.

Note the difference: ChatGPT is one very specific and sophisticated AI bot with many applications. But ChatGPT is not the only AI bot. In fact, Amazon Alexa, Apple's Siri and Google Assistant are some of the most well-known AI bots that pre-date ChatGPT.
Making Money Selling Bots: Time and Earnings
You know you can make money selling bots but how much? And where should you market your bots? AI bot developers are listing their services on freelancer platform sites, like Fiverr. Many have advertised their AI chatbots for anywhere from $70 up to $1,000 and beyond. At a glance, most developers charge between $100 to $400 depending on their capabilities and what their bot does.
Not all AI bots can be made quickly though. According to Distinguished, chatbot development can take two to eight weeks. The time might be worth it as they can cost up to $80,000.
Make Your Money Work Better for You
Businesses are willing to pay big money for bots because they understand the amount of revenue they can bring into their business. AI bots also save businesses money by reducing the number of customer service reps or phone operators a company might need. One good bot developer, hired on a freelance or contract basis, can take the place of many salaried employees.
While this isn't great for the employees who have to find new jobs, it offers profitable opportunities to entrepreneurs willing to take the time to learn how to build and sell AI bots.
Depending on the complexity of the bots and your skillset, you can earn a steady income from making bots. You could even generate some side income by developing simpler bots in a few hours a week.
Final Note
Wondering if AI can make you money? AI, alone, won't make you money. But it can streamline and simplify many tasks, making it easier for you to earn side income. You'll still need a healthy dose of creativity, marketing skills and patience to make money with AI bots. Keep in mind that some AI bots will require very little technical expertise, while others require extensive coding capabilities.
Make Your Money Work Better for You
Our in-house research team and on-site financial experts work together to create content that's accurate, impartial, and up to date. We fact-check every single statistic, quote and fact using trusted primary resources to make sure the information we provide is correct. You can learn more about GOBankingRates' processes and standards in our editorial policy.