10 Ways To Make Money on Facebook in 2023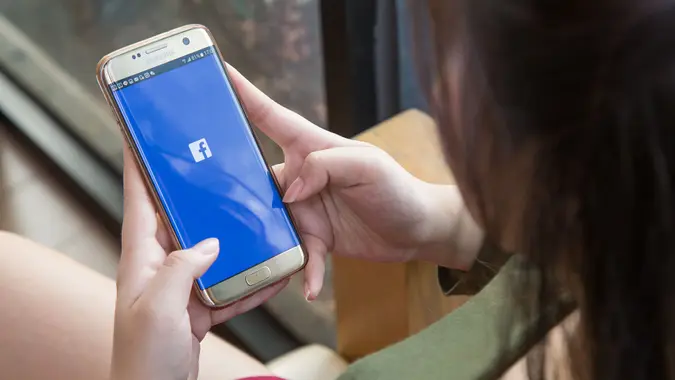 Teerawit Chankowet / Shutterstock.com
It comes as no surprise that Facebook is a popular social media platform, and one that's worth a lot. If you already spend a lot of time on the platform, you might be wondering how you can get paid on Facebook. After all, why shouldn't you optimize the time you spend online and find a way to make some money?
The good news is that there are many ways to make money on Facebook. Keep reading to find out more.
How To Get Paid on Facebook: 10 Ways
Making money on Facebook can be done in a number of ways. However, you may have to follow certain rules or meet specific criteria before you can earn cash on the platform. With that in mind, here are the best ways to make money on Facebook.
1. Monetize Your Content
Can you get paid for your Facebook page? If you're a content creator, here are the main ways you can get paid on Facebook:
Work with brands: Collaborating with brands and promoting content could increase your visibility and earning potential. You may need to connect with them first or have a large enough following to get started. Some brands will pay you based on referrals, while others pay based on how many people you convert to their brand.
Join Facebook's official brand collaboration program: You'll need at least 1,000 followers on your Facebook page to be eligible for the official partnership program. You'll also need to meet other requirements, such as having 15,000 post engagements or 180,000 minutes viewed in the past two months.
In-stream ads: These are ads that come up either when you're live-streaming on Facebook, or when a viewer watched an on-demand video. You'll need a view time of around 600,000 minutes in the last 60 days to get paid on Facebook this way.
Fan subscriptions: Facebook has an invite-only program that lets you earn money through things like exclusive content, discounted merch and live videos. You'll need to apply for this program.
Make Your Money Work Better for You
2. Create a Facebook Group or Page
A Facebook group is a place where like-minded individuals come together and connect over ideas or things. This can be nearly anything, from fishing to cooking to art.
Many Facebook groups have their own set of rules and some might limit or prevent members from promoting their brands or businesses. But if you establish your own group, you can set your own rules. This means you could promote your services, sell products or potentially earn money from affiliate marketing.
Another option is to create a Facebook page and earn money that way. You'll need to follow certain steps and policies to monetize your services through a page.
3. Sell Items on Facebook Marketplace
You can use the Facebook Marketplace to sell goods that you don't need. Things you can sell include furniture, collectibles, jewelry and electronics. You could also buy things on the Marketplace and sell them for a higher price somewhere else — like on eBay or Amazon.
Unlike similar services, like eBay or Etsy, your buyers will usually be local. This means you won't need to worry about shipping costs. However, Facebook might take a small fee from your sales.
4. Make Money With Facebook Events
Another feature Facebook has is called events. With this, you can host an event on Facebook Live. Events can be for nearly anything — from meet-ups to online training or courses to local workshops. Simply provide details about the event and market it through the events toolkit. Once the scheduled date arrives, you can host the event online or in person.
Facebook is putting an end to paid events. However, you can still create an event that redirects the user to an external website. This could be your own website or a course you have. You can then charge a fee for the event on that site.
Make Your Money Work Better for You
5. Become a Social Media Manager for a Brand
If you're good at social media marketing, online brands might be willing to hire you as a freelancer or employee. Even if the company already has an online presence, chances are it could still be improved. With your skills and experience, you could use Facebook to find these brands and update their social media accounts.
6. Invest In Land
Buying and reselling land is another option to consider, especially if you don't mind a little risk. If you're interested, start by purchasing raw land at a discounted price.
Then, use Facebook groups to find potential buyers in the area. Once you find someone willing to buy, sell the land on an affordable payment plan. You could earn passive income for months or even years this way.
7. Work for Facebook
Facebook, or Meta, often has online postings for job opportunities. These jobs vary in requirements. For example, some are remote while others require you to live in a specific area. Others require a certain level of formal education or experience.
Facebook employees earn anywhere from $45,783 to $684,863 a year. So, if you're looking for a full-time job, keep an eye out for postings that might fit your experience, education and interests.
8. Promote Your Course or Service
If you have an online course or service, you could use Facebook to promote it, drive traffic and boost sales. Depending on what you're offering and how many followers you have, you could earn a decent amount of money this way.
Make Your Money Work Better for You
Start by making your post public so that people can see and share it with their followers. Be clear about what you're offering and to whom.
9. Get Involved With Facebook's Bug Bounty Program
Facebook's Bug Bounty program encourages people to report any bugs, glitches or suspicious activity they find on the platform. Facebook will then investigate the report. Depending on how impactful or risky the item is, they may pay you for reporting it. If they decide to pay a bounty, you could earn $500 or more.
10. Create a Fundraiser on Facebook
Facebook has a feature that lets you create a fundraiser for either yourself, someone else, a cause or a company. If you choose to create a personal fundraiser, you can use the platform to connect to other people who support your cause.
You can read about some successful fundraisers on Facebook's fundraising page. One couple, for example, raised more than $3,000 so they could go to an international competition. Someone else raised over $11,000 to help pay for her brother's recovery after a fire.
Bottom Line
Ultimately, you can make money on Facebook — and other social media platforms. Even if you don't have a massive internet following, it's still possible to earn money through things like investing or selling on the Facebook Marketplace.
If you want to monetize your content, products or services, be prepared to follow certain guidelines. Depending on what you post, you could get paid based on things like view count, watch time, clicks and conversion rates.
Make Your Money Work Better for You
FAQ
Here are the answers to some of the most frequently asked questions about getting paid on Facebook.
How many views do you need to get paid on Facebook?

To get paid for in-stream ads, you will need a view time of 600,000 minutes in the last 60 days.

How many followers do you need to get paid on Facebook?

To qualify for the partnership program, you will need at least 1,000 followers. There are other requirements you must meet as well. These include 15,000 post engagements or 180,000 minutes viewed in the past two months.

How much does Facebook pay for 1,000 views?

If you meet the requirements for monetization on Facebook, you can expect to earn up to $10 for every 1,000 views.
Information is accurate as of April 27, 2023. 
Editorial Note: This content is not provided by any entity covered in this article. Any opinions, analyses, reviews, ratings or recommendations expressed in this article are those of the author alone and have not been reviewed, approved or otherwise endorsed by any entity named in this article.
Our in-house research team and on-site financial experts work together to create content that's accurate, impartial, and up to date. We fact-check every single statistic, quote and fact using trusted primary resources to make sure the information we provide is correct. You can learn more about GOBankingRates' processes and standards in our editorial policy.