Medicare, Medicaid and What You Can Actually Qualify For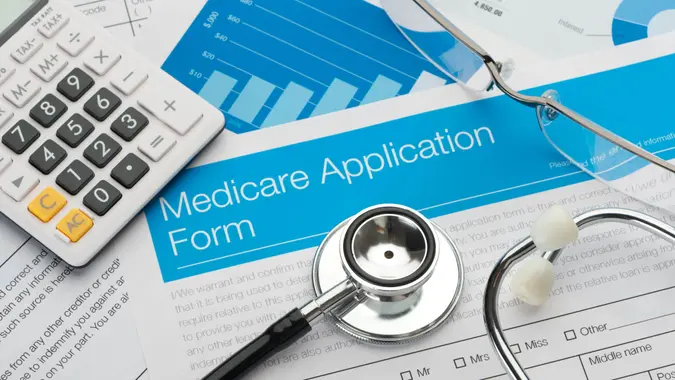 courtneyk / iStock.com
Medicare and Medicaid are two separate programs created by the U.S. government to cover the medical bills of qualifying Americans. Medicare is a health insurance program primarily designated for people age 65 and older, although people under 65 with certain disabilities and conditions may also qualify. Medicaid, on the other hand, provides assistance with medical expenses for people of all ages with limited income and resources. Here are the main differences between Medicare and Medicaid, and how these programs impact the amount you'll pay for medical expenses.
Be Aware: 6 Reasons You Won't Get Social Security
Important: The Biggest Problems Facing Social Security
Difference 1: Eligibility
In general, people 65 and older, younger people with disabilities and people with permanent kidney failure, requiring dialysis treatments or transplants, are eligible for Medicare.
For Medicaid, eligibility is based on factors, such as income, household size, family status and disabilities, depending on the eligibility rules for your state. And some states have expanded Medicaid coverage, which allows you to become eligible based on income alone.
Make Your Money Work Better for You
Difference 2: Providers
Medicare functions on a federal level while the rules for Medicaid are set by each state — although Medicaid is also a federal health program," said Jagger Esch, president and CEO of Elite Insurance Partners.
To further explain, Medicare Part A (hospital insurance) and Part B (medical insurance) are provided by the federal government and make up Original Medicare. Medicare Part C, also known as Medicare Advantage, is provided by private insurance companies. Part C is an alternative to Original Medicare and contains Part A, Part B and sometimes, Part D. Part D is also provided by private insurance companies.
Medicaid, however, is run by both federal and state governments. Medicaid plans can vary from state to state, but states must follow certain mandatory federal guidelines. For example, Medicare is required by the federal government to pay for certain expenses including, physician care, inpatient- and outpatient hospital care, nursing facility services, family planning services and laboratory and X-ray services. But states can choose to include optional benefits, such as prescriptions, eyeglasses, dentures, occupational therapy and respiratory care services if they wish.
Make Your Money Work Better for You
Find Out: All You Need To Know About Collecting Social Security While Still Working
Difference 3: Premiums
"The biggest cost difference between Medicare and Medicaid is that almost everyone pays a monthly premium for Medicare while almost nobody pays a monthly premium for Medicaid," said Christian Worstell, a licensed health insurance agent with MedicareAdvantage. "Because Medicaid is designed specifically for people with lower incomes, the program rarely contains any premiums or deductibles. And while most Medicare beneficiaries do not owe a premium for Medicare Part A, everyone must pay a monthly premium for Part B. The standard premium for Part B, which covers outpatient care and medical equipment, is $148.50 in 2021."
Difference 4: Out-of-Pocket Spending Limits
"Another key difference is that Medicaid beneficiaries are typically protected by an annual out-of-pocket spending limit," said Worstell. "But Original Medicare contains no such limit."
"There are also copays and deductibles that need to be met out of pocket," said Scott Maibor of Senior Benefits Boston. This can add up to thousands of dollars, with no annual cap on out-of-pocket expenses. Many of these [expenses] are addressed by insurance from private carriers with Supplement, Drug and Advantage plans."
Make Your Money Work Better for You
States are allowed to charge copayments, coinsurance and deductibles on most Medicare-covered benefits, excluding preventive services for children and emergency, family planning or pregnancy services. However, these charges are usually limited to nominal amounts.
Important: $1M Is No Longer the Standard Nest Egg — Here's How Much Most Americans Think You Actually Need To Retire
Difference 5: Dependent Coverage
Medicare does not provide coverage for dependents. Instead, people must qualify for coverage on an individual basis.
However, Medicaid does cover dependents, including children, pregnant women, the elderly, and disabled people.
"Medicaid will cover all health-related costs for a child until he/she is 21, including dental, vision, primary care visits, specialty visits and mental health," said Micah Metcalf, founder of Metcalf Financial, which provides life and Medicare insurance plans. "After 21 years of age, the only thing not covered is dental and vision."
Some People Qualify For Both Medicare and Medicaid
Full Medicaid coverage, in addition to Medicare, is available to people age 65 and over who have very limited income and assets," said Louise Norris, a licensed broker and analyst for healthinsurance.org. "In addition, there are Medicare Savings Programs (MSPs) that will cover the cost of the Part B premiums (and in some cases, Medicare out-of-pocket costs as well), for people who are eligible."
More From GOBankingRates
Last updated: Oct. 26, 2021 
Make Your Money Work Better for You