Where To Sell Your Jewelry: Top 5 Places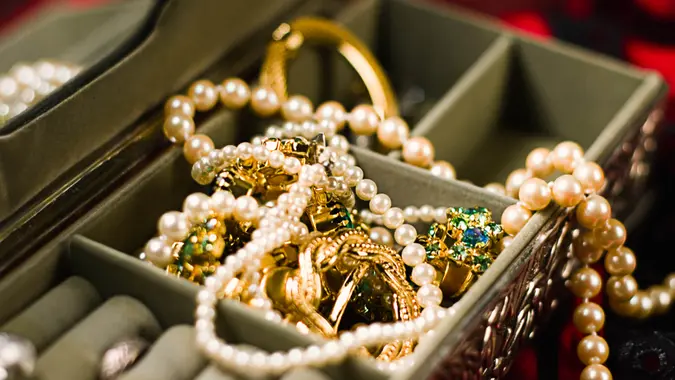 theprint / Getty Images/iStockphoto
Selling unused items is a good way to make a little extra money (and declutter your life). Luxury jewelry and gold particularly could be worth some cash. While the traditional route is typically a local pawnshop or jewelry store, the best place to sell jewelry these days may be online. You'll reach a wider audience and could save money on commissions and fees when you expand your audience. Here is a roundup of the best places to sell jewelry — and how best to convert unused items into cash.
5 Best Places To Sell Jewelry
Check out the following best places to sell jewelry. They're a mix of online-only and physical locations so you can expand your chances of a bigger, faster sale.
1. The RealReal
Types of jewelry: Designer
Ways to sell: Sell or consign jewelry, or trade-in program (watches only)
Commissions and fees:
Depends on dollar values of what you sell — commissions for jewelry are between 30% and 45%
For watches, 15% for higher-value timepieces to 60% if sold for $145 or less
Locations: 17 retail locations (13 shoppable), online
The RealReal is a luxury consignment marketplace. It primarily focuses on jewelry and watches from designer brands. To get started, you'll need to sign up for an account and provide info about the item(s) you want to sell. You then schedule a pickup and the goods get sent to headquarters for an authenticity check, or you can drop it off if there's a location near you.
Make Your Money Work Better for You
Once the items are confirmed as authentic, the RealReal will price your items for sale and, if you agree, list them. All you need to do is wait until it sells, and you'll get the sales price minus commission via direct deposit.
Pros:
Simple process
Items typically sell in 30 days or less
Large market of fashionista buyers
Cons:
Commissions can be high
Only available for designer goods
2. Worthy
Types of jewelry: Diamonds and branded luxury watches
Ways to sell: Auction
Commissions and fees:
10% for items sold for over $30,000
12% for items sold for over $15,000 to $29,999
14% for items sold for over $5,000 to $14,999
18% for items sold for $5,000 or less
Locations: Online only
Worthy makes selling your old engagement ring, diamond jewelry and collectible watches hassle-free. You get started by consulting with a jewelry selling expert who walks you through the process. If you like what you're told, Worthy offers free FedEx insured shipping so your jewelry arrives safely for appraisal, cleaning and photographing for auction.
You'll be assigned an account executive to guide you and set up the auction. Once your item sells, you'll receive payment in just one or two business days for PayPal, two to three business days for an ACH transfer or four to five business days for a check.
Pros:
Professionally presented for auction
Auctions may bring you more money for your item if a bidding war happens
Personal, expert guidance throughout the process
FedEx shipment is insured
Cons:
No guarantee of sales price
Auction process is slow — may take 10 to 14 business days to wrap up
3. Cash for Gold USA
Types of jewelry: Gold and diamonds
Ways to sell: Appraisal and offer from the company
Make Your Money Work Better for You
Commissions and fees: None
Locations: Online
Cash for Gold USA is a good choice when you're in a hurry to liquidate your jewelry and don't want to wait for your items to sell before you get paid. You'll get free overnight delivery and a guarantee of an appraisal and offer within 24 hours of the goods being received.
According to the company, you can even get paid the same day the package is received if you choose PayPal or ACH. If you decide not to accept its offer, your jewelry will get overnighted back to you free and insured. The company also has a price match guarantee if you get a better offer elsewhere.
Pros:
Free, insured overnight shipping round trip
Sell and get paid quickly — often the same day the jewelry is received
Accepts broken jewelry
No fees
Cons:
You may get a better price selling to a buyer directly
You're only paid for the weight of gold or diamond quality and not for craftsmanship
4. eBay
Types of jewelry: Any
Ways to sell: Auction, Buy It Now
Commissions and fees: 12.85% of sales price for a maximum of $750 per item
Locations: Online only
Not all jewelry that sells online is gold or diamonds. You may have other types of less precious jewelry that still has some value to someone. The items may be vintage or antique and still be worth something, especially if they're collectible in some way. Even if there is no special story behind what you're selling, there may be someone interested — and chances are they'll be on eBay.
Make Your Money Work Better for You
EBay is a great place to sell jewelry when other online marketplaces aren't willing to accept your jewelry. However, selling jewelry (and most things) on eBay is an art. You'll need to take the time to take detailed, quality snapshots of the items and write good descriptions. It's also a good idea to determine how much you should start your auction for and if you'd like to set a reserve price. Watch out for the fees when you start adding upgrades or they could cut into your profit quickly. Read GOBankingRates' guide on how to sell on eBay for more advice.
Pros:
Sell nearly any type of jewelry
Flexible — you are in control of your listing
Secure if you insure your items before you ship and work with rated buyers
Cons:
Fees can add up
Your item may be easily lost in all the listings
To improve chances of a sale, some know-how when it's time to list and price your jewelry is helpful
5. Circa
Types of jewelry: Estate, antique, high-end, brands and diamonds
Ways to sell: Appraisal and offer from company
Commissions and fees: None
Locations: Online, 13 offices in the U.S. and three overseas
Circa may buy the widest range of jewelry styles. Besides gold, diamonds and designer brands, Circa is open to antique and estate jewelry if it has heirloom or historical significance. Best of all, you can make an appointment at an office or overnight your jewelry, which will be insured and shipped for free round trip if necessary.
Make Your Money Work Better for You
If you accept Circa's offer, you can opt for a check on the spot, a bank wire or a Blue Nile or Circa gift card, which is valued at 110% to 120% of the accepted offer price.
Pros:
Buys heirloom and antique jewelry as well
Offices in major cities
Walk away with a check if you accept the offer
Circa offers a gift card to Blue Nile or Circa worth up to 120% of the agreed-to sale value
Cons:
Focused on high-value pieces
Other companies have a faster, simpler online process
How To Get Top Dollar for Your Jewelry
The best place to sell jewelry depends on the type of items you're selling and how you present them. To get the most money out of them, think about the following ideas:
1. Sell as a Bundle or Set
If you have costume jewelry or quite a few pieces you would like to sell, consider selling them as a set or bundle. For example, market your jewelry as a color pack of items in a certain theme. Or create a coordinating set including earrings, a bracelet and a necklace. You'll have to do less work and potentially get more money when you group your jewelry.
2. Get It Appraised First
If you plan on selling higher-end jewelry, watches or gold, consider paying for your own appraisal before you send it off. It will give you a ballpark of how much you can expect to receive so you can tell whether future offers are lowballs.
Make Your Money Work Better for You
3. Presentation Is Key
Include original packaging or jewelry boxes with your items, if available. In the case of a designer piece or collectible watch, buyers typically prefer to have the original packaging as well, which may increase your sales price.
4. Time the Market
If you're not in a hurry, think about the best time of year to sell your jewelry. Certain colorful jewelry in aquas and vibrant colors may be more sought after in the summer than winter. Fine jewelry may sell faster before Christmas or Valentine's Day as gifts for someone special. And according to Brides, summer and winter are the most popular times of the year to get engaged. If you have a diamond ring you'd like to sell, consider listing it in time for peak engagement season.
Takeaway

There's no reason to have a cluttered jewelry box of unused pieces. There are plenty of places where you can sell your unused jewelry for free. Knowing how and where to sell jewelry is a great way to make space and put some cash back into your pocket, which may grow more as an investment or by earning interest.