Minimum Wage in Michigan 2022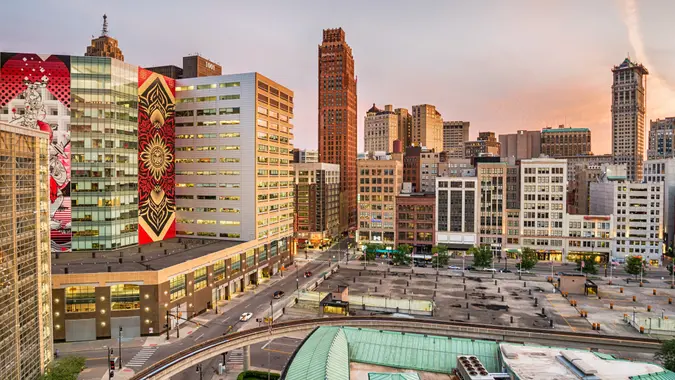 anderm / iStock.com
Although it does not hit the $15 mark, Michigan has set its minimum wage above the federal minimum and is increasing again in January 2023.
What Is the Current Minimum Wage in Michigan?
According to the Michigan Department of Labor and Economic Opportunity's Minimum Wage Poster, the minimum wage in Michigan is $10.10 per hour, which went into effect on Jan. 1, 2023. It was $9.87 per hour in 2022.
Cost of Living in Michigan
Michigan has the 15th lowest cost of living in the United States. The aggregated cost of living in Michigan is 91.3%, as high as the national average. Michigan is the third lowest state for the cost of groceries and has the 17th lowest cost of housing.
Even though the cost of living is consistently lower than in other states, the minimum wage rose just over 2% from 2021 to 2022. The cost of food at the same time rose by 10.9%. This means that even though people are making more, they aren't able to buy as much as they could before. 
The median income in Michigan was $63,498 per year in 2021. Converted to hourly, that is approximately $31 per hour. Compare that to the national median income of $69,717 per year or of approximately $34 per hour. This is considered a good wage in Michigan. People in this income bracket are able to take much better advantage of the low cost of living than people who are making minimum wage. 
Make Your Money Work Better for You
Different Types of Minimum Wage in Michigan
Most positions require compensation at the minimum wage or above, but there are some positions that may be paid less than the minimum wage. Sometimes it's because workers are expected to receive other money like tips. However, others are allowed to offer less pay to encourage employment of certain groups or discourage employers from allowing certain situations. 
Below are some examples of when a subminimum wage is allowed, or when an employee making minimum wage might earn more.
Tipped Workers
Michigan has a loose definition of tipped workers. They are employees that regularly and customarily receive gratuity from a customer for services. These are positions such as food servers or hairdressers. 
The minimum wage for tipped workers in Michigan was $3.75 per hour in 2022 but increased to $3.84 per hour on Jan. 1, 2023. If the employee's base pay and tips combined equal less than the regular minimum wage, then the employer must cover the difference, so the employee makes at least minimum wage.
Make Your Money Work Better for You
In Michigan, employees also have to agree to tip credit. If a credit is taken, then the employee's records need to have a written statement for each pay period with the number of tips the employee received. It is signed and dated before the employee receives their paycheck.
Choosing not to sign the written statement will probably cause the employer to look for someone else to fill the position, but it's good information to know if you feel like tip credits are being taken illegally.
Overtime Pay
Employees who work more than 40 hours a week in Michigan are required to be paid at least 1.5 times their regular rate. For people who make minimum wage, that amount is currently $14.80 per hour over 40 hours and will increase to $15.15 per hour over 40 hours in 2023.
Workers Under 20 Years Old
In Michigan, workers from 16 to 19 years old can be paid as little as $4.25 per hour for the first 90 days of employment. After that, they are entitled to at least 85% of the current minimum wage. In 2022, that is $8.39 per hour. In 2023, 85% of the minimum wage will be $8.59 per hour.
Make Your Money Work Better for You
Workers who are 14 or 15 years old have the same minimum wage rules, but significantly stricter rules for the hours that can be worked.
Apprentices and Learners
Employers can submit a petition to pay apprentices or learners less than minimum wage if the employee produces less than average during the period of their apprenticeship. 
Controversy Over Minimum Wage
In 2023 wages are set to change, but the minimum wage increase is currently in appeals court. The issue is Michigan Legislature may have adopted the minimum wage law in a way that was unconstitutional. 
There are advocates for both sides of the issue. The side arguing for the minimum wage increase, even if it was enacted incorrectly, argues that the benefits of the law would be a boon to workers in Michigan. Advocates for overturning the minimum wage increase and returning it to its previous rules believe that if the law were to go to ballot, as it should have initially, it may not have been approved by voters. They also say that higher minimum wages hurt Michigan small businesses.
Final Take
The federal minimum wage is $7.25 per hour. This amount became effective in 2009 and hasn't been raised since. However, states can set higher minimum wages within their borders, and companies might pay higher base wages as well. There are three states that require a minimum wage above $15 per hour, but Michigan is not one of them. They are California, Massachusetts and Washington. Some do not have any minimum wage, like Alabama, and some have minimum wages below the federal minimum wage like Georgia and Wyoming. 
Michigan's minimum wage is neither significantly higher nor significantly lower than the majority of states. Out of 50 states, Michigan is ranked 21 from highest minimum wage to lowest, but the cost of living is 15th highest. The current minimum wage in Michigan allows workers to buy more than the minimum wage in other states, but it is at risk of being overturned.
Information is accurate as of Jan. 3, 2023.
Our in-house research team and on-site financial experts work together to create content that's accurate, impartial, and up to date. We fact-check every single statistic, quote and fact using trusted primary resources to make sure the information we provide is correct. You can learn more about GOBankingRates' processes and standards in our editorial policy.
Make Your Money Work Better for You