$600 Checks Now on the Table as COVID-19 Relief Negotiations Continue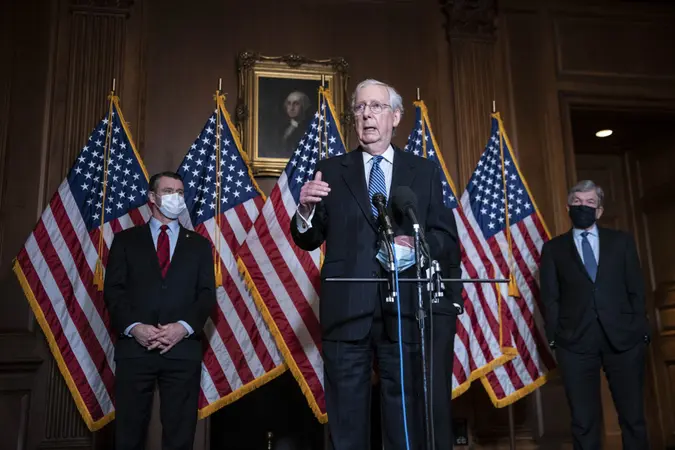 Shutterstock / Shutterstock
Americans could see another direct payment of $600 per person ($1200 per couple) in the Trump administration's latest COVID-19 package as part of a $916 billion pandemic relief proposal to House Speaker Nancy Pelosi. In comparison to the March coronavirus relief bill, this new proposal – announced by Treasury Secretary Steven Mnuchin late Tuesday – represents just half the payment delivered at the start of the pandemic.
Taking Action: Refusing to Wait for Congress, These Cities and States Are Handing Out COVID-19 Relief
Notably, the effort does not include a weekly $300 jobless benefit supported by a bipartisan group. Democrats and Republicans, hoping to deliver a second round of aid soon, are still trying to reach an agreement as the close of 2020 draws near.
Smart Spending: Where Experts Thinks We Should Spend COVID-19 Stimulus Money
In response, Pelosi and Senate Minority Leader Chuck Schumer (D., N.Y.) issued a statement noting the fresh offer demonstrated progress, but they'd prefer to let bipartisan Congressional talks continue. In particular, they cited the package's dramatic drop in proposed funds for employment benefits.
Act Now: What To Do If Your Unemployment Is About To Run Out
Make Your Money Work Better for You
Hoping to rally lawmakers on both sides, the bipartisan group supports a $908 billion package that includes a weekly $300 jobless benefit plus $160 billion in aid for local and state governments, a top priority for Dems. While it doesn't come close to what House Democrats ideally want, it's a more substantial offer than the GOP proposal.
Find Out: 10 Things Stopping You From Getting a Relief Check
These ongoing COVID-19 relief negotiations are being hit from all sides, further complicating the talks and delaying a second coronavirus aid package. With Mnuchin's latest offer, ever-changing White House mandates, and separate bipartisan discussions, all sides face intense pressure to come to some kind of agreement before the end of the year.
As of publication, no clear commentary yet from Senate Majority Leader Mitch McConnell (R., Ky.) on the administration's latest offer.
More From GOBankingRates
Make Your Money Work Better for You