Barr Finds No Election Fraud as DOJ Pursues 'Bribery for Pardons' Scheme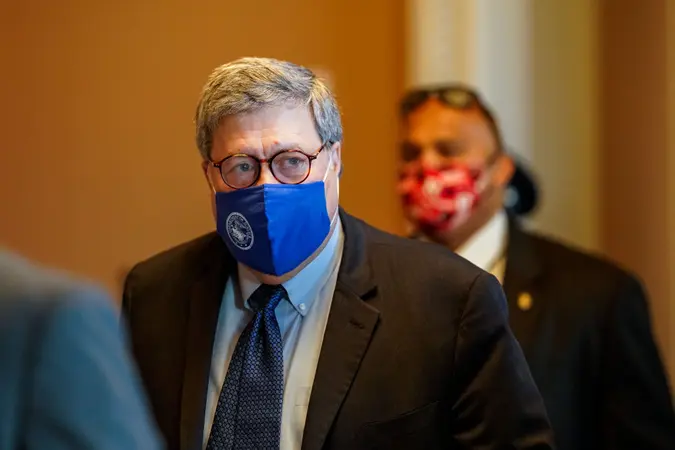 Kent Nishimura/Los Angeles Times/Shutterstock / Kent Nishimura/Los Angeles Times/Shutterstock
As the Biden team preps to enter the White House now that the Trump administration finally freed up millions of dollars in funds for its transition, President Donald Trump holds fast to his claims that there was extensive election fraud on Biden's part. However, late Tuesday night, any glimmer of hope that the President might have had for a second consecutive term were formally shot down when Attorney General William Barr declared that the U.S. Department of Justice has not found evidence of ballot fraud that would alter the outcome of the election.
More Trump Claims: Trump Sues Wisconsin to Throw Out Votes for Biden – After a $3.5 Million Recount
"To date, we have not seen fraud on a scale that could have effected a different outcome in the election," Barr told the AP." "There's been one assertion that would be systemic fraud and that would be the claim that machines were programmed essentially to skew the election results," he said. "And the DHS and DOJ have looked into that, and so far, we haven't seen anything to substantiate that."
Sneak Peek: How Much Is President-Elect Joe Biden Worth?
Meanwhile, court records have just revealed that the DOJ is also investigating an alleged "bribery for pardons" scheme at the White House. A heavily redacted court filing claims someone indicated they'd make a political contribution "in exchange for a pardon or reprieve of sentence." Trump was not apparently indicated by name in the filing, though a New York Times report found he has suggested he'd issue blanket pre-emptive pardons for his family and others in his network.
Fact Check: How Much Money Was Actually Spent on This Election?
True to character, after millions spent on lawsuits to fight the election results that are now definitively finalized, Trump has not backed down in his accusations that the election was mismanaged. While Trump seems to refuse to accept that he lost the election fair and square, he seems to have accepted that he lost — albeit unfairly.
Make Your Money Work Better for You
He won because the Election was Rigged. NO VOTE WATCHERS OR OBSERVERS allowed, vote tabulated by a Radical Left privately owned company, Dominion, with a bad reputation & bum equipment that couldn't even qualify for Texas (which I won by a lot!), the Fake & Silent Media, & more!

https://t.co/Exb3C1mAPg

— Donald J. Trump (@realDonaldTrump)

November 15, 2020
Cryptic tweets that admit defeat may have to do in lieu of a traditional presidential concession speech. Though disconcerting, the lack of a proper concession won't hinder President-elect Biden's path to taking over the oval office (the Trump administration greenlit the transition in November), Trump's persistent, baseless claims of voter fraud could bring lasting damage to the nation — as could Trump's tweets about the bribery for pardons scandal.
Pardon investigation is Fake News!

— Donald J. Trump (@realDonaldTrump)

December 2, 2020
"The precedents Trump has set, the doubts he has sown, and the claims he has made will linger," wrote Uri Friedman in an article published by The Atlantic on Nov. 27. "Restoring faith in the democratic process will take time and effort–and a favorable result is by no means guaranteed."
More From GOBankingRates