Biden's Team Wants To Work, but 1 Agency Stands in the Way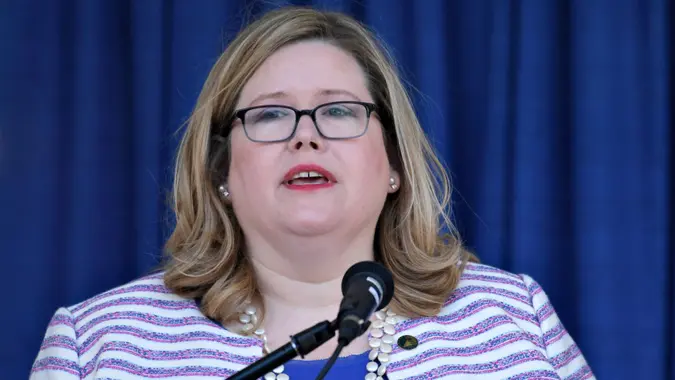 Susan Walsh/AP/Shutterstock / Susan Walsh/AP/Shutterstock
Most people have never heard of Emily Murphy. But she holds a White House position that has suddenly become key to President-elect Joe Biden's ability to begin doing his new job.
While Biden doesn't officially start until Inauguration Day on Jan. 20, 2021, there are official provisions called for in the Presidential Transition Act of 1963 allowing for the incoming president to begin preparations. This includes logistics like having an office space, an internet connection and postage stamps to expediting staff background checks and allowing the president-elect access to classified information.
This is all done through the General Services Administration, and the person to greenlight the process is Murphy, the GSA chief. According to the law, it's the GSA administrator's duty to "ascertain" the winner of the election and sign the paperwork to begin the process.
Murphy, who was appointed by President Donald Trump in 2017, has so far declined to issue the paperwork since the Associated Press called the election for Biden. In statements made to media outlets, GSA spokeswoman Pamela Pennington said "an ascertainment has not yet been made."
Make Your Money Work Better for You
Murphy is known as a Trump loyalist who previously came under fire last year for her alleged involvement in a controversial decision to keep the FBI building in downtown Washington. Democrats claimed it was to prevent the property from being developed as a hotel that would compete with a Trump hotel.
As long as Trump himself holds out on conceding the election as he pursues various legal challenges to the vote counts, official acknowledgment of a new Oval Office occupant may be unlikely.
When President Barack Obama won the White House in 2008, there was no delay in receiving the required letter from the GSA administrator, Obama transition director Chris Lu told NPR. In 2000, though, the transition work only began when President George W. Bush was declared the winner after a Supreme Court ruling in December.
With issues such as a coronavirus vaccine plan and national security matters looming, the Biden team is eager to hit the ground running. "America's national security and economic interests depend on the federal government signaling clearly and swiftly that the United States government will respect the will of the American people and engage in a smooth and peaceful transfer of power," a Biden transition spokesman told The Washington Post.
Make Your Money Work Better for You
Keep reading to see what Biden as president means for your money.
More From GOBankingRates
Make Your Money Work Better for You