After Trump Forces His Resignation, Jeff Sessions Is Still Worth Millions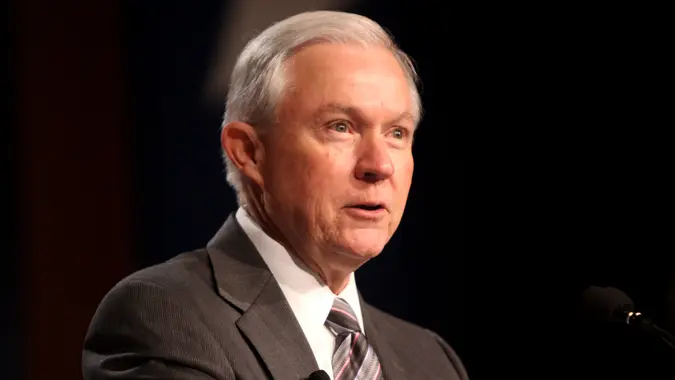 Gage Skidmore / Flickr.com
Attorney General Jeff Sessions resigned from his position on Wednesday, Nov. 7. Sessions appeared to have stepped down due to mounting pressure from President Donald Trump, related to the ongoing investigation that's being led by special counsel Robert Mueller in regard to Russian interference in the 2016 election. Sessions' withdrawal comes fresh off the heels of a highly contested, and very expensive, midterm election.
Matthew Whitaker will take over as acting attorney general and is expected to take charge of the Russia investigation and Mueller from Deputy Attorney General Rod Rosenstein, reported CNN.
….We thank Attorney General Jeff Sessions for his service, and wish him well! A permanent replacement will be nominated at a later date.

— Donald J. Trump (@realDonaldTrump)

November 7, 2018
A controversial figure — allegations of racism have trailed Sessions' appointment since before he was sworn in in February 2017 — in an administration full of controversy, here's a closer look at the former Trump cabinet member's finances and net worth.
Birth date: Dec. 24, 1946
Net worth: Estimated between $6 million and $7.5 million
Sources of income: Attorney general salary, investments, real estate
Career highlights: Trump Administration cabinet member, Attorney General of the United States
Now See: The Mysterious Net Worth of William Barr, Trump's Pick for Attorney General
Jeff Sessions Net Worth: $6M-7.5M
It's hard to pin down Jeff Sessions' net worth. OpenSecrets lists his net worth at around $7.5 million as of 2015. Meanwhile, a July 2017 Forbes exposé put his net worth at $6 million. The U.S. attorney general receives a salary of $210,700, according to a report by Chron. Sessions held his post since February 2017, which means he earned approximately $368,725 during his tenure with the Trump administration.
Make Your Money Work Better for You
Most of Sessions' wealth comes from real estate and investments, according to OpenSecrets. His most valuable asset appears to be a piece of land valued between just over $1 million to $5 million. Forbes adds that he owns more than 1,500 acres in western Alabama, and puts the value over $2.5 million. The majority of Sessions' investments appear to be mutual funds held by Vanguard or Alabama-based government bonds.
Related: How Jared Kushner Built a Fortune Worth Nearly 3 Times That of Trump's Kids
Jeff Sessions' Political Career
President Ronald Reagan nominated Sessions for a seat as federal judge in 1986, which would've been a step up from working as a U.S. attorney in his home state of Alabama. However, he was rejected from the appointment due to charges of racism and bigotry, though he'd later make up for it by assuming the highest judicial appointment in America. He represented Alabama in the Senate for some time, winning his first term in 1996 and being re-elected in 2002, 2008 and 2014. Sessions was one of Trump's earliest, most ardent supporters before his likely forced resignation in November 2018.
Click through to read more about how much Trump's White House staff makes.
More on Politicians
We make money easy. Get weekly email updates, including expert advice to help you Live Richer™.