Kirsten Gillibrand's Net Worth as the New York Senator Runs For President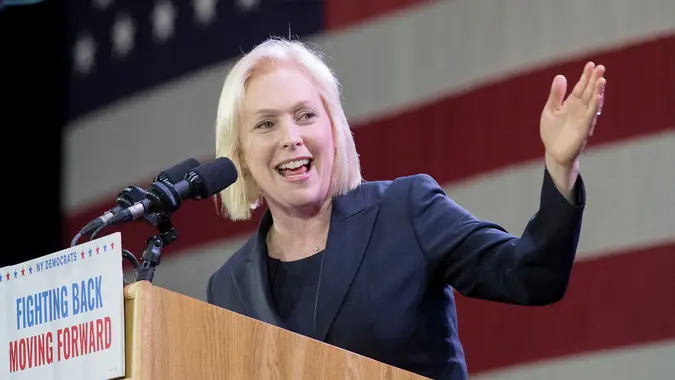 Mary Altaffer/AP/REX/ / Shutterstock.com
Kirsten Gillibrand announced her candidacy for president on "The Late Show With Stephen Colbert."
Gillibrand's estimated net worth falls in the range of $80,003 to $200,000.
Her income is drawn from her Senate salary and book deals.
The 2020 presidential election is inching closer as the candidates face off in rounds of primary debates. One of the first politicians to announce her candidacy was New York Sen. Kirsten Gillibrand. During an interview on "The Late Show With Stephen Colbert," Gillibrand announced she was forming an exploratory committee and that her platform would focus on healthcare for all, education and job training. Here's what you need to know about the presidential hopeful's finances and career.
Birthdate: Dec. 9, 1966Net worth: $80,003 to $200,000Primary source of income: Congressional salaryCareer highlight: Senator from New York
Make Your Money Work Better for You
How Much Is Kirsten Gillibrand Worth?
Sen. Gillibrand's net worth is estimated to be between $80,003 and $200,000, according to the Center for Responsive Politics, which obtained a public financial disclosure report she filed on May 15 of this year. A previous report by the Center estimated that her net worth in 2015 was much higher at $498,502. Since 2007, Gillibrand has served in Congress, where she started out in the U.S. House of Representatives before becoming a New York senator. Her annual salary is $174,000.
Her supplemental income comes from a portfolio of investments and earnings from her book "Off the Sidelines: Speak Up, Be Fearless, and Change Your World," published in 2014, and a children's book, "Bold & Brave: Ten Heroes Who Won Women the Right To Vote," released in November 2018.
Check Out: Guide to the 2020 Presidential Candidates
Kirsten Gillibrand's 2020 Campaign Platform
The slogan for Gillibrand's presidential campaign is a simple one: "Be brave." As vague as the slogan may be, Gillibrand's political record shows she's more than just talk. Her 2020 campaign website emphasizes the following issues.
Make Your Money Work Better for You
Women's Healthcare and Reproductive Rights
Gillibrand pledges to end the Hyde Amendment, protect funding for Planned Parenthood, guarantee access to reproductive healthcare, and nominate judges and Supreme Court justices who will uphold Roe v. Wade. Gillibrand's economic policy platform, the "Family Bill of Rights," includes a proposal for national paid family leave.
Raising Wages To Boost Economic Equality
In 2008, Gillibrand voted against the bank bailouts. She also wants to raise the nationwide minimum wage to $15 and make healthcare and college more affordable.
Fighting Greed and Corruption in Politics
Gillibrand penned the Stop Trading on Congressional Knowledge Act, which made it a crime for members of Congress to profit from insider information when it was passed. She pledges to "get dark money out of our politics" and promote transparency.
Environmental Preservation
Gillibrand was of the first supporters of the Green New Deal, which aims to invest in sustainable infrastructure, create a green jobs economy and protect clean air and water. She would rejoin the Paris agreement on day one of her presidency.
Preventing Gun Violence in America
Gillibrand proudly supports her F rating from the National Rifle Association, and she aims to pass universal background checks, stop gun trafficking, ban assault rifles and close gun sale loopholes.
Other Issues
Gillibrand also supports universal healthcare, immigration reform, voting rights and LGBTQ+ equality. She touts a pretty solid track record against sexual assault and harassment in the #MeToo era. When Sen. Al Franken of Minnesota was accused of sexual misconduct, Gillibrand was the first to call for his resignation — which took place in January 2018.
Make Your Money Work Better for You
And although her campaign website focuses on her progressive values, Gillibrand had a more conservative stance on immigration and the Second Amendment when she was representing a district with a 2-to-1 Republican majority in upstate New York.
Find Out: Which 2020 Presidential Candidates Believe Women Deserve an Equal Wage?
Kirsten Gillibrand's Education and Early Career
Gillibrand was born Kirsten Rutnik in Albany, New York, to two lawyers. She followed her family's footsteps and graduated from Dartmouth College. Gillibrand then took off for the West Coast and graduated from UCLA's law school in 1991. As a practicing lawyer in New York City, she defended Big Tobacco but has since stated that she didn't have the agency as a young associate to pick her own cases. Once she was promoted to senior associate, Gillibrand took on pro-bono cases, defending abused women and tenants fighting landlords over lead conditions.
Politics piqued her interest after she saw a speech by Hillary Clinton, whom Gillibrand now considers a friend and a mentor. Gillibrand then went on to work on Clinton's 2000 U.S. Senate campaign. She also served as a lawyer in the U.S. Department of Housing and Urban Development during Bill Clinton's administration.
In 2006, Gillibrand ran for a seat in the House of Representatives and won. When she was appointed as a senator in 2009, she was the youngest person in the Senate at the time.
Also See: 2020 Democratic Primary Debates — Details on Round 2

Kirsten Gillibrand's Husband and Family
Make Your Money Work Better for You
Outside of her political life, Gillibrand and her husband, Jonathan, lead a quiet life. The couple — who met on a blind date — are raising their two sons, Henry and Theo, in Brunswick, New York.
Keep reading to see fellow presidential candidate Elizabeth Warren's net worth.
More on Presidential Candidates
Erika Giovanetti contributed to the reporting for this article.