What's Next for Trump and Biden If They Lose the Election?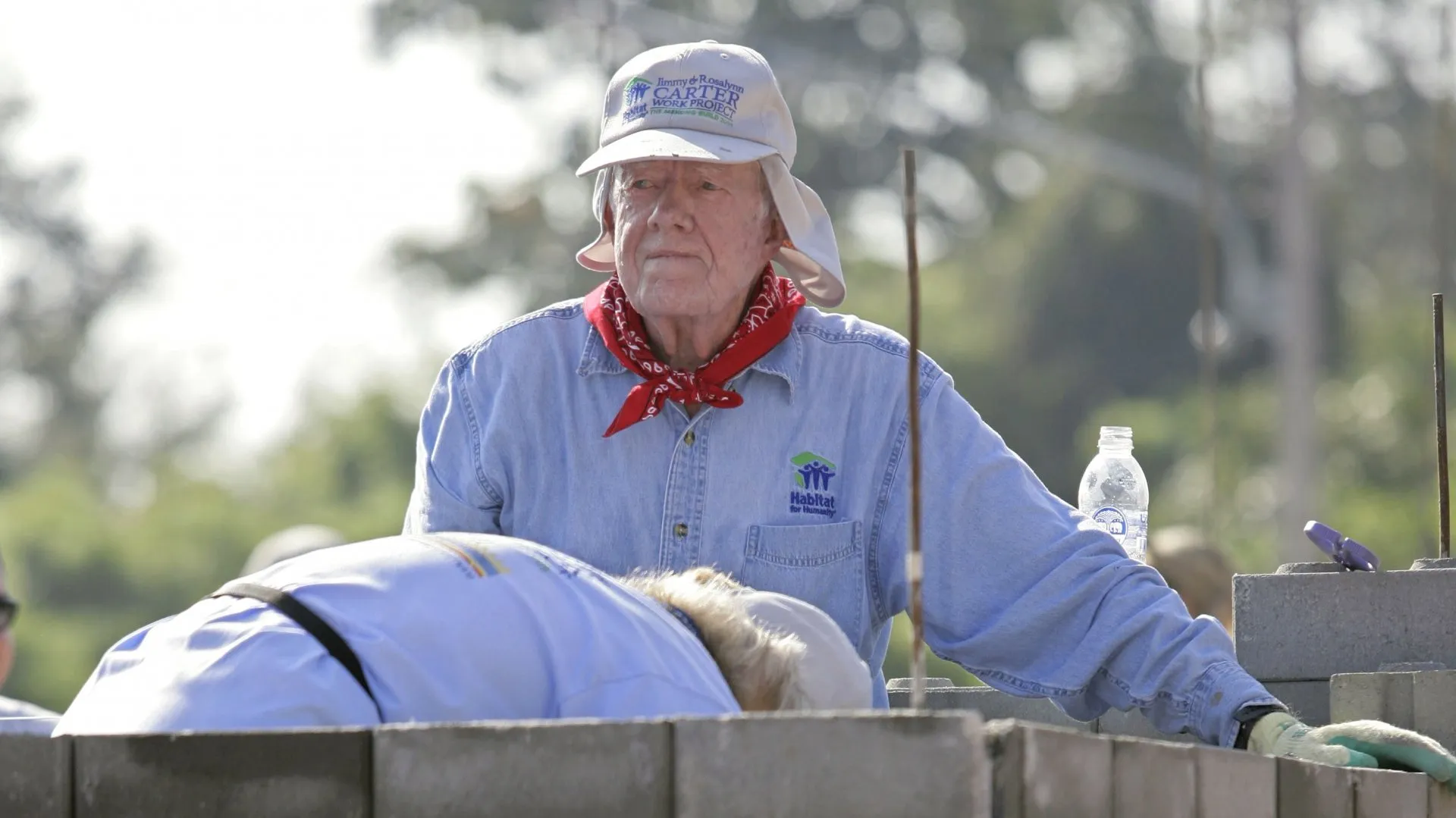 Presidents and vice presidents don't have to pound the pavement looking for work after leaving office. Thanks to taxpayer-funded lifetime salaries and expense accounts, these public servants can live comfortably in retirement. However, many use their time to write memoirs and influence public service projects. President Donald Trump has floated the idea of launching his own television network in the past.
While election officials are counting the votes in this historic contest, let's take a look at some other notable former presidents and vice presidents to see what they've been up to since leaving office. Many have made millions thanks to their time as an elected official.
Last updated: Nov. 3, 2020
Dan Quayle
Net Worth: $3 million
The third-youngest man ever to serve as vice president, Dan Quayle was the 44th vice president under George H. W. Bush, holding office from 1989 to 1993. After leaving office, Quayle became a best-selling author thanks to his memoir, "Standing Firm." He followed up this literary success with three more books: "The American Family: Discovering the Values That Make Us Strong," "Moments That Matter" — co-written with his wife — and "Worth Fighting For."
Quayle's success as an author didn't lead him to quit his day job, though. He worked as the Chairman of Campaign America's political action committee, served on the board of Central Newspapers and was a visiting professor at Arizona State University's Thunderbird School of Global Management. In 1999, he became chairman of Cerberus Global Investments.
Make Your Money Work Better for You
Joe Biden
Net Worth: $9 million
Joe Biden served two terms as the 47th vice president of the U.S. under Barack Obama, after being elected in 2008 and 2012. He is running for president this year.
After leaving the White House in 2017, Biden earned a large share of his wealth from book royalties and speeches — taking his net worth from a reported $1.5 million to the current $9 million.
The former vice president, who lost his 46-year old son Beau to brain cancer in 2015, set up the Biden Cancer Research Initiative in 2017 — a nonprofit organization that encouraged collaboration between researchers, companies and patients to make a dent in the fight against cancer. However, all operations of the nonprofit were halted in 2019 to avoid conflicts of interest, due to Biden's desire to become the Democratic nominee.
Jimmy Carter
Net Worth: $10 million
Former President Jimmy Carter took an unusual route to the White House that included stops under the sea and on a Georgia peanut farm. He resigned as senior officer on the Seawolf, the nation's second nuclear submarine, to manage his family's farm after his father's death in 1953. After getting involved in local politics, Carter became a U.S. senator before heading to the White House.
Since his presidency ended in 1981, Carter has continued working to promote democracy and human rights worldwide. He received the Nobel Peace Prize in 2002 "for his decades of untiring effort to find peaceful solutions to international conflicts, to advance democracy and human rights and to promote economic and social development," according to NobelPrize.org.
President Carter began his writing career with the 1975 book, "Why Not the Best?" In total, he's published 29 books, including novels, memoirs, political commentaries and meditations. Published in 2015, his most recent book, "A Full Life: Reflections at Ninety," includes Carter's private reflections on his career as a politician, businessman, humanitarian and evangelist.
Make Your Money Work Better for You
George H. W. Bush
Net Worth: $25 million
The late George H. W. Bush was vice president to Ronald Reagan from 1981 to 1989 before ascending to the role of president the same year. He passed away at the age of 94 on Nov. 30, 2018.
The first President Bush made millions in the Texas oil industry before becoming president. After leaving office, Bush and his wife, Barbara, returned to their Houston home. Bush created the George Bush Presidential Library and Museum on the Texas A&M University campus in College Station, Texas.
But the 41st president wasn't just interested in collecting books; over the years, he authored, co-authored and contributed to more than 50 books on topics ranging from religious commentaries to politics and health.
In 2010, Bush received the Presidential Medal of Freedom, the highest civilian honor, from Obama.
George W. Bush
Net Worth: $40 million
After the two-term presidency of Bill Clinton, George W. Bush followed in his father's footsteps by becoming the nation's 43rd president. The Bush men represented the first father and son to serve as president since John Adams and John Quincy Adams in 1797 and 1825 respectively.
After leaving office, George W. Bush returned to Texas and started the George W. Bush Presidential Center, which works to promote democracy, improve global health and education, empower women and promote economic growth worldwide. He also takes part in speaking engagements, earning up to $150,000 per speech.
In 2013, the world learned that Bush took up painting after self-portraits were leaked showing the president in the bath and shower. He also created 30 oil-on-board works of world leaders, currently displayed at the George W. Bush Presidential Center.
The former president's book, "Portraits of Courage: A Commander in Chief's Tribute to America's Warriors," depicts 66 Bush-painted portraits of U.S. military members, along with his version of each person's story. He donates the proceeds from the book to helping veterans.
Bush is the author of two other books. In "Decision Points," he tells the story of 9/11 and its cost from his viewpoint in the Oval Office. His other work, "41: A Portrait of My Father," is the only biography of a president written by another president.
Make Your Money Work Better for You
Dick Cheney
Net Worth: $100 million
Dick Cheney retired as Halliburton's CEO to become the 46th vice president under George W. Bush. His $20 million retirement package makes up a significant portion of his net worth.
Cheney has authored three books since leaving office. In "In My Time: A Personal and Political Memoir," he shares recollections of his time as one of the most powerful vice presidents in recent history. He discusses his deeply personal, 35-year battle with heart disease in "Heart: An American Medical Odyssey," co-written by his cardiologist Jonathan Reiner, M.D. His most recent book, "Exceptional: Why the World Needs a Powerful America," came out in 2015.
Cheney still books speaking engagements for an average fee of $75,000 each.
Barack Obama
Net worth: $70 million (combined net worth with wife, Michelle Obama)
Barack Obama, who served two terms in the White House, was the first Black U.S. president. Obama's net worth of $70 million stems largely from his success as an author. Since 2005, he has made more than $15.6 million from the books he authored prior to entering the White House.
After leaving office, Obama and his wife, Michelle, received an estimated $65 million advance for the combined rights to their autobiographies in 2017 and signed an exclusive multi-year deal with Netflix in 2018 to produce their own series, movies and documentaries.
Bill Clinton
Net Worth: $120 million (combined net worth with wife Hillary Clinton)
After two terms in the White House, no one would have blamed Bill Clinton if he had chosen to retire to a life out of the public eye. Not only did he choose to remain active in public life, but he also campaigned avidly for his wife, former First Lady Hillary Clinton, during her campaigns for the U.S. Senate in 2000, president in 2008 and president in 2016.
Clinton is also a renowned public speaker. He gets paid about $200,000 per speaking engagement in the United States but has enjoyed paydays as big as $750,000 for overseas speeches. Together, Bill and Hillary Clinton have earned more than $153 million from speaking engagements since 2001, according to CNN.
Some of their speaking fees go to benefit The Clinton Foundation. The organization says that the "best way to unlock human potential is through the power of creative collaboration and partnership." Goals include creating economic growth, increasing opportunities for women and improving global health.
All three of the books Clinton wrote since exiting the Oval Office were New York Times bestsellers. The titles are "My Life," "Giving" and "Back to Work: Why We Need Smart Government for a Strong Economy."
Make Your Money Work Better for You
Al Gore
Net Worth: $300 million
Al Gore might be better known for his environmental activism than his time spent as the nation's 45th vice president under Clinton.
He won an Academy Award in 2007 for his global-warming documentary, "An Inconvenient Truth." A sequel came out a decade later in 2017.
Gore's entrepreneurial spirit has helped him rack up an impressive net worth. In 2012, he sold the cable news network he founded, Current TV, to Al Jazeera for $500 million, netting him $100 million for his 20 percent stake. He also sits on the board of Apple and chairs Generation Investment Management, a company worth $7.3 billion.
According to ABC News, Gore donates his salary as a partner at Kleiner Perkins Caufield & Byers. However, he retains profits from his company stock options. When he's not busy with his businesses, Gore writes and speaks. He has authored and co-authored 38 books and speaks at events for $100,000 per engagement.
Walter Mondale
Net Worth: Unknown
Before Walter "Fritz" Mondale served as the 42nd vice president under Jimmy Carter from 1977 to 1981, he was an attorney who dedicated his career to fighting for justice and human rights. Mondale made the bulk of his wealth — though his net worth is unknown — from his work in the legal field.
As the Democratic nominee for president in 1984, this former vice president made headlines by naming Geraldine Ferraro as his running mate. She was the first female candidate for the position. He returned to legal practice after Ronald Reagan won the election but came back to public office as Ambassador to Japan and Envoy to Indonesia under Bill Clinton.
These days, Mondale enjoys a career as a lecturer and educator at his alma mater, the University of Minnesota, where he also advocates for affordable and accessible higher education. You can pick up a copy of his memoir, "The Good Fight: A Life in Liberal Politics."
More From GOBankingRates
Net worth information was taken from CelebrityNetWorth.com unless otherwise indicated.
Cynthia Measom contributed to the reporting for this article.