How Much Is Roger Stone Worth? A Look at the Finances of the Former Trump Adviser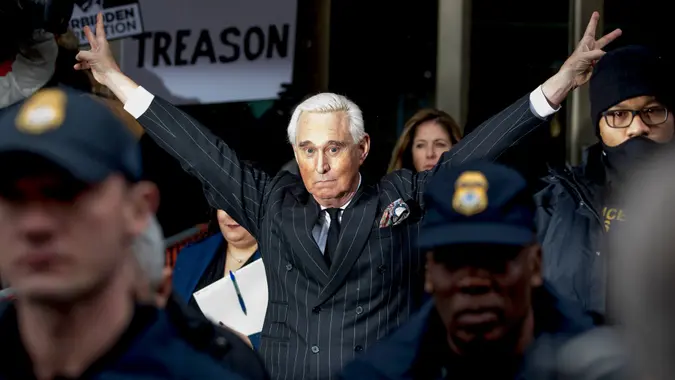 Andrew Harnik/AP/REX / Shutterstock.com
Roger Stone, a longtime political operative and loyal former Trump adviser, was reprimanded in court on Feb. 21 for posting an intimidating Instagram picture.
Stone was accused of lying to Congress about Russia's alleged hacking and meddling in the 2016 presidential election.
With mounting legal fees, Stone's exact net worth is unknown, but he was on track to earn $450,000 a year during the height of his lobbying career.
Roger Stone, a Republican political operative and one of President Donald Trump's most loyal advisers, was reprimanded by a federal judge on Feb. 21 for posting a photo of the judge on Instagram with an image of crosshairs near her head.
On Jan. 25, Stone was arrested in connection with Robert Mueller's investigation in a dramatic early morning raid by 29 agents at his Fort Lauderdale, Fla., home. Stone was charged — and pleaded not guilty — in the Russia investigation. Stone allegedly played a role with the Russian attack of the 2016 presidential election.
After posting bail, Stone's personal Instagram account featured an image of Amy Berman Jackson, the judge presiding over his case, with crosshairs near her head. The image has since been deleted, and Stone has apologized, but the federal judge put a gag order on Stone during a court appearance on Feb. 21.
Led by special counsel Mueller, Stone has been charged with one count of obstruction, five counts of false statements, and one count of witness tampering, according to a Justice Department filing. Here's what you need to know about Trump's former adviser.
Birthdate: Aug. 27, 1952Net worth: UnknownPrimary sources of income: Political operative and strategistCareer highlight: Adviser to President Donald Trump
Roger Stone's Net Worth: Unknown
There's as much speculation regarding Stone's exact net worth as there is regarding his connection with Russia, but according to Celebrity Net Worth, he's worth an estimated $500,000.
Make Your Money Work Better for You
Today Stone maintains that he's quickly running out of money and his mounting legal fees have reduced him to selling $10 rocks in December. His sales pitch was artfully spun into limited edition "Roger Stone paperweights" with the tongue-in-cheek tagline, "an exact historical replica of the stone little David used to take down Goliath!"
Now reduced to selling rocks, Stone's experienced a sizable financial fall. As a partner of the lobbying firm Black, Manafort, Stone & Kelly, he was reportedly on track to earn $450,000 a year by the '80s, according to The Washington Post.
Compare: A Look at Michael Avenatti's Wealth After He Was Charged for Trying to Extort Nike
Roger Stone's Career
The self-described "dirty trickster" has been in and around politics for the better part of 50 years. If America's most shameful political blunders and offbeat narratives of the past five decades were mapped, Stone would be at the center of every scandal and negative attack. From Watergate, lobbying for foreign dictators, spreading false information on Infowars, the 2000 presidential recount, pushing everything from the manufactured President Obama "birther" conspiracy to the Clinton conspiracy complex, Stone is characterized as a larger than life presence who's credited for Trump's White House win in the Netflix documentary "Get Me Roger Stone."
Check out the net worths of former Trump administration staffers.
More on Money
We make money easy. Get weekly email updates, including expert advice to help you Live Richer™.