Tom Steyer Net Worth: Learn More About the Billionaire Philanthropist Running for President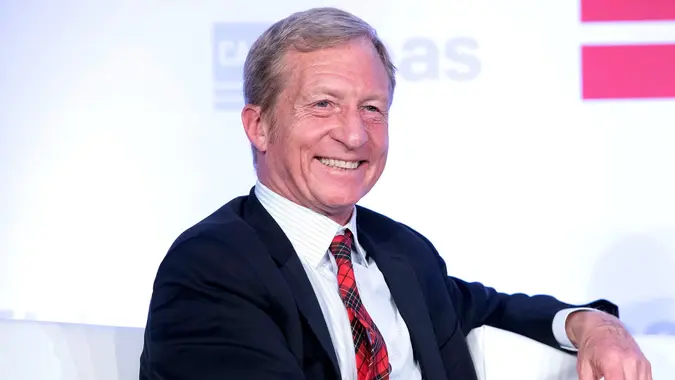 Shutterstock / Shutterstock
Billionaire philanthropist and former hedge fund manager Tom Steyer announced his bid for the 2020 Democratic primaries on July 9.
He has contributed $248 million to Democratic candidates and causes.
Steyer is a political outsider who plans on funding his campaign with $100 million of his own money.
Billionaire hedge fund manager Tom Steyer announced his bid for the 2020 Democratic primary, entering a crowded field of 24 seasoned politicians and newcomers alike. Steyer is grouped in with the political outsiders — along with entrepreneur Andrew Yang and Oprah's life guru Marianne Williamson. But it doesn't seem that he will be sharing the stage with any of the other presidential candidates anytime soon — Steyer has been left out of the next two rounds of Democratic primary debates taking place July 30 and 31.
In a July 9 video announcing his run, Steyer positioned himself as a populist who would aim to "take the corporate control out of our politics." He believes that corporations have bought the country's democracy because they are given the same rights as people — even the right to contribute to political campaigns. Corporations have different goals than people, though — particularly when it comes to the economy and the environment.
"We have a society that is very unequal, and it's really important to understand that this society is connected," Steyer said. "If this is a banana republic with a few very, very rich people and everybody else living in misery — that's a failure."
Make Your Money Work Better for You
Keep reading to see how this billionaire made his fortune.
Birthdate: June 27, 1957Net Worth: $1.6 billionPrimary Sources of Income: Sold his stake in the hedge fund Farallon Capital ManagementCareer Highlights: Managed Farallon Capital, founded the PAC Need To Impeach and nonprofit NextGen America
Don't Miss: Guide to the 2020 Presidential Candidates
Tom Steyer's Net Worth: $1.6 Billion
Tom Steyer created the hedge fund Fallaron Capital Management. For 26 years, he fostered Fallaron's growth to help it become one of the most profitable hedge funds in America. And while he touts his platform of environmentalism, Steyer made his fortune, in part, by investing in fossil fuels.
In 2012, he sold his stake in Fallaron to become more involved in politics and philanthropy. As of July 9, Steyer has contributed $248 million to Democratic candidates and causes — more than any other liberal donor, including George Soros — according to the Center for Responsive Politics.
Tom Steyer's Platform: Environmentalism and Economic Equality
In 2013, Steyer founded NextGen America, a nonprofit that mobilizes young people to vote to "make progress on the issues facing our generation" — including climate change. And during the 2016 election cycle, Steyer donated $65 million to Democratic candidates and environmental causes.
Steyer is also one of the most vocal Trump impeachment advocates — and one of the first people to take such a strong stance. He founded the political action committee Need To Impeach in 2017.
Make Your Money Work Better for You
A Look at Tom Steyer's Campaign Fundraising
Tom Steyer has pledged $100 million of his own money to fund his presidential campaign. On the surface, this might appeal to voters: He can't be bought. But the other candidates who can't be bought — aka the ones who are depending on grassroots movements and small donations — see Steyer's self-funded fundraising as him essentially buying himself a seat at the table. Vermont Sen. Bernie Sanders and Massachusetts Sen. Elizabeth Warren have both taken stances against Steyer's fundraising methods in their own fundraising solicitation emails.
Related: 2020 Presidential Candidate John Delaney Net Worth
Criticism of Tom Steyer's Presidential Bid
It's easy to make parallels between Tom Steyer and President Donald Trump: They're both billionaires and political outsiders with no experience who believe they have what it takes to hold the highest office in the land. And Steyer is certainly getting the outsider treatment. In a scathing op-ed in The New York Times, columnist Jamelle Bouie wrote that Steyer "has no constituency other than himself" and that he's wasting money on his "vanity campaign."
Steyer's position as a longtime mega-donor to the Democratic party puts him at odds with the very party he wants to represent. Because he won't be funneling that money into progressive causes like he did in 2016, that's money lost for other candidates. Still, Steyer insists that it's not about the money. In fact, he doesn't even see himself as rich.
More on 2020 Presidental Candidates