Tom Brady's Bank Account Keeps Growing After Super Bowl Victory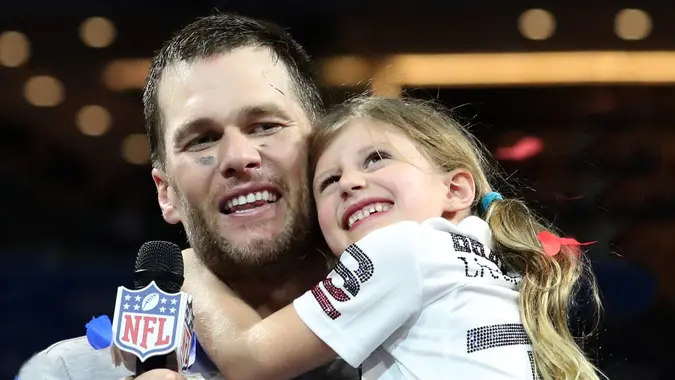 IPS/REX/ / Shutterstock.com
Tom Brady and the New England Patriots defeated the Los Angeles Rams, 13-3, in Super Bowl LIII.
Super Bowl LIII marked Brady's ninth appearance at the football championship.
Brady has made nearly $200 million over the course of his football career since 2000, as of February 2018.
Tom Brady and the New England Patriots won the Super Bowl again after a 13-3 victory over the Los Angeles Rams on Feb. 3.
Super Bowl LIII, which took place at the Mercedes-Benz Stadium in Atlanta, marked Brady's ninth Super Bowl appearance and resulted in a record sixth titles.
See how the ultra-wealthy athlete built his fortune through stellar on-field performance, endorsements and more.
Birthdate: Aug. 3, 1977Net worth: $180 millionPrimary sources of income: Professional athletic salary, endorsementsCareer highlights: Eight previous Super Bowl appearances, with five Super Bowl title wins
Tom Brady Net Worth: $180M
In 2016, Tom Brady's $44.1 million in earnings landed him at the No. 15 spot on Forbes' list of the world's highest-paid athletes. In March 2016, Brady signed a $41 million, two-year contract extension — that included a $28 million signing bonus — with the Patriots. This contract resulted in Brady's base salary of $14 million for 2018 and 2019, nearly double his previous salary of $8 million. All told, he has made nearly $200 million over the course of his career, Forbes reported in February 2018.
Tom Brady's net worth is $180 million, according to Celebrity Net Worth. It's a hugely impressive number, but it can't compete with that of his better half, supermodel Gisele Bündchen: Tom Brady's wife has a net worth of $400 million, bringing their assets to a grand total of $580 million. 
Make Your Money Work for You
See More: Rich Celebrity Power Couples
Tom Brady Football Career
Tom Brady has 19 years of experience in the NFL and has played every game in a Patriots jersey. Since joining the Patriots in 2000, Brady has led the team to nine Super Bowls, finishing six on top. Tom Brady's Super Bowl record also includes being crowned MVP four times. He is largely considered one of the best players — if not the best player — in NFL history, earning him the nickname GOAT (Greatest Of All Time).
Find Out: How Much Money Do Super Bowl Players Get If They Win?
Despite Tom Brady's age, he appears to have no plans to retire in the near future. Brady has said he is hoping to stay in the game until at least age 45. If he does so as a starter, he will break the record of oldest starting quarterback, which is held by former football player Steve DeBerg (44 years and 279 days).
Also See: The Highest-Paid NFL Pro Bowl Players
Tom Brady Endorsements
Tom Brady's stats have helped him garner a slew of endorsements. Between June 2015 and June 2016, he earned $8 million from sponsors such as Tag Heuer, Simmons Bedding Company, Ugg and Under Armour, according to Forbes. In May 2017, Aston Martin announced a multiyear partnership with Brady to promote its DB11 car, which starts at $211,995.
When he's not promoting other businesses, Brady stays busy with his own endeavors. He has a sports therapy center, the TB12 Center, in Foxboro, Mass., and partnered with meal-kit company Purple Carrot for his TB12 Performance Meals.
Check out athletes who won the most lucrative endorsement deals.
More on Athletes and Net Worth
Make Your Money Work for You
We make money easy. Get weekly email updates, including expert advice to help you Live Richer™.
Sean Dennison contributed to the reporting for this article.