Bob Dylan Sells Entire Catalogue in Biggest Ever Megadeal for Any Solo Musician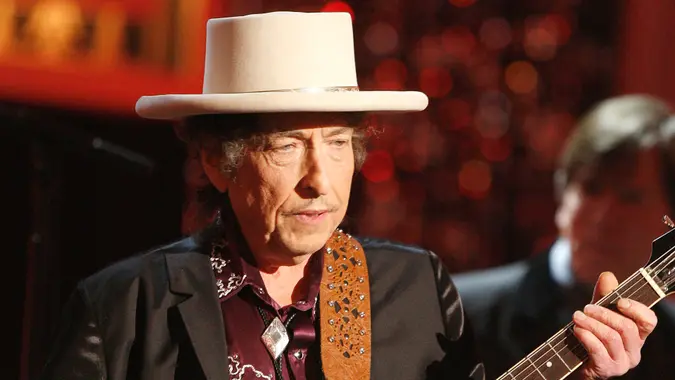 Kevin Winter / Getty Images
On Monday, Universal Publishing Group announced it had acquired the publishing rights to Bob Dylan's entire songwriting catalogue in a landmark deal. While terms of the high-profile deal were not disclosed, the New York Times estimates it at approximately $300 million, which would be the largest ever for music publishing rights of a single act.
Is Dylan on the List?: The Richest Celebrity From Every State
"It's no secret that the art of songwriting is the fundamental key to all great music, nor is it a secret that Bob is one of the very greatest practitioners of that art," Lucian Grainge, chairman and CEO of Universal Music Group, said in a statement.
The agreement, which includes more than 600 songs, will let Dylan retain 100% of his rights for the songs, as well as his control of each song's copyright, while Universal, a division of French media conglomerate Vivendi, will collect all future income from his songs, according to various reports.
Dolly Gave Back: Country Legend Dolly Parton Helped Fund Moderna's 'Impressive' COVID-19 Vaccine
The catalogue includes classics such as "Blowin' in the Wind," "The Times They Are A-Changin,'" and "Like a Rolling Stone." Dylan's catalogue is considered by many to be the crown jewel of song catalogues as he was awarded the Nobel Prize in Literature in 2016 "for having created new poetic expressions within the great American song tradition."
Make Your Money Work for You
"To represent the body of work of one of the greatest songwriters of all time — whose cultural importance can't be overstated — is both a privilege and a responsibility," said Jody Gerson, the chief executive of Universal's publishing division, in a statement to the New York Times.
Wealth and Music: Taylor Swift and 24 More of the Richest Musicians
With the pandemic halting live performances, the song publishing market has been booming this past year. Just last week, Stevie Nicks sold a share of her publishing rights to publisher and talent management company Primary Wave for $100 million.
More From GOBankingRates
Make Your Money Work for You