Top 5 Collectibles You Wasted Money on in the Nineties
Photo: joeltelling
As a 90s kid, I can tell you what a slammer is and how many beanie babies I owned (zero, thank you). I can also tell you that our parents shelled out ridiculous amounts of money as we competed with our peers to have the coolest stuff. Looking back, the most expensive collectables of that decade were really the cheapest junk imaginable, and we'd probably be much better off if our parents had put that money in a savings account for our college educations. Oops.
5 Worthless Collectibles of the 1990s
Every generation has its own slew of trendy toys and short-lived crazes (Silly Bands, anyone?); ten years from now, we'll probably look back once again and realize our money was wasted on these worthless collectibles. But since hindsight is 20/20, take a look at these hot 90s collectibles, consider how much money you blew on them and perhaps think twice the next time you or your kids are ready to drop cash on a passing fad.
1. Beanie Babies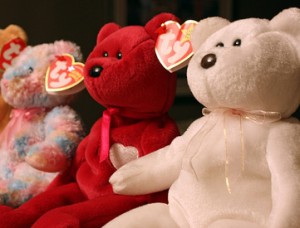 At one time, people were banking their retirement on these toys, which were nothing more than stuffed animals filled with plastic pellets. Beginning as just a handful of characters, Beanie Babies soon came to represent 200 different animals and dinosaurs.
According to 1999 data from market research firm NPD, Beanie Babies producer, Ty Warner, Inc., saw its revenue jump from $1.7 million  in 1995 to $674 million in 1998.
And if the toys themselves weren't expensive enough, you could also buy plastic protectors to keep their red, heart-shaped "Ty" tags in mint condition — you know, to preserve their value. (Photo: Dominique Godbout)
2. Pogs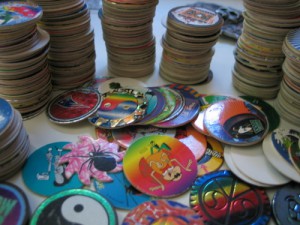 Something of a marbles/Tiddlywinks hybrid, Pogs were just about the coolest thing you could own for a hot second. Though Pogs were nothing more than cardboard milk bottle covers with images of superheroes and cartoon characters printed on them, to 12-year-olds, they were worth more than their weight in gold (which, come to think of it, was not much anyway).
My elementary school even banned Pogs from the campus in order to prevent schoolyard fights over games that went bad, immediately suspending the kids who were caught with Pogs in class. This criminalization of Pogs undoubtedly only made them more attractive to us all, which is why we spent every dollar of hard-earned allowance on them. (Photo: Kiel Bryant)
Related: Geeky Collectibles That Might Be Worth the Investment
3. Pokemon Cards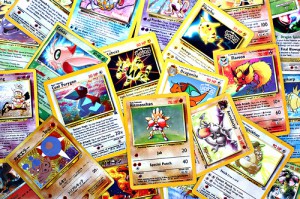 Pokemon wasn't introduced to the states until 1998, but the trading cards took off like wildfire and soon every 10-year-old kid was carrying around a three ring binder full of them wherever they went. And there weren't just cards — manufacturers Nintendo and Wizards of the Coast, Inc. capitalized on the insane success of Pokemon in every way possible, including video games, TV shows and movies, generating revenue of $4.5 billion in the first four years alone, according to TheStranger.com.
While Pokemon is nowhere near as popular today as it was in the 90s, the franchise is still going strong with 14 billion cards sold in 40 different countries as of 2009. (Photo: FyeahBilly)
4. Tickle Me Elmo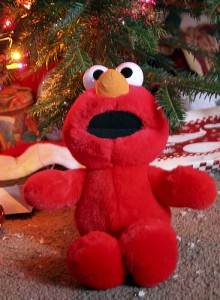 Granted, there was only one "model" to be collected, but the sheer pandemonium inspired by this seemingly innocuous red, furry monster deserves mention. When Tickle Me Elmo first came out on the scene, his infectious laughter was enough to incite riots among parents within Toys R' Us aisles — during the Christmas shopping season the year Tickle Me Elmo was released, shoppers and store clerks were actually trampled and beaten in the rush to snag them off shelves.
According to Time.com, people were reselling the doll for $2,000 at the height of its craze. Today, you can find Tickle Me Elmos on eBay with starting bids of just 99 cents. (Photo: Sandra Forbes)
5. Digital Pets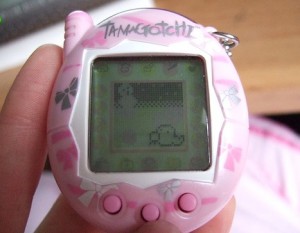 If you were a cool, rich kid, you had a Tamagotchi or a Giga Pet. If you were me, you had an off-brand digital cat or dog from the grocery store. Regardless of class or status, however, we all had a digital pet of some kind and spent hours taking care of them, obsessing over when to feed and play with our virtual animals.
Digital pets were nothing more than plastic key chains with LCD screens that displayed the most basic of graphics, allowing you to watch your digital chicken, frog or alien perform amazing feats like eating, sleeping and pooping! A Tamagotchi — the original digital pet from Japan — cost about $16 in the U.S. According to Mimitchi.com, 15 Tamagotchi were sold every minute in the U.S. and Canada during their peak. (Photo: The Pink Princess)
Today, of course, most of us who are old enough to remember these toys don't care about them anymore, yet the amount of money spent so we could have them is just embarrassing. Every generation has its own set of fads and collectibles, but remember that just because something is popular doesn't mean it's actually worth anything.