DoorDash: Can You Pay With Cash?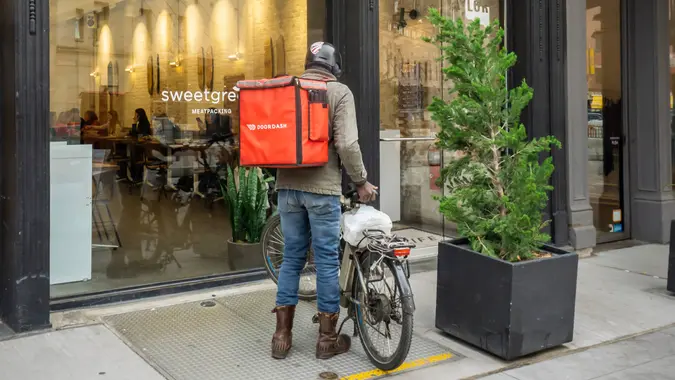 rblfmr / Shutterstock.com
DoorDash is a popular food delivery app. When you want to order a meal or groceries, you can go to the app and place an order from thousands of stores and restaurants across the U.S. But how do you pay?
Read: 3 Easy Tips to Turn Your Credit Woes into Wows
What forms of payment does DoorDash accept? DoorDash accepts cash, credit cards, debit cards, Google Pay, Apple Pay, PayPal and gift cards on delivery orders. Keep reading to find out how to pay with cash, details on delivery and more.
How Do You Pay With Cash on Doordash?
Follow these steps to pay with cash on the DoorDash app:
Launch the DoorDash app: Launch the app on your iOS or Android device. 
Enter your address: DoorDash requires this to be the address where you'd like your food delivered. 
Find what you want to order: Use the food icons on the app to browse local restaurants, gas stations and convenience stores, or use the search bar to find exactly what you want. 
Add items to your cart: When you find the items you'd like delivered, add them to your cart. 
Check out: Once you've finished your cart, tap "Checkout." The app will ask you for your payment method. Choose "Cash on Delivery" to pay with cash. 
Make Your Money Work for You
Can You Tip Your Delivery Driver With Cash?
Tipping delivery drivers for their services is a common courtesy. When you order on DoorDash, you are allowed to tip your driver with cash, but that's not your only option. You can also tip with your preferred payment method through the app. Here are the steps to do so:
Start by opening the app, entering your delivery address and adding items to your cart. 
When you checkout, you'll have multiple fields to view on the order form. One of those fields is for "Driver Tip." In this field, enter the amount of money you want to tip your DoorDash driver. 
What Can You Order on DoorDash?
What you can order on DoorDash largely depends on where you are when you make your order. If you are in a rural area where restaurants, grocery stores and convenience stores are sparse, you may find limited options. However, if you're in a city where there are a few stores and restaurants on each block, you will likely find numerous pickup places for DoorDash. 
DoorDash specializes in three types of deliverables:
Commercially prepared meals: These include meals from restaurants big and small, including fast food restaurants. Your driver will pick your meal up from the restaurant of your choice and bring it to you in a timely fashion. 
Groceries: You can also order groceries from many local grocery stores if you are too busy or otherwise unable to make a shopping trip. 
General goods: These are basic convenience store items, including a limited selection of adult items, like beer.
Make Your Money Work for You
How Far Does DoorDash Deliver?
DoorDash has a delivery radius of up to 30 miles. However, keep in mind that DoorDash is a rideshare company. Rideshare companies such as DoorDash hire independent drivers who make their own hours, drive their own vehicles and decide which orders to accept.
To increase your chances that a driver will be willing to pick up your order, try and keep the restaurant location as close to your delivery location as possible.   
Other Food Delivery Apps That Take Cash
Now that you know DoorDash takes cash, you may be wondering, "What other food delivery apps take cash?" Find the details on other apps that take cash below. 
Grubhub
Grubhub is one of DoorDash's largest competitors. Like DoorDash, Grubhub offers a convenient way to order food from your favorite restaurants and grocery stores across the country. 
Although Grubhub does offer cash on delivery as a payment option, the company has been a strong proponent of contactless payments and deliveries since the start of the COVID-19 pandemic. 
Make Your Money Work for You
Uber Eats 
Uber Eats is becoming a popular meal-delivery service as well. The company is a division of Uber, a wildly successful rideshare company.
Uber Eats offers a large selection of delivery services, whether you're looking for a restaurant meal or groceries to cook at home. Moreover, Uber Eats works to make cash-on-delivery payments safer. In most cases, you can place the cash in a secure location, like your mailbox. When the delivery driver brings you your food, they'll take the cash from the secure location for a completely contactless delivery. 
Delivery.com
Delivery.com is another up-and-coming competitor in the food delivery space that also takes cash as payment. The company has partnered with several restaurants, grocery stores and convenience stores to offer a competitive selection of available goods. 
However, the company has some distinctions that make it stand out from other food delivery services. Delivery.com offers non-delivery services such as laundry pickup and dropoff. The company also offers a wider range of delivery services for adult products like alcohol and tobacco. 
Seamless
At first glance, Seamless seems like your typical food delivery app. The company offers an extensive menu of restaurants. Grubhub powers the service, so you have access to the same offerings you would have on Grubhub. 
The company's claim to fame is something none of the above competitors offer: rewards. You can save hundreds of dollars by taking advantage of in-app perks. 
Final Take
DoorDash is a useful food delivery company. The company makes ordering food and groceries convenient with an intuitive app and plenty of payment methods, including cash for delivery services. Consider taking advantage of DoorDash the next time you order food. 
Information is accurate as of Dec. 30, 2022. 
Editorial Note: This content is not provided by any entity covered in this article. Any opinions, analyses, reviews, ratings or recommendations expressed in this article are those of the author alone and have not been reviewed, approved or otherwise endorsed by any entity named in this article.
Our in-house research team and on-site financial experts work together to create content that's accurate, impartial, and up to date. We fact-check every single statistic, quote and fact using trusted primary resources to make sure the information we provide is correct. You can learn more about GOBankingRates' processes and standards in our editorial policy.
Make Your Money Work for You