Target vs. Walmart School Supplies: Compare Their Best Back-to-School Deals
Get the best school supply discounts by comparing these deals.
1/14
dotshock / Shutterstock.com
Backpacks: Walmart
Back-to-school shopping isn't complete without a new backpack, so head to Walmart for the best deals. For example, a black 18-inch Eastsport Campus Tech Backpack costs $16.94, while a similar 18 1/2-inch laptop-carrying bag by SwissGear is priced at $29,99 at Target.
2/14
LightField Studios / Shutterstock.com
Pencils and Pens: Tie
What's better than brand new pencils with brand new erasers? Pencils that come sharpened. Walmart gets right to the point in that category. A pack of 48 Pen + Gear sharpened No. 2 is $1.88 at Walmart. The store brand at Target is regularly priced at $2.99 for 24.
And when it comes to pens, you don't have to take notes in class with a boring ballpoint. Head to Target for a 50-count case of Yoobi brand gel pens, priced at $11.59. The Scribble Stuff 32-count tower is available at Walmart for $18.88.
3/14
Africa Studio / Shutterstock.com
Lunchboxes: Target
Lunch boxes come in lots of shapes and sizes, but your kids might only need a basic insulated lunch bag. The Fulton Bag Co. Lunch Sack costs $5.99 at Target, while the Ensign Peak lunch sack at Walmart is $8.99.
Don't Miss: 30 Ways Shopping Will Never Be the Same After COVID-19
4/14
hatman12 / Getty Images/iStockphoto
Notebook Paper: Tie
You can't go wrong buying your notebook paper at either store. A 500-count pack of Norcom college-ruled notebook paper costs $2.64 at Walmart, and a 175-count pack of notebook paper from the same brand is 99 cents at Target. The per sheet price is a bit less at Walmart, but you'd need to buy lots of lots of paper to realize even a small savings.
5/14
OnlyZoia / Shutterstock.com
Glue Sticks: Tie
Either store will be the best discount school supply store to buy glue sticks. Get a two-pack of Elmer's Washable Disappearing Purple Glue Sticks for 50 cents at both Target and Walmart during before-school sales. At regular price, it's $1.19 at Target and $1.12 at Walmart. At the sale price, be sure to buy more than one pack. This will be the best price of the school year, and kids will need lots of them between now and June.
6/14
Romrodphoto / Shutterstock.com
Crayons and Colored Pencils: Tie
The cost of going back to school can add up, but crayons won't take much of the budget. A 24-pack of classic Crayola colors costs just 50 cents at both Target and Walmart.
You can pick up colored pencils at the stores, too. For just under $15, you can get a pack of 100-count Crayola colored pencils at either Walmart or Target.
7/14
vgajic / Getty Images
Scissors: Walmart
A 5-inch pair of blunt-tip Fiskars scissors is $1.49 at Target, while Walmart sells the same scissors for $1.47. Walmart comes out the winner, even if only by two cents.
8/14
Antonio Guillem / Shutterstock.com
Folders and Binders: Tie
Chances are your kids need multiple folders, so buying them at the cheapest school supply store is a must. Walmart wins this round with a two-pocket, plastic Five Star folder for 97 cents, as opposed to 99 cents for the same item at Target.
Target is the winner this season when it comes to binders. The store-brand 1-inch, 3-ring view binder is priced at $3.49. That's less than half the $7.48  Walmart charges for a similar Avery Economy 1-inch binder.
9/14
gradyreese / Getty Images
Electronics: Tie
If your student needs a new computer, both Target and Walmart have a variety of models to review. If a small Chromebook would do the trick, check out the Samsung CB4 11.6-inch Celeron at Walmart, currently priced at $129 — a significant discount off its $199 list price — to see if it meets your needs. Target has a similarly sized Acer model for $249.99.
And that new Chromebook owner probably needs a flash drive. Target is the place to turn for that. The Memorex 64GB Flash Drive USB 2.0 costs $5.99 at Target, while Walmart sells a 32GB model from SanDisk for $6.97.
10/14
Somus / Getty Images/iStockphoto
Erasers: Walmart
Mistakes happen, so erasers are an important part of a school supplies list. Save some money at Walmart, where you can get a package of three large, latex-free Paper Mate Pink Pearl Erasers for $1.34. The price is just a nickel shy of Target's price for the same item, which comes out to $1.39.
Check Out: What It Really Costs To Attend America's Top 50 Colleges
11/14
Antonio Guillem / Shutterstock.com
Highlighters: Walmart
Highlighters are one of the most essential school items, so put them on your Walmart shopping list. When you buy from the retail giant, you'll pay $2.54 for a four-pack of yellow fluorescent highlighters made by Sharpie — about 64 cents each. A three-pack of the same item at Target is on sale for $2.09, or about 70 cents each.
12/14
Photographee.eu / Shutterstock.com
Markers: Walmart
Back-to-school shopping for markers is easy because Target and Walmart both have low prices. Pick up a 10-pack of Crayola broad-line washable markers in assorted colors for $2.49 at Target, or save two cents and buy them from Walmart.
13/14
asiseeit / Getty Images
Spiral Notebooks: Walmart
A 70-page, college-ruled one-subject notebook from manufacturer Pen + Gear is just 25 cents at Walmart this school season. By comparison, a similar 70-page Up brand notebook costs 69 cents at Target.
14/14
ljubaphoto / Getty Images/iStockphoto
Calculator: Walmart
Do the math and you'll find that Walmart is just cents better in price than Target. Pick up the Texas Instruments TI-30Xa Scientific Calculator for $8.94, or $8.99 from Target.
More From GOBankingRates
Jami Farkas contributed to the reporting for this article.
Prices were sourced from Walmart.com and Target.com on Aug. 2, 2021. Prices are subject to change.
About the Author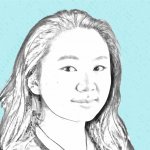 Steffi Cao is a Editorial (SEO) intern at GOBankingRates. She is a rising junior studying Communications at the University of Michigan, and her work has been featured in Teen Vogue and Tostada Magazine.