Home Inspection Costs and Why You Need One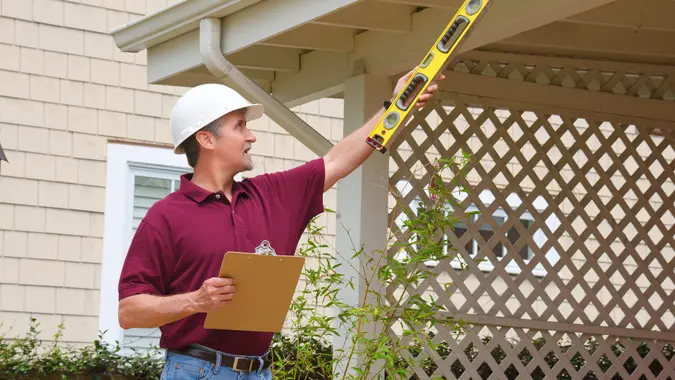 Finding the right home can take time and care. But if you're a homebuyer in an area with a competitive real estate market where homes receive multiple offers on their first day up for sale, you may not have much time to inspect a home closely and take note of any concerns. That's why the brief period of time that follows your accepted offer, called the contingency period, is crucial.
What Is a Home Inspection?
During a home inspection, a professional who is certified to assess the condition of homes evaluates the property you've made an offer on. The home inspector explores the home's structural details, overall condition and potential safety issues. The home inspector then gives you a recap of those findings.
Why Do You Need a Home Inspection?
Even if you believe the house to be free of issues, it's in your best interest to go through with a home inspection. You can use the findings to negotiate for a lower price on the home if it needs repair work, or you can mandate that any problems are fully addressed before you take ownership of the home.
Home inspectors typically evaluate the condition of a home's:
Foundation
Roof
Ceiling
Grading and potential for water damage
Plumbing system
Electrical wiring
Heating, ventilation and air conditioning, or HVAC
Appliances
Fire safety
Make Your Money Work for You
If the inspection uncovers serious health and safety issues with the home or the land it's built on, then you've got good reason to reconsider the deal and recover your earnest money.
What Does a Home Inspection Cost?
The U.S. Department of Housing and Urban Development estimates that the average home inspection cost falls in the range of $300 to $500. That can seem like a lot of money when you're facing what may be the biggest purchase of your life — a home. It's an important step in the process, though, so get after it.
How Much Money Can a Home Inspection Save You?
A quality home inspection can save you tens of thousands of dollars by identifying potential issues and costly repairs that you would otherwise have no way of knowing about.
For example, a home inspector can get up on a ladder to inspect the home's ceiling if it looks damp or off-color. If there's a pocket of water waiting to break through the ceiling's drywall, the inspector may save you from having to front the bill for a soon-to-be-needed roof repair. According to HomeAdvisor, the average roof repair costs $1,027 and can run up to $7,450 — so you'll pay more for a roof repair than you will for the home inspector who uncovers the need for it.
Make Your Money Work for You
Plumbing and Electrical Repairs
Plumbing and electricity are other major aspects of a home's suitability or lack thereof. Does the home have a prior do-it-yourself owner who remodeled the master bath shower without knowing how to set it up to drain properly?
Is the home wired with ground fault circuit interrupters, or GFCIs — especially in rooms where there's a greater threat of electrocution, like the kitchen and bathroom? Does the exhaust vent in the roof work properly, filtering hot air out of the attic?
These are examples of potential problems in a home that could cost you thousands of dollars to fix. Even worse, they could create unsafe conditions for you to live in.
Advice: Put a Home Inspection Contingency in Your Offer

When you make an offer on a home, be sure that your home purchase contract has an inspection contingency. This is standard industry protocol in most places, but advocate for yourself by making sure it is included. This is the first step in being an informed homebuyer.

An inspection contingency gives you the right to bring a certified professional in to evaluate the home during the contingency period, allowing you to take a more detailed look at the home before you become its new owner.
Make Your Money Work for You
Will You Need Specialists?
A good home inspector will cover a lot of ground, literally, but you need to know that home inspectors are generalists. There are certain issues you may want or need to bring an expert in for, such as:
Foundation
Termite damage
Asbestos
Radon
Septic systems
Wells
If you know in advance that you will want a consultation on any of these issues, try to get the specialist and the home inspector to evaluate the home at the same time. This allows you to consult them at once and minimizes any inconvenience to the current homeowner.
How Long Does a Home Inspection Take?
You'll need to complete the home inspection inside of your contingency window, which is usually seven to 10 days.
Expect a home inspector to spend about three to four hours actively checking the home's interior and exterior. You have the right, as the homebuyer, to request the right to be on-site while the inspection is going on.
You can reasonably expect to hear preliminary feedback from the inspector before he or she leaves, but a more detailed written report should follow within a few business days.
Hiring the Right Home Inspector
Your real estate agent can recommend a home inspector, but in many cases, it's best to do your own research and hire someone on your own. You want someone with a reasonable amount of experience and with the right training and certification.
You can ask a home inspector to provide:
Proof of state certification
The number of years of experience they have working as a home inspector
A sample home inspection report
Professional references
Remember, the home inspector has a great deal of influence over how your real estate transaction goes. The inspector's report will put you on one of three paths:
You can proceed with a sense of closure — you've done your due diligence and there are no red flags.
You can pursue needed repairs and/or a lower price.
You can proceed with caution or walk away with your earnest money in tow.
Because the home inspector isn't as invested in the home as you likely are, his or her voice is a stable, unbiased opinion to lean on as you assess whether or not the home you've picked out is right for you.
Inspect It Before You Buy It
At the end of the day, a home is a major purchase. Even if you're in an area with a competitive real estate market, you owe it to yourself to slow down, ask every question you have, and begin life in your chosen home with contentment and peace.
A home inspector is exactly the person who is best positioned to help you get there. Hire the right professional, embrace the home inspection cost, and trust in the process.
GOBankingRates' Homebuying Guides
Information is accurate as of Sept. 1, 2022.
Our in-house research team and on-site financial experts work together to create content that's accurate, impartial, and up to date. We fact-check every single statistic, quote and fact using trusted primary resources to make sure the information we provide is correct. You can learn more about GOBankingRates' processes and standards in our editorial policy.
Make Your Money Work for You