9 Tips to Improve Personal Finances
Personal finance is largely an extension of an individual's financial discipline. Some of us are very good at keeping track of spending, saving, and budgeting for unexpected situations. However, there are those of us who are not quite as careful with our money. Oftentimes, we will spend more than what we have and live paycheck to paycheck, or charge too much on credit. Here are some steps that will help you save more and spend less.
9 tips to improve your personal finances.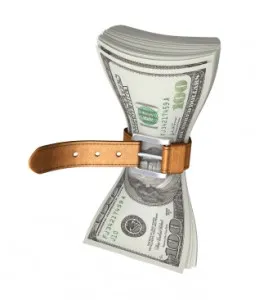 1) Have a savings account and use it correctly. Most of us have a savings account. But the question is, do we actually use our savings account correctly? Sure many of us put money in our savings, but when we see something that we feel we must have, that money can disappear instantly especially because it's linked to our checking account and easily accessible. The best way to help our savings grow is to avoid impulsive buys and set goals for what we want to do with that money. That way, the next time we see something we like at the store, we're conscious of our behavior.
Make Your Money Work for You
2) Have a checking account. The best way to manage money is through organization, and checking accounts are one of the most beneficial for this purpose. It allows you to deposit money in a safe place where the bank keeps track of all of your transactions. Of course you have to reconcile your bank statement each month, but with a checking account, keeping track of your personal finances is much easier.
3) Have a direct deposit into your checking or savings account. With the advancement of technology, many things have made our lives easier, and that includes deposits. Direct deposit allows money to be transferred from one account (whether it is a checking or savings account) to another. This process helps to make money transfers quicker and reduces the level of lost or stolen checks.
4) Consolidate your loans. Most of us have debts, some more than others – whether it be student loans, credit card debts, or personal loans. It's all very tiring and stressful to deal with, but it's unavoidable. The best way to make your life easier when it comes to multiple loans of the same category is to consolidate. By consolidating your loans, you are lumping your loans together and making only one payment each month.
Make Your Money Work for You
5) Invest your money in a CD account. If you have money in your savings account and know you don't need to use it anytime in the near future, a good idea is to put that money into a CD account. Like a savings account, CD accounts are insured either by the FDIC or NCUA for up to $250,000 (until January 2010), and accrues interest while the money sits in the account. However, CD accounts have higher interest rates, which is nice because you'll be able to see a nice gain.
6) Have a money market account. Ever wished your checking accounts could accumulate interest? With a money market account, we can get interest for your deposited money. Money market accounts work almost identically to checking accounts – we can make deposits and write out checks. However, there are some limitations and restrictions you need to be aware of if you plan on opening one.
Make Your Money Work for You
7) Create a Christmas club account for the holidays. Every holiday, especially on Christmas, we end up spending more money than we really should. With a Christmas club account, or a holiday account, you can put a bit of money into the account every month so that you build up your holiday fund. By doing so, you don't have to worry about not having enough money to spend on the holidays, and it gives you an idea of how much to budget on presents and holiday vacations.
8) Have a gas only credit card. For those who are looking to build credit, having a gas only credit card is a good way to go. The advantage of having a gas credit card is that it's convenient and there are perks. Gas only credit cards can provide between a 2 – 5% discount every time gas is purchased, as well as give points for every gallon purchased which can be converted to free gas. Since this type of credit card is only meant for gas, the balance each month is low enough that you can pay off the entire balance and build credit responsibly.
9) Refinance your home while interest rates are still low. It's not often that mortgages rates are low, so when they are, take advantage of it. By refinancing your home, you can help to reduce the amount that you have to pay on the mortgage each month. Refinancing helps to also pay off your principal if you were only paying interest.