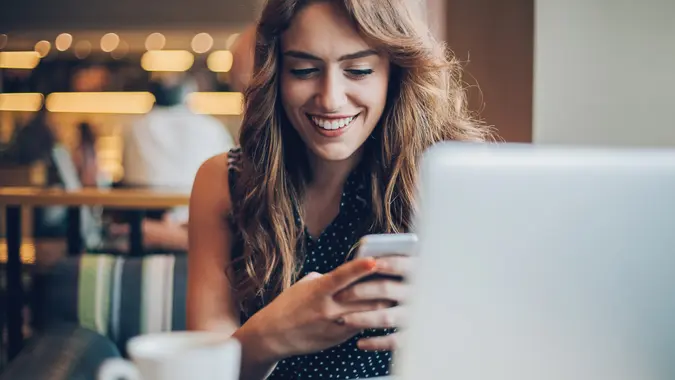 Petar Chernaev / Getty Images
Whether you're near your data plan's monthly limit or in an area with limited service, having a list of places with free Wi-Fi can be handy. You can check your email, catch up with social media, take care of a task for work or school, or download an important file. Read on to find out where you should look when you need access to the internet on the go.
See: Find The Upside To Every Purchase
Where Can I Connect to Wi-Fi for Free?
A surprising number of places offer free Wi-Fi for guests. If you're near any of the following types of establishments, you may be able to connect to their network and start browsing.
1. Airport Terminals
Passengers waiting for flights may use the time to catch up on work or entertain themselves by streaming media or browsing websites. At most major airports, travelers can connect to free Wi-Fi in the terminals — a service provided to make layovers more enjoyable. You may have to watch an advertisement or two before accessing the internet, but you'll be browsing in no time.
2. Hotels
Complimentary Wi-Fi is a popular amenity at many hotels. At some hotels, you need to enter a password (usually your last name and room number) before accessing the internet. However, other hotels provide Wi-Fi in the lobby that you may be able to access without a password, especially if the facility also includes conference or banquet rooms.
Make Your Money Work for You
3. Public Libraries
Many public libraries offer free Wi-Fi for patrons who bring their own devices to the branch. At your local public library, you can work at a table or study carrel. You also may be able to reserve a room if you need additional privacy. Some libraries have a Wi-Fi signal strong enough that you can work from your car or an outdoor spot on the library's lawn.
4. Restaurants
Casual chain restaurants like Panera Bread provide complimentary Wi-Fi service for customers. It's a convenient choice if you want to work during lunch, and you'll find plenty of other people taking advantage of it. Fast food establishments like Burger King and McDonald's also advertise free Wi-Fi for customers.
5. Coffee Shops
For years, college students have used local coffee shops like Dunkin' and Starbucks as study spots. Many find the environment in these establishments conducive to work, as they usually play soft music and lack distractions like televisions blasting in the background. They also feature a variety of seating options, including tables and booths with upholstered and high-top seating.
6. Retailers
Some retailers provide free Wi-Fi for customers shopping in their stores. For example, having access to the internet at Target and Dollar General is convenient for shoppers who want to use the store's app to search for deals and track their purchases. You also may find free Wi-Fi at a bookstore like Barnes & Noble, where you can order refreshments from an in-store cafe while you browse online.
Make Your Money Work for You
Free Wi-Fi Safety Tips
Free Wi-Fi may be a lifesaver, but you should be cautious when connecting to a public network that other people can access. When you use a network, data moves between your device and the sites you're connecting to, and hackers can see that information if it's not properly protected. The following tips can help you keep your information safe.
Look for websites that use encryption. You'll see a symbol in the shape of a lock near the https line at the top of the page.
Sign up for two-factor authentication for websites that contain sensitive information. This feature requires you to enter more than your password. In most cases, you'll receive a text or email with a verification code.
Use strong passwords that others cannot easily guess. A secure password is long and has at least 12 characters and a combination of letters, symbols and numbers.
Be aware of your online activities. Paying bills and checking account balances is usually not a good idea when you're using public Wi-Fi. Wait until you're on a secure private network to deal with those tasks.
Check your settings. You can disable file sharing when you're using public Wi-Fi so that others on the network cannot access the folders on your device. Also consider turning off the automatic connection feature on your device so it doesn't connect to an available network without your approval.
Final Take
There's no question that finding free Wi-Fi when you're traveling, running errands or working away from the office is convenient. It's also a great way for the business to attract customers. Keep in mind that the company offering this service is doing you a favor, so consider returning it by purchasing a beverage or snack while you're there. It's also helpful to be mindful of other customers by using headphones or earbuds if you choose to stream media.
FAQ
Do all McDonald's locations have Wi-Fi?

Most McDonald's restaurants in the United States have Wi-Fi available for their customers. Of the 13,444 restaurants open in 2022, more than 11,500 of them offered the service. Sometimes managers or owners disable the network, and the available speed can vary depending on the location and number of users.

What apps give you a free hotspot?

A number of apps available in the App Store and Google Play can turn your device into a free hotspot. These apps use your existing data plan or Wi-Fi connection, so be aware of your plan's data caps. Your local library may have hotspots (and sometimes laptops) available for patrons to check out as a way to expand community access to the internet. To use this service, you'll need to have an active library card and meet certain requirements. These hotspots operate on their own networks, and you may be able to borrow the hotspot for up to three weeks at a time.
Make Your Money Work for You
Our in-house research team and on-site financial experts work together to create content that's accurate, impartial, and up to date. We fact-check every single statistic, quote and fact using trusted primary resources to make sure the information we provide is correct. You can learn more about GOBankingRates' processes and standards in our editorial policy.