60% of Americans 'Buy Now, Pay Later' — But Is This Shopping Fad Too Risky?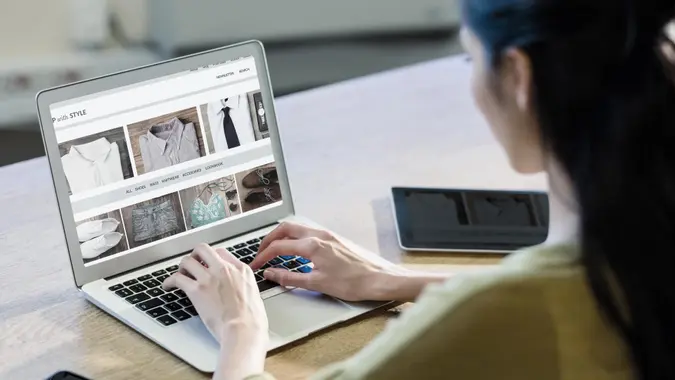 vectorfusionart / Shutterstock.com
Move over credit cards — there's a new financing option that's gaining popularity among consumers. If you've done any online shopping recently, you've probably noticed that many retailers are now offering the option to "Buy Now, Pay Later" through services like Affirm, Afterpay, Klarna and PayPal Credit. These services allow consumers to make interest-free installment payments on a purchase over the course of a set number of weeks. And many consumers are taking advantage of these Buy Now, Pay Later services. According to a survey conducted by C+R Research, 60% say they have used a Buy Now, Pay Later service, and of those respondents, nearly half (46%) are currently making a payment or payments through one of these services. But are Buy Now, Pay Later services benefiting the consumer, or are they putting them at financial risk?
Follow Along: 31 Days of Living Richer
Discover: How To Get Your Online Shopping Habit Under Control

Buy Now, Pay Later Can Benefit Those Who Are Savvy About Their Finances
If you are someone "who understands the value of leverage and control when it comes to money," you may benefit from the option to spread out your payments, said Trevor Ward, CPA, VP, business development at BetterWealth. "For example, a disciplined investor may decide to spread a $1,000 purchase out over time, then put the funds they would've spent in a liquid investment."
Make Your Money Work for You
It Also Offers Buyers More Flexibility
A benefit of Buy Now, Pay Later services is the "ability to buy something you need immediately or that may be limited in quantity, even if you don't have the cash to cover the whole amount at the time of purchase," said consumer savings and family finance expert Andrea Woroch. "For shoppers who can't pay off a credit card purchase in full, [it can be a good] alternative to credit cards that charge high interest fees. Services like Afterpay don't charge fees, so it's free for shoppers. PayPal allows you to split up payments into four installments with payments due every two weeks, which also does not charge fees or interest."
Some consumers may prefer these payment plans to traditional credit cards.
Read: 24 Ways To Make Money Off Your Shopping
"Whether it's buying a $60 pair of jeans or a $600 mattress, Buy Now, Pay Later services put the consumer in control of their finances to choose when and how they pay," said Renaud Laplanche, co-founder and CEO of the mobile bank Upgrade. "BNPL gives consumers a more responsible installment structure, which is more beneficial than traditional revolving credit cards that only require a minimum monthly payment, promoting debt."
Make Your Money Work for You
It May Be More Accessible Than Credit Cards
Some shoppers don't have access to credit cards (or may not want to add to existing credit card debt), in which case, Buy Now, Pay Later offers another purchasing option.
Learn: The Top Things To Consider Before Applying for a New Credit Card
"Buy Now, Pay Later is a great way to remove payment barriers at checkout for customers," said Jonathan Treiber, a retail-industry sales expert and the co-founder and CEO of RevTrax. "Helping customers spread purchases over time isn't new; however, this solution makes it easy for customers at the point of purchase."
But the Risks May Outweigh the Benefits
"The statistics presented by C+R Research show that 59% of shoppers purchased an unnecessary item they couldn't afford, and over half said they are currently behind on a payment," Ward said. "The last statistic sums it up well — most people view this as an alternative to swiping a credit card. I see the Buy Now, Pay Later trend as a way for retailers to lure consumers into buying things they don't need and can't afford."
Make Your Money Work for You
Interestingly, even though more than half of shoppers use Buy Now, Pay Later services, the same survey found that 66% of consumers believe it's "financially risky" to use these services — so it seems that many are aware of the risks but are utilizing these payment plans anyway.
"These services can make impulse purchases that are out of your budget seem affordable, but put you into deep financial trouble when you have to make payments and struggle to manage other bills or rack up credit card debt simultaneously," Woroch said.
Savings Battle: In-Store vs. Online Shopping
That's because many consumers use these services without reading the fine print.
"The risks revolve around cost, as it can carry a substantial cost for this service, and customers may not read the fine print given the instant gratification involved in making the decision at the moment of purchase," Treiber said. "Consumers tend to spend more time researching and understanding terms of a new credit card compared to this type of service, which is a bit rushed at checkout."
Because Buy Now, Pay Later services are so new, people might not be aware of the risks involved.
"BNPL [services] are just piling even more stress on people's financial shoulders," said Daniela Corrente, CEO and co-founder of the personal finance platform Reel. "Late fees from consumers are a major revenue source for BNPL, which in itself should be a huge red flag. In fact, nearly 40% of U.S. consumers who used Buy Now, Pay Later missed more than one payment."
See: 18 Online Shopping Traps and Scams To Watch Out For
Find: How To Use Credit Card Hacks To Save Big on Travel During Wedding Season

And if you are able to use Buy Now, Pay Later services responsibly, you're probably better off using a credit card to take advantage of the rewards.
"Credit cards offer robust rewards programs these days and as long as you pay off your balance in full each month, using one can really benefit your budget by providing cash back or even miles towards free flights," Woroch said.
More From GOBankingRates:
Last updated: July 26, 2021
Make Your Money Work for You