10 Buy Now, Pay Later Stores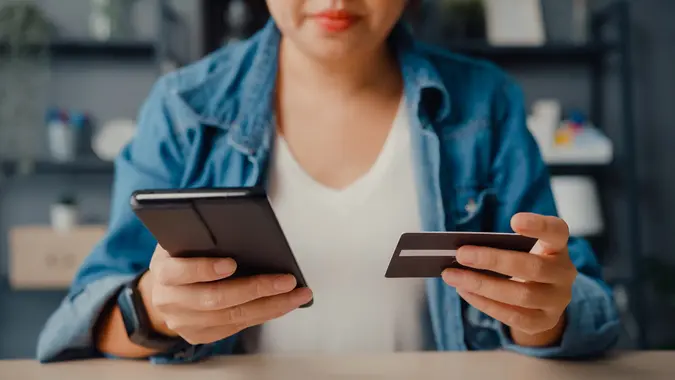 Tirachard / iStock.com
Many stores and retailers accept buy now pay later applications to make it more convenient for their customers to shop in-store or online. Options can vary from layaway to buy now pay later when trying to finance a purchase. For the buy now pay later option, these stores also partner with apps that let you acquire an item and spread the payment across an agreed-upon number of installments.
What Is Buy Now, Pay Later?
Buy now pay later is a financial arrangement that lets you make purchases without paying the total amount all at once. With BNPL, you can split payments into equal monthly installments depending on the terms of the BNPL agreement you make with either the retailer or a third-party financer.
What Stores Offer Buy Now, Pay Later?
If you are looking to buy some gifts, or items for around the house, but don't want to worry about paying for everything upfront. It is good to know where you can go to shop to buy now and pay later. Here are the 10 best stores where you can do so:
Best Buy
Costco
Lowes
Home Depot
Ikea
Kohl's
Macy's
Target
Sephora
Walmart
1. Best Buy 
With some big-ticket electronic items, it's beneficial Best Buy offers a lease-to-own system. This is a form of progressive leasing, which allows the buyer an alternative to using a regular credit card, by allowing them to use a Best Buy credit card without paying interest within a specific period of time, which is on par with buy now pay later.
Make Your Money Work for You
2. Costco 
Not just for buying in bulk, Costco also offers a ton of stuff for around the house. The discounts don't end with warehouse pricing either, you can buy now, pay later at Costco when you check out with Zip. You must put 25% of the cost down upfront, and then you just pay in four installments over the six weeks following the initial deposit.
3. Lowe's 
Similar to Best Buy, Lowe's offers a lease-to-own buy now pay later system. Perfect for home appliances, power tools and more, you can apply online or in-store for this option. There is no credit needed to apply, and 90-day purchase option where you can make either weekly, biweekly or monthly payments.
4. Home Depot 
House renovations can be expensive but at least Home Depot offers a reprieve. If you checkout using Klarna, you can split your purchase into four smaller payments, so you don't have to pay a high price point all at once.
5. Ikea 
Swedish discount furniture and meatballs aren't the only deals at Ikea. If you check out with Zip instead of paying the total, you would just have to make four installments over six weeks.
6. Kohl's 
Kohl's has something for everyone, so when you are buying something for everyone, it helps to have a buy now pay later options so you won't break your budget. If you download the Klarna app, when you checkout you can opt to pay in four installments.
Make Your Money Work for You
7. Macy's 
This department store is usually a heavy hitter at the holidays, but this doesn't mean your wallet also has to be heavily hit. Macy's partners with Klarna to allow you to pay in four installments instead in total up front.
8. Target 
Target offers a buy now, pay later option through such apps as Affirm or Klarna. This is a way to make consistent monthly payments on something without having to pay the total upfront. Though there are no service or cancellation fees, there will be a varying APR percentage depending on the purchase amount.
9. Sephora 
Sephora not only allows you to shop now, pay later but also to buy now, pay later. They partner with both Afterpay and Klarna to allow you to choose either pay to split your purchase into four interest-free installments.
10. Walmart
Walmart stores stopped their traditional layaway program in 2020. It now operates with a buy now, pay later system. Partnered with Affirm, this system allows you to finance your purchases into a multiple-payment plan. Though there are no service or cancelation fees, there will be a varying APR percentage depending on the purchase amount.
The Best Buy Now Pay Later Apps
BNPL is a growing trend among retailers. Here are some buy now, pay later apps you may want to consider.
Affirm
The top choice for most shoppers who prefer BNPL financing is Affirm because it does not have any fees, even for late payments. For interest-attached purchases, Affirm charges simple interest, making shopping more affordable. When you buy something from Affirm, you get a clear breakdown of the payment schedule and reminders to help you make responsible financial decisions.
Make Your Money Work for You
Sezzle
Sezzle has partnered with Ally Bank to provide the flexible payment options. You can make larger purchases at select stores without having to make a downpayment.
Afterpay
Afterpay has partnered with over 85,000 merchants, making it ideal for shoppers looking to use BNPL at a wide variety of retailers. You can shop at your preferred store and pay it off over a period of six weeks. Plus, Afterpay charges no interest.
Four
Four is a buy now pay later app that allows you to make purchases at different stores and pay over time. There's no credit check and Four doesn't charge interest, either.
Klarna
If you are making large purchases, and are looking to pay in installments, Klarna is your top choice. It works with several brands in different categories, including electronics, fashion, beauty, home and more. Klarna's BNPL program offers a flexible payment option and charges no interest.
Zip
Zip's buy now pay later app offers two different introductory interest-free programs: ZipPay and ZipMoney. However, the latter is only interest-free for the first three months. Zip is formerly known as Quadpay. 
Splitit
If you're looking for a BNPL app with no credit check, Splitit is your go-to choice. Splitit uses your existing Mastercard and Visa credit cards to help you make purchases, unlike other lending apps which often issue their own cards. With Splitit, you can continue using your existing credit card to make purchases while benefiting from Splitit's interest-free BNPL program.
Buy Now, Pay Later vs. Credit Cards
BNPL apps might seem similar to credit cards, but the two payment options are distinct, each having their own benefits and drawbacks. One of the major differences is that credit cards charge interest while BNPL services offer interest-free transactions.
Make Your Money Work for You
In addition, getting approved for a credit card is not easy because the bank or credit union has to check your credit history and confirm that you meet specific requirements depending on the card. On the other hand, you can often get approved for BNPL services in minutes, sometimes even without a credit check.
Buy Now, Pay Later vs. In-Store Financing
Besides the above BNPL options, some stores offer in-store financing to their customers to pay for their shopping in installments.
Most in-store financing options give you a designated store credit card to help you buy now and pay later over an agreed period. If the repayment period ends and you haven't completed the payment, you will become liable for interest on the purchase.
While the buy now pay later lending arrangement generally allows you to spread payments across four or five installments, in-store financing often gives up to 24 months and sometimes longer.
In-store financing makes sense if you make large purchases and would like to spread the payment for a longer period. However, it can get very costly if you can't keep up with payments.
Final Take
The number of retailers and online stores accepting the buy now pay later financing arrangement is increasing every day. While BNPL is a flexible option, be sure to understand:
The number of installments you'll make
The amount of each payment
The conditions under which interest may accrue
How BNPL loans can affect your credit score.
Make Your Money Work for You
Understanding the conditions of buy now pay later arrangements will help you to take advantage of the flexible payment option while preserving your credit.
Lydia Kibet contributed to the reporting for this article.
Our in-house research team and on-site financial experts work together to create content that's accurate, impartial, and up to date. We fact-check every single statistic, quote and fact using trusted primary resources to make sure the information we provide is correct. You can learn more about GOBankingRates' processes and standards in our editorial policy.