Costco Business Center: Why You Should Shop Here Instead of a Regular Costco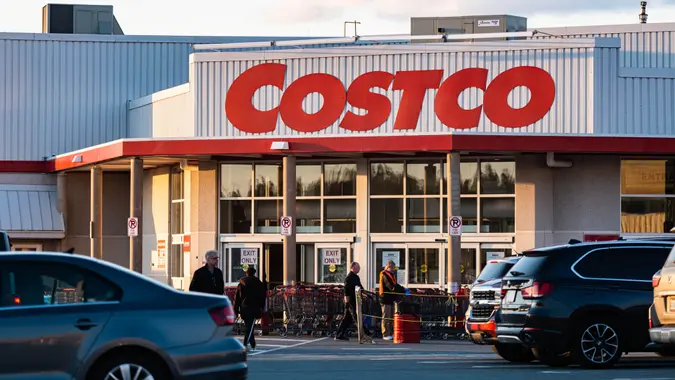 shaunl / Getty Images
When you think about the Costco Business Center, you might envision a place where only large-scale buyers go to stock up their business or fill their restaurant pantry. Although the  Costco Business Center is targeted at small business owners, it's open to all Costco members and offers some benefits — and plenty of products — that regular Costco locations don't.
See: How To Get Cash Back on Your Everyday Purchases
Here's what you need to know about Costco Business Center, including why you should shop here instead of a regular Costco. 
You Don't Need a Separate Membership
No matter which Costco membership you have — Executive, Business or Gold Star — you can shop at all Costco warehouses worldwide, including Costco Business Centers.
You Can Shop for Basic Household and Grocery Items
Unfortunately, Costco Business Center doesn't have a pharmacy or sell wine like the regular Costco store does. But it does have many of the basic household and grocery items you need to stock your refrigerator and pantry, such as all different types of meat, and also has health and beauty items, pet supplies, office furniture and office supplies.
"Costco Business Center is geared toward businesses, but you can also find some of the same basic items that you can at a regular Costco," said Annie Hanson, financial coach and owner of Mindfully Money. "This includes basic grocery items, such as milk, eggs, produce, snacks, frozen foods, bread, etc. You can also get toilet paper, Kleenex and cleaning supplies."
Make Your Money Work for You
You Can Take Advantage of Savings Events
Like Costco, Costco Business Center does have savings events that feature instant savings for its products. However, also like Costco, you have to visit the warehouse to take advantage of the special pricing.
Costco Business Center Is Typically Less Busy
"Regular Costco stores can get extremely busy on weekends and around holidays," Hanson pointed out. "Traffic at the business center tends to be more stable because they don't sell seasonal items and the customers are mostly businesses. Instead of having many people buying a few things, you have a few people buying a lot of things."
You Can Shop Earlier Hours
Regular Costco stores typically open at 10 a.m. on Monday-Friday and Sunday and 9:30 a.m. on Saturday. However, Costco Business Center hours are more convenient for people who want to get their shopping done much earlier in the day. Typical hours are from 7 a.m. to 6 p.m., Monday-Saturday. The only catch is that Costco Business Centers are not open on Sunday.
It's a One-Stop Shop for Bulk Purchases
The Costco Business Center shines especially when it comes to bulk purchases, which can be helpful if you're planning a big family gathering or a community event — especially if you're looking for a wide assortment of single-serve snacks and a much larger variety of beverage choices than you'll find at regular Costco stores. However, you can shop for more than just snacks and drinks.
"The Costco Business Center is especially helpful if you're hosting a larger event and need even larger quantities of something or are looking for additional options on paper plates, napkins, plastic cutlery or things like that," Hanson said.
You Can Get Delivery Right to Your Doorstep
Although Costco Business Center's business delivery service is only available to business addresses, it does offer same-day delivery powered by Instacart for both business and residential customers. You can opt to have items delivered same-day or place your delivery order up to five days in advance. However, a $35 order minimum applies. 
Make Your Money Work for You
When a Regular Costco Might Be a Better Fit
While the Costco Business Center offers many advantages, there might be instances when visiting a regular Costco warehouse could be a better fit.
When You're Shopping for Certain Items
According to Hanson, here are some Costco items you won't find at the Costco Business Center:
Any special, featured items that the regular Costco has at its entrance
Clothing
Personal technology or TVs
Items for your home, such as towels, pillows, sheets or furniture
Books, toys and seasonal items
A greater variety of grocery items
"Essentially, anytime you want more than the basics, you'll want to shop at the regular Costco," said Hanson. 
When You Can Get a Better Deal
Prices at the Costco Business Center could be slightly higher than at regular Costco locations and vice versa. This might be due to the fact that some items are sold in larger quantities or may be specialty items targeted at businesses. It's a good idea to compare prices at Costco and Costco Business Center if you have the option to shop at one or the other.
"One of the best ways to save money at any Costco is to pay attention to the items that are on sale," Hanson said. "Since the business center has different items on sale than a regular Costco, you can often save more money by paying attention to which store has a lower price on items you regularly buy."
When There Are No Costco Business Center Locations Nearby
It's important to note that as of this writing, the United States only has 25 Costco Business Center locations in the following 13 states:
Phoenix, Arizona
Commerce, California
Hawthorne, California
Hayward, California
North Hollywood, California
Ontario, California
Sacramento, California
San Diego, California
San Jose, California
San Marcos, California
South San Francisco, California
Westminster, California
Denver, Colorado
Orlando, Florida
Morrow, Georgia
Honolulu, Hawaii
Chicago, Illinois
Minneapolis, Minnesota
Hackensack, New Jersey
Las Vegas, Nevada
Dallas, Texas
Stafford, Texas
Salt Lake City, Utah
Fife, Washington
Lynnwood, Washington
Make Your Money Work for You
That's a big difference between the regular Costco store, which has hundreds of locations across the nation.
Takeaway
Overall, the Costco Business Center is a place where any Costco member — not just business owners — can shop much earlier in the day, avoid the crowds at the regular Costco store, discover new products and potentially save on purchases. 
"In the end, if you happen to live near a Costco Business Center, I definitely recommend checking it out to see what it's like and what they have," shared Hanson. "You may not always want to shop there, but it's always nice to know what's available and have an alternative when you need it."
Information is accurate as of July 29, 2023.
Editorial Note: This content is not provided by any entity covered in this article. Any opinions, analyses, reviews, ratings or recommendations expressed in this article are those of the author alone and have not been reviewed, approved or otherwise endorsed by any entity named in this article.