Why Some Dollar Tree Locations May Not Sell Your Favorite Items Anymore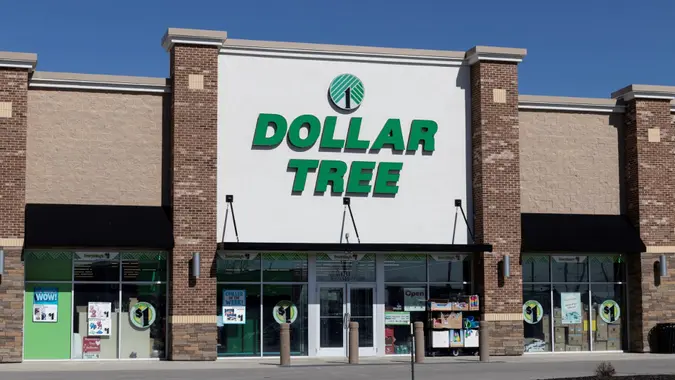 Some Dollar Tree items will be flying off the shelves for good at select locations. High levels of theft have caused the company to permanently remove certain products at some stores.
In the coming months, Dollar Tree and Family Dollar will be taking extreme measures to curb theft. In addition to discontinuing the sale of select items at some stores, the company will be moving certain items behind the checkout counter and locking others up in cases.
Dollar Tree Earnings Are Down
For the second quarter of 2023, Dollar Tree surpassed Wall Street's earnings and revenue expectations. The company increased its full-year sales outlook, but decreased its earnings outlook — partially due to ongoing challenges surrounding theft.
Chief financial officer at Dollar Tree, Jeff Davis, said "Unfortunately, the headwinds we're having in shrink are muting our margins right now." Only time will tell if removing certain items from select Dollar Tree locations will ultimately boost the company's profits.
Dollar Stores Known as Crime Hotspots
To most people, the Dollar Tree is a place to buy affordable goods. However, many dollar stores have unfortunately gained a reputation as "crime hotspots."
Some of this can be attributed to Dollar Tree locations placed in areas known for high levels of crime. However, dollar stores may be more vulnerable to crime than competitors like Walmart.
This could be due to understaffing in dollar stores. Since companies like Dollar Tree offer seriously low prices. To keep costs down, some stores are staffed by one or two employees at a time. Minimal staff presence can make stores more vulnerable to crime.
Make Your Money Work for You
In fact, crimes beyond shoplifting have occurred at several Dollar Tree locations in 2023. Dollar Tree stores in Pittsburgh, Fort Myers, Florida and Manchester, New Hampshire have all been impacted.
Why Are Dollar Tree Prices So Cheap?

Chances are, your favorite thing about the Dollar Tree is the price. Since you're able to purchase items for significantly less at this store than its competitors, it makes sense to wonder why the prices are so low.

One of the main reasons is many Dollar Tree items are private labels. Some of these include:

Food lines — Home Style Select and Nature's House
Office supplies — Jot
Personal care products — Klar and Danver

Of course, Dollar Tree also sells many name-brand items. However, the balance of private label items on the shelves allows the company to maintain rock-bottom prices.
Are Dollar Tree and Dollar General the Same?
They're both discount stores and they're owned by the same parent company, so it's fair to wonder if Dollar Tree and Dollar General are actually the same store. Despite their similarities, the stores are different.
In fact, they're so different that Dollar Tree, Inc. — the parent company — has created a Combo store format. As of Fiscal Year 2022, approximately 810 of these stores existed, with plans to add hundreds more in future years, according to the company website.
If you don't shop at either store often, they probably seem the same to you. This is fair, considering the word "dollar" is in each store's name.
Make Your Money Work for You
Despite that, a quick trip into Dollar General will reveal that most items aren't actually a dollar. In fact, the store website has a "Dollar Deals" section.
In comparison, most Dollar Tree items are priced at $1.25. Standard prices were $1 until 2022 when the company made the decision to raise them to the current rate.
However, a Dollar Tree Plus section has recently been added to more than 1,000 stores. Items are priced at $3 and $5, covering a variety of categories like the following:
Party supplies
Toys and games
Apparel
Home décor
Are Dollar Tree Items Going Back to $1?
If you've been dissuaded by Dollar Tree items priced at $1.25, you'll be happy to hear many prices will be rolled back. Dollar Tree CEO, Rick Dreiling, gave the update to attendees at a conference in June. "It's pretty hard to have a banner like (Dollar Tree), and you have an item that everybody else has at $1, and you're at a buck and quarter," he said.
In total, just 300-400 of the company's approximately 8,000 items will see a price decrease. This is only around 5% of Dollar Tree's total inventory, so most items will remain at the higher price point.
While it won't make much of a dent in your wallet, this price decrease will offer a bit of savings, which is always welcome.
Final Take
It's unfortunate that some Dollar Tree locations will no longer sell your favorite items. If you live near multiple Dollar Tree stores, it's also possible you'll be able to find the items you need by visiting a different location.
While it's unlikely Dollar Tree will bring these products back to the stores they're being removed from anytime soon, they could make a return in the future. As for right now, you'll have to wait and see if Dollar Tree's new security measures deliver the desired results. If they do, perhaps the company won't need to remove any more items from its stores.
Data is accurate as of Sept. 5, 2023, and is subject to change.
Editorial Note: This content is not provided by any entity covered in this article. Any opinions, analyses, reviews, ratings or recommendations expressed in this article are those of the author alone and have not been reviewed, approved or otherwise endorsed by any entity named in this article.
Our in-house research team and on-site financial experts work together to create content that's accurate, impartial, and up to date. We fact-check every single statistic, quote and fact using trusted primary resources to make sure the information we provide is correct. You can learn more about GOBankingRates' processes and standards in our editorial policy.