Don't Shop at Market Basket on This Day of the Week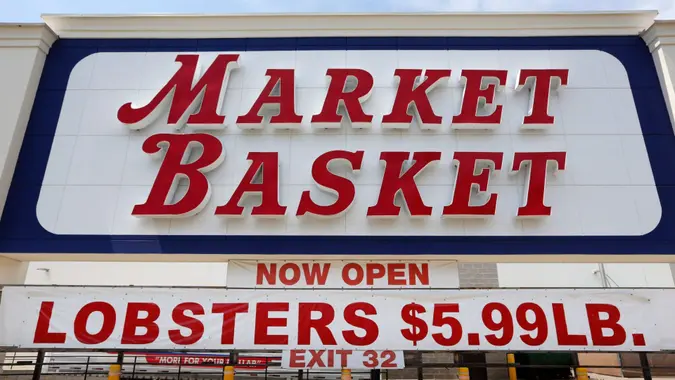 Robert F Bukaty/AP/Shutterstock / Robert F Bukaty/AP/Shutterstock
Founded in Texas in the 1960s, Market Basket is a privately held supermarket chain with 31 stores located throughout Louisiana and East Texas.
While a relatively niche place to shop for your groceries, Market Basket offers a great variety of high-quality foods, including fresh produce, meat and baked goods. This combined with reasonable prices on most grocery items makes the supermarket chain a staple in many households.
Whether you're a frequent Market Basket shopper or you've recently found one in your area and are thinking about buying your groceries there, there are a few things you should know first. In particular, if you're trying to optimize your shopping trip — and potentially save both time and money — there are certain days of the week you should avoid going to the store.
Here are the best and worst days to shop at Market Basket.
Also see why you should not shop at Dollar Tree on this day of the week.
Worst Days To Shop at Market Basket: Saturday and Sunday
If you're trying to avoid lengthy lines, crowded aisles and potentially out-of-stock items, you may want to avoid going to Market Basket on the weekend.
"In my personal experience, the busiest and thus the worst days to shop at Market Basket would have to be Saturdays and Sundays," said Iesha Mulla, parenting expert and creator of Parental Questions. "These days are typically when most people are off work, and the store seems to be always bustling with shoppers. Trying to navigate the aisles with a shopping cart becomes a real challenge, and the checkout lines seem to stretch endlessly."
Make Your Money Work for You
At some Market Basket locations, it's also best to avoid shopping on holidays or on Mondays as well.
"Market Basket is typically more crowded on weekends and holidays than on weekdays, so this is a time to avoid shopping if possible," said James Herman, founder and finance advisor at Mobile Tech Addicts. "Shopping on Mondays might not be ideal either, as the store can still be recovering from the weekend rush, and some items may be low in stock."
Best Days To Shop at Market Basket: Tuesday, Wednesday, Thursday
Given that weekends are usually busier, it stands to reason that weekdays would be the best days to shop at Market Basket.
"In my experience, the best days to shop at Market Basket are mid-week, particularly on Tuesday and Wednesday," Mulla said. "These days seem to have fewer crowds, which allows for a more relaxed shopping experience. Also, I've noticed that the store restocks most items by Monday night, so the availability of products is usually plentiful during these days."
For similar reasons, Thursday also might be a good time to shop at Market Basket. You may want to check your local store's restocking schedule, though, as this can vary by location.
"The best days to shop at Market Basket are usually mid-week, specifically on Wednesdays and Thursdays," Herman said. "This is when many Market Basket locations tend to restock their shelves with fresh produce and other items. You'll have a good chance of finding a wide variety of fresh and discounted products during these days."
Make Your Money Work for You
Shop Wednesday Evenings
While the middle of the week is generally a good time to go shopping, Wednesday evenings specifically could be the best time to plan your trip.
"Based on information from Market Basket's own site, Wednesday evenings seem to be the golden hour for shopping," said Dominik Maka, owner and managing director at Dominikmaka.com. "Not only is it a great time to avoid crowds, but it's also when new weekly sales kick off at Market Basket. So, if you're looking for a more leisurely shopping experience coupled with fresh deals, Wednesday is your day."
Ways To Optimize Your Time and Money at Market Basket
If you want to optimize your shopping experience, here are a few tips:
Shop early or late in the day. "Market Basket is typically less crowded early in the morning and late in the evening," Herman said, "so this is a good time to shop if you want to avoid the crowds and get a good parking spot."
Plan ahead and make a list. By planning ahead, you can ensure your shopping trip doesn't coincide with the busiest days. It also gives you time to make a list that includes the things you need and minimizes impulse buys. "Before heading out for your shopping trip, try to incorporate any dated foods in your pantry or fridge into your meals," Maka suggested. "This not only reduces waste but also ensures you're only buying what you need."
Look for coupons and weekly deals. "Keep an eye out for digital coupons and deals available through the Market Basket app," Herman said. "These can lead to additional savings on your purchases. Use the weekly ad. Market Basket's weekly ad is a great way to find out about the latest sales and promotions."
Join the loyalty program. Like many grocery stores, Market Basket has a free loyalty program for additional discounts. "Join the Market Basket Market Extra Club," Herman suggested. "This loyalty program offers additional savings and exclusive discounts to members. It's worth signing up if you're a regular shopper."
Shop the store's perimeter. Sometimes, shopping around the perimeter of the store can help you score some discounts. "The middle aisles of the grocery store tend to have processed and expensive food items," Mulla said. "Stick to shopping around the perimeter, where you can find fresh produce, meat and dairy products at better prices."
More From GOBankingRates