13 Items Costco Won't Let You Return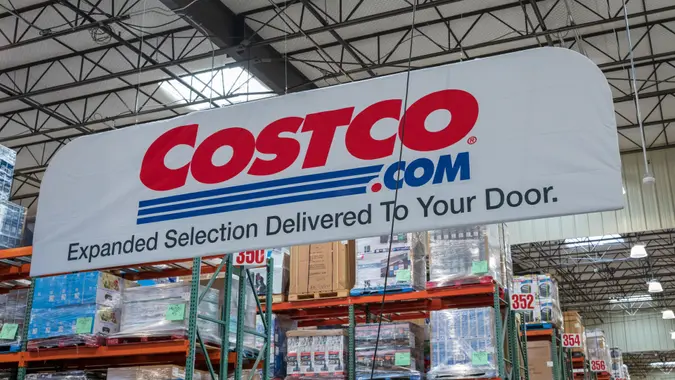 artran / Getty Images
Costco is known for having a pretty customer-friendly return policy in general. For example, most items can be returned without question for a full refund.

Discover:
Additionally, electronics and other tech — including major appliances, TVs, computers, cameras and smart tech — can be returned within 90 days for either a full refund or store credit. However, the warehouse-style retailer does draw the line at some products. Here are 13 items Costco won't let you return.
Sanitizing Wipes
Many people went a little wild during the pandemic, purchasing cases of products that would presumably help prevent the spread of the virus. Among them, a popular seller at Costco were sanitizing wipes.
While you might not have used all the packages in your case, Costco doesn't want to run the risk of contamination, according to Cheapism, so you cannot return them. Surely you can find something to sanitize, though.
Cigarettes and Alcohol
You can indulge your vices at Costco quite easily, but don't expect to be able to return cigarettes and alcohol. Not only is this against store policy, but returning these items is actually prohibited by law in many states, according to Mashed.
Tires
Tires might seem like a perfectly reasonable item to return, but much like shoes, once you take them out for a spin — they're yours. This is because they are no longer viable, as even a little bit of use enacts wear and tear.
Make Your Money Work for You
So do your research before you buy tires to make sure you've got the correct ones for your car, because according to FinanceBuzz, Costco won't take them back.
Toilet Paper and Paper Towels
It should be pretty obvious that toilet paper and paper towels, items that interact with people's bodies, are not a welcome item for return. However, since people buy these items in bulk, they may think they can return the unused portions. Alas, Costco doesn't want your paper products. If you have too much, donate them to a shelter or a school instead.
Rice
Rice is a messy product once you open the bag, and Costco clearly doesn't want to deal with the hassle of spilled rice — so don't bother returning it. The good news is even if you buy too much, it lasts for a very long time. Still, if you have too much, keep it to sop up spills or donate to a food pantry.
Batteries
Batteries power a variety of items in our homes and offices, a staple item in most of our lives. But batteries don't last forever, and unless you have the original packaging it's almost impossible to tell the age of a battery.
Costco doesn't bother risking it — you can't bring these back. Finance Buzz urges customers to purchase product specific warranties to cover purchases that come with batteries, so you're covered if there's a problem.
Rotten Food 
What seems obvious to some people is clearly not to others, according to Cheapism, as more than once a customer has tried to return food that rotted to Costco. Not food they discovered was rotten immediately after purchase either, but food they let rot at home — such as old stinky salmon and a moldy bag of oranges.
Make Your Money Work for You
Don't be that person that makes the Costco employees question whether you have common sense.
Used Underwear
Some things really shouldn't have to be spelled out. You may be able to return some used items, but logic and common courtesy should be enough to know that used underwear are not among them. Yet that's what someone reportedly tried to do once — with a 7-year-old pair!
Soap
It's natural to be picky about the kind of soap use, as soaps can vary in texture, viscosity, scent and more. What may look great in the packaging may smell or feel weird when you finally get it home and try it out.
Nevertheless, Costco isn't too concerned about your soap preferences. If you bought it, you keep it; no returns allowed.
Items Long After Purchase Date
While Costco does have a generous return policy, at least 90 days for many products, beyond that you're pushing it. Customers over the years have tried to return some pretty incredible things, including a tree house 15 years after its purchase because the owner's kids were done with it, and an old rusty lawn mower, according to Cheapism.
Diamonds Larger Than One Carat
While Costco does have a 90-day jewelry return policy, so long as the jewelry is in good condition, there is one exception. If you want to return diamonds larger than one carat, you need to have all the paperwork it came with, and your receipt, or it's a no-go.
Make Your Money Work for You
Even then you only get store credit, not a full refund, according to Finance Buzz. So purchase your bling wisely.
More From GOBankingRates