The Most Expensive Super Bowl Tickets Cost as Much as a House — What About the Cheapest?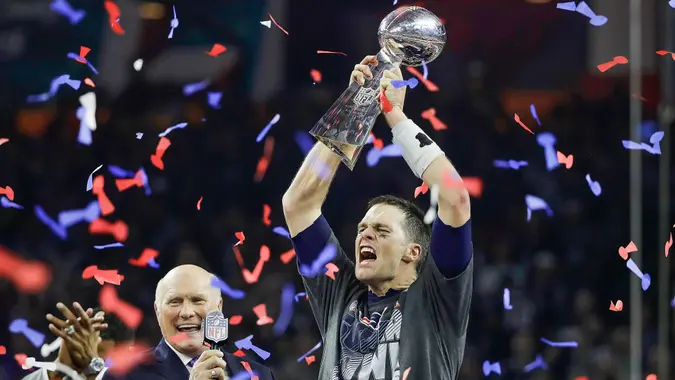 AP/REX / Shutterstock.com
There's a surplus of unsold Super Bowl tickets on the secondary market.
The cheapest tickets are close to $2,900.
The highest-priced seats cost as much as a home, luxury car and home entertainment center in Atlanta.
You might've heard this one before: Tom Brady and the New England Patriots are headed to the Super Bowl. On Sunday, Feb. 3, the Patriots will take on Jared Goff and the Los Angeles Rams at Mercedes-Benz Stadium in Atlanta.
For the ninth time in 18 years, the Patriots will be in the Super Bowl and are looking to pick up their sixth win. Apparently, NFL fans are underwhelmed by this year's matchup and the proof is in the declining Super Bowl ticket prices with more unsold tickets still up for grabs. This year's average secondary market ticket price is down by 10 percent from $7,277 to $6,565, according to TicketIQ, an online sports and entertainment ticket marketplace.
The Cheapest Super Bowl Tickets: Nearly $3,000 a Pop
As of Thursday afternoon, the cheapest Super Bowl tickets on SeatGeek, the largest verified event ticket marketplace, were for four tickets in section 320 — the stadium's highest mezzanine level — for $11,540. That's $2,885 per seat.
Fortunately for fans who are traveling to Atlanta on a budget, the stadium will extend its famous "Fan First Menu Pricing" to Super Bowl LIII attendees. Rather than price gouge guests at the concession stands, the stadium's menu offers classic game day fare at reasonable prices: For just $10, you can buy a soda, cheeseburger and fries.
Related: Most and Least Expensive Stadiums for Fans to Watch a Football Game
The Most Expensive Super Bowl Tickets: Over $225,000 a Pair
On the other end of the spectrum, the most expensive Super Bowl tickets on SeatGeek will set you back a staggering $227,489.99 for two seats in section 229 — which is still in the upper deck.
Make Your Money Work for You
To understand just how much money it costs to experience the Super Bowl live, for the same amount of cash, you could purchase a 2,000-square-foot home with four bedrooms and 2.5 bathrooms located just 13 miles from the stadium, park your Tesla Model 3 in the driveway and still have about $4,500 left over to buy an 85-inch TV set to watch the game on from the comfort of your couch with your favorite game day snacks.
Kickoff is scheduled for 6:30 p.m. ET and the game will air on CBS and be available to stream on CBSSports.com and the CBS Sports app.
Check out the cost of Super Bowl commercials over the years.
More on Money and the Super Bowl
We make money easy. Get weekly email updates, including expert advice to help you Live Richer™.