How Do You Return Something From Amazon After the Holidays?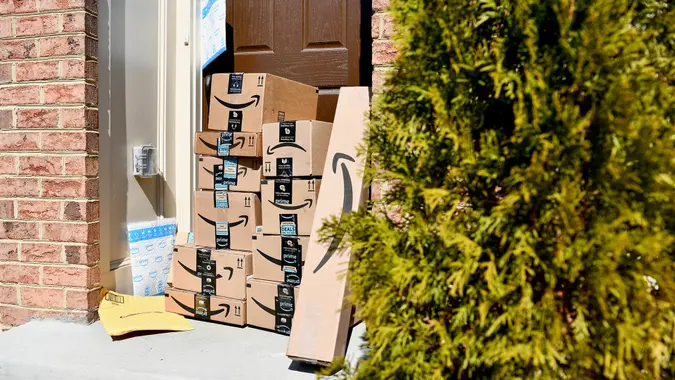 Jeramey Lende / Shutterstock.com
If you received a gift from Amazon this year, you might not know how to return it — especially since there are not many brick-and-mortar Amazon locations. Fortunately, Amazon has partnered with a number of other companies to make it easy for you to drop off your return at a place that's convenient for you. But before you can drop off your gift, you need to initiate the return process online.
Start By Visiting Amazon's Online Return Center
The first step in returning a gift is visiting Amazon's Return Center on your desktop or laptop. You will need to sign in to your account, or create an account if you don't currently have one. Next, enter the 17-digit order number when prompted. You can find this number on the packing slip or on the digital gift receipt that was emailed to you. If you can't find the order number, contact Amazon directly for assistance.
2020 in Review: The Year for Amazon
Once you've input the order number, follow the prompts to select the items you want to return, the quantity of items you want to return, and a return reason from the drop-down menu. Next, you'll select your return shipping option. If you are shipping your return, print out the label and return authorization and attach it to the box. If you prefer to drop off your return in-person, you have several options.
Places That Accept Amazon Returns
For small packages, you may be able to make an in-person return at an Amazon Hub Locker. If this is an option for your return, you will receive a locker drop off code via email. Take the unique code to your locker location. Enter your code into the touchscreen display and follow the instructions on the screen.
Make Your Money Work for You
Read More: The Biggest Business Moves of 2020
Amazon has also established partnerships with Kohl's and UPS, so many of their locations accept drop-offs of Amazon returns. You may also be able to make returns at Whole Foods or an Amazon Books store.
2020 in Review: The Year for Jeff Bezos
Receiving a Refund From Amazon
After Amazon receives your return, your refund will be processed as an Amazon gift card that will be added to the account you used to initiate the return.
Find Out: How Much Is Jeff Bezos Worth?
Amazon's Return Policy
Amazon and most sellers on Amazon.com offer returns for items within 30 days of your receipt of the package. However, Amazon has extended the return window for the holiday season — most items shipped between Oct. 1 and Dec. 31 can be returned until Jan. 31, 2021. In order to receive a full refund, items must be in original condition.
More From GOBankingRates