Should You Tip at Self-Checkout?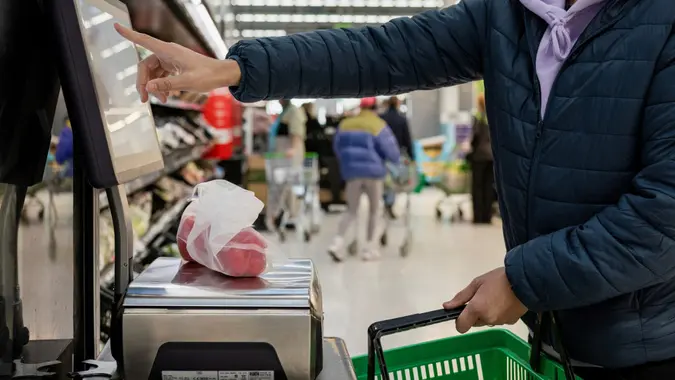 SolStock / Getty Images
If you've used a self-checkout kiosk lately, the machine might have prompted you to leave a tip. If you were taken aback and wondered why you should tip when you did all the work, you're not alone. The practice of asking for a tip at self-check kiosks is called "tip creeping" — and it's a way to get customers to give up more of their money. 
Being prompted for a tip when the transaction involves only you and an inanimate machine can result in a question-mark moment — especially when you were expecting to simply pay for your purchase and move on. 
Should you tip at self-checkout, and where does the money go if you do? 
Tip Creeping: The Newest Way To Ask for Tips
There's no denying there's been a rise in self-checkout kiosks. This is partly to reduce labor costs, but also to satisfy customers who feel like self-checkout stations help them get out of the store more quickly. Retailers also want to stay in step with their competitors who are installing self-checkout kiosks.
And now, many of those self-checkout stations prompt users to add a tip during their transaction. Although the practice of tipping has been around for ages, tipping during self-checkout has not. A variety of businesses have tipping options now at self-checkout kiosks. You might run into them at farmer's markets, auto repair shops, retailers, sports stadiums, coffee shops, bakeries, airports and even grocery stores.
Make Your Money Work for You
Anna Tong, a Reuters tech correspondent, recently purchased some food at a self-checkout kiosk at Newark Airport. She took a picture of the kiosk to show that it was asking if she'd like to leave a 15%, 18% or 20% tip. 
Tong's total was $22.72 for the two items, which means that choosing one of the three tip options would tack on $3.41, $4.09 or $4.54 to the total, respectively. She tweeted, "I'm at Newark Airport being asked to tip on a self-checkout transaction — how much should I tip?"
She received a range of responses. Some asked who would ultimately get the tip. One asked if there was a way to enter a negative number. The machine also offered a "No Tip" option, which according to the tweets, is an option many people would choose. But it begs the question, should you tip?
Should You Tip at Self-Checkout?
While tip creeping might be considered a disadvantage of using self-checkout, it's important to remember that tipping is optional and not a reason to avoid the self-checkout kiosks. Diane Gottsman, an etiquette expert, told CBS News that tipping can be confusing. She feels it's OK to opt against tipping when making quick transactions.
Again, it's totally your call when it comes to adding a tip. If an employee assists you with a question or a task while you're using the self-checkout kiosk, or if you received remarkably good service while shopping in the store, you might feel compelled to add a tip to your purchase, whereas someone else might not.
Make Your Money Work for You
It's also possible to choose a custom tip if you want to give some amount but not the minimum option of 15%. Some people suggest leaving a small amount to round up your total to a solid dollar amount, but again, this would be up to you.
Where Do Tips Paid at Self-Checkouts Go?
Many wonder if these tips go to the employees and the only way to know for sure how these tips are being used is to ask the business. 
Rachel Wolfe, a reporter for The Wall Street Journal, told CBS News, "Machines don't have the same protections as tipping human employees, so while the law requires that something called a 'tip' has to go to employees, when you're tipping a machine, you can't be quite so sure."
The Wall Street Journal asked OTG, a developer and operator of airport retailers and restaurants in North America, where tips collected at its self-checkout kiosks go. The OTG spokesperson said that all money collected via tips is paid to employees. They stated that the tips at self-checkout machines are pooled among staff working that shift.  
Good To Know

While many companies distribute the collected tips to employees, that might not always be the case. If you want to be sure where your tip is going, you can always ask an associate or manager before you complete your transaction.
Self-Checkout Tipping: Do or Don't?
It's up to you whether you tip at self-checkout. If the store is not a place you frequent and there's no human interaction during your visit, there's really no reason to tip. If there's some reason you're compelled to tip, such as receiving exceptional service from a human before checking out, that's your option. If you're concerned about where the tips go, ask the business. 
The bottom line is that you should never feel obligated to tip at self-checkout. Different businesses that collect this type of tip have stated that it's optional. 
FAQ
Here are the answers to some of the most frequently asked questions regarding self-checkout.
What is a disadvantage of self-checkout?

Self-checkout kiosks can be confusing and difficult to use for some customers.

Why should you not use self-checkout?

Self-checkout kiosks might not take coupons or certain methods of payment. In addition, some customers find them to be difficult to use as they can sometimes be unresponsive or your items might not scan.

Why are stores going to self-checkout?

Stores use self-checkout kiosks to reduce labor costs but also to offer added convenience to customers who want to get out of the store quicker.

 Do stores save money with self-checkout?

Yes, stores do save money with self-checkout kiosks. It would take only one associate to oversee six kiosks at once. If six regular registers were open, it would require six individual cashiers.
Our in-house research team and on-site financial experts work together to create content that's accurate, impartial, and up to date. We fact-check every single statistic, quote and fact using trusted primary resources to make sure the information we provide is correct. You can learn more about GOBankingRates' processes and standards in our editorial policy.