What Stores Accept Shop Pay?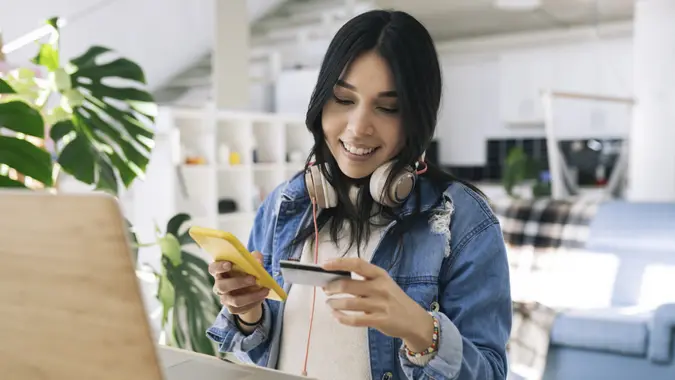 Jose carlos Cerdeno / Getty Images/iStockphoto
Online shopping offers convenience — you can select products without leaving the house and have them delivered right to your doorstep. But after you dig out your wallet and enter your personal and payment information over and over again, you might wonder how convenient it really is and worry about the safety of your credit card information. 
Read: How To Get Cash Back on Your Everyday Purchases
Shop Pay autofills your information and protects your data while letting you pay for your purchases in installments. Read on to learn everything you need to know about using Shop Pay, including how it works, how to use it and what stores accept Shop Pay. 
13 Online Stores That Accept Shop Pay
If you're searching for online stores that accept Cash Pay, here's a list of 13 popular ones to get you started. 
1. Liquid IV 
Liquid IV sells powdered hydration solutions using Cellular Transport Technology that hydrates better than water alone.
2. Steve Madden
Shop popular apparel and footwear styles at Steve Madden. 
3. Alo Yoga 
Alo sells fashionable yoga and workout attire and footwear, plus yoga mats, meditation cushions, essential oils and more.
4. Ka'Chava
Shop Ka'Chava for plant-based superfood meal-replacement shakes designed to nourish your body and help you reconnect with nature.
5. Allbirds
Use Shop Pay at Allbirds to shop for sustainable footwear for the whole family made from natural materials like wool, sugarcane and trees.
6. Little Sleepies
Little Sleepies sells cute and cozy pajamas made of Lunaluxe, a proprietary bamboo viscose material that's soft, breathable and sustainable.
Make Your Money Work for You
7. Bombas
Use Shop Pay to shop Bombas's comfy socks, underwear and t-shirts. For every item you purchase, Bombas will donate an item to someone in need.
8. Pet Paradise Supermarket
Pet Paradise Supermarket offers high-quality food, toys and accessories for your pet. You can order products for cats and dogs, birds, fish, rabbits, hamsters and more.
9. Spanx
Shop Spanx's collection of women's clothing, intimates and shapewear.
10. 365 Cycles
If you're shopping for a new bicycle, biking accessories or outdoor gear, use Shop Pay at 365 Cycles.
11. American Girl
You can use Shop Pay to buy dolls, books and accessories from the classic American Girl collection. 
12. Lashify
Lashify is an innovative and unique seller of DIY lash extensions using Underlash Technology.
12. Ruggable
Ruggable sells machine-washable rugs and mats in a wide variety of sizes and styles.
You won't be able to use a prepaid debit card or Capital One card for Shop Pay installment purchases. If you're using a supported card and Shop Pay isn't accepting it, make sure that you've activated the card and that your billing information matches the bank information associated with the card.
About Shop Pay
Shop Pay is a rapid checkout service powered by Shopify. It lets you complete purchases at online stores without having to enter your information every time. Input it once, and Shop Pay automatically provides the information every time you shop at a store that accepts it. It keeps your data safe through end-to-end encryption, and if you choose to delete your account at any time, it won't hold on to any information that you shared.
Make Your Money Work for You
When you make purchases using Shop Pay, you're supporting Shopify's Sustainability Fund. The Sustainability Fund supports innovative companies working to mitigate climate change by removing carbon from the atmosphere. At any time, you can discover how much carbon you've helped remove using Shop Pay. In the Shop app, tap "Account," then open the "Carbon Removal" section and tap on "Learn More."
Installment Plans with Shop Pay
Shop Pay offers a Buy Now, Pay Later service through its partnership with Affirm. With BNPL, you can opt to make your payments in installments, which can be especially helpful when making big purchases. You can make payments in installments. Here are your options:
Orders between $50 to $999.999: You can make four bi-weekly installments with no interest. There are no added fees, interest rates or late fee charges.
Orders between $150 to $17,500: You can choose to make monthly installment payments. This also does not come with late fee charges, though, an interest rate may apply.
If you choose to make monthly payments, Shop Pay will charge interest rates between 10% and 36%. Keep in mind that you can't use Shop Pay installments to purchase gift cards or subscription services.
Shop Pay App
The Shop Pay mobile app is available for Apple and Android devices. You can use the app to make payments, check your Shop Cash balance and checkout at any store that accepts Shop Pay. You can complete the setup for Shop Pay through the app. To enroll, you'll need to enter your email address, home address and mobile phone number.
When you use Shop Pay at checkout, you earn 1% back in Shop Cash. Use the app to find exclusive items that earn 2%, 3% or more. You can spend your Shop Cash on eligible orders using the Shop Pay app. Shop Cash generally expires after 90 days, so be sure to use it before you lose it. 
Make Your Money Work for You
Accepted Payment Methods
To use Shop Pay, you'll need to ensure you're using a payment method that Shop Pay and the retailer you're shopping with supports. Most stores show a list of supported payment methods on their checkout page. Commonly accepted payments include:
Visa
Visa Debit
Mastercard
American Express
Where Can You Use Shop Pay?
People usually associate Shop Pay with online shopping, but physical retail stores that use the Shopify Point-of-Sale system can choose to offer Shop Pay. Keep an eye out the next time you're out shopping, and you might find it available at some of your favorite brick-and-mortar shops. 
Takeaways
Shop Pay offers express checkout at many online stores and some physical retail establishments. When you make purchases with Shop Pay, it will input your information at checkout, saving you time and hassle. It encrypts your data so you can rest easy knowing your payment information is secure. 
You can also choose to make your payment in installments. If you pay for your purchase in four bi-weekly payments, you won't have to pay any interest or late fees. But if you choose to make monthly payments, Shop Pay will charge interest rates up to 36%. Use Shop Pay at the popular online retailers listed above or any online retailers that display the Shop Pay logo on their checkout page.
Editorial Note: This content is not provided by any entity covered in this article. Any opinions, analyses, reviews, ratings or recommendations expressed in this article are those of the author alone and have not been reviewed, approved or otherwise endorsed by any entity named in this article.
Make Your Money Work for You