What Is Shop Pay? A Complete Guide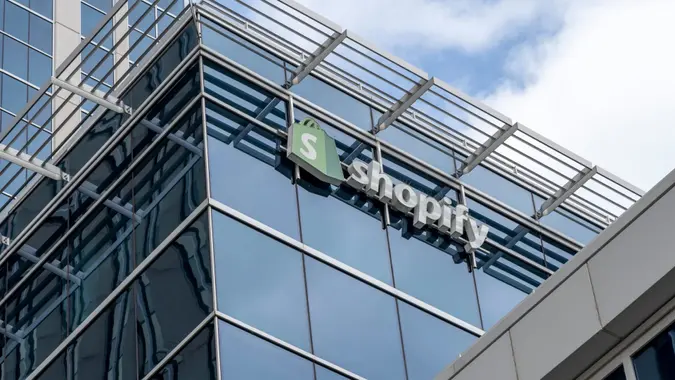 JHVEPhoto / Getty Images
Frequent online shoppers understand the tedious work of having to repeatedly enter their shipping and billing information. That's why Shopify has designed Shop Pay to make the online checkout process easier with participating merchants. In addition, Shop Pay has socialized the shopping experience with the Shop app that curates products specifically for you.
See: 3 Easy Tips to Turn Your Credit Woes into Wows
Learn about Shop Pay below, including how it works, where you can use it, how it benefits both buyers and sellers and more. 
What Is Shop Pay and How Does It Work?
Shop Pay is an integrated payment option that saves people time while checking out on Shopify. The details required for online orders — such as email addresses, credit card numbers and billing and shipping addresses — only need to be filled in one time. Once the customer enters their information, Shopify will save their information to make their checkout easier for future transactions.
Make Your Money Work for You
For Customers
Customers who use Shop Pay can verify purchases with a code sent via text message that only needs to be entered once per device. The Shop Pay feature can be used on the Shop app or on any Shopify store that has the Shop Pay feature enabled. In addition, some stores will allow Shop Pay Installments, which will split the customer's purchase amount up into payments.
For Sellers
If you have an online store that works with Shopify Payments, you can activate Shop Pay in your Admin dashboard. Just navigate to Settings, then Payments, and click Manage under "Third-party payment providers." You should find Shop Pay there, and you can select "Enable Shop Pay," then save.
You'll need to complete the setup with your store and banking details.
Where Can I Use Shop Pay?
Although Shop Pay has grown considerably in popularity, it is still only available to U.S.-based stores. It is also available for brands on Facebook and Instagram. Shop Pay is available in Chinese, Czech, Danish, Dutch, English, Finnish, French, German, Hindi, Italian, Japanese, Korean, Malay, Norwegian, Polish, Portuguese, Spanish, Swedish, Thai and Turkish.
Shop Pay supports most cards, including Visa, Mastercard and American Express. However, Capital One cards are not accepted for Shop Pay Installments, and some prepaid cards may not be supported at all.
Make Your Money Work for You
What Are the Benefits of Shop Pay?
Shop Pay provides several benefits to its users in addition to instant checkout experiences. Some of these include:
Order tracking
Flexible payment plans
Personalized shopping experiences
Security at scale
Carbon-neutral deliveries
Order Tracking With Shop Pay
If a Shopify store activates the Track with Shop feature, customers in the United States, Canada, United Kingdom or Australia can click on a link to download the Shop app and track their orders. However, customers can access this information from the Shop app regardless of whether a store has activated the feature by simply logging in by themselves.
Customers may be able to view tracking details such as real-time order status, delivery notifications and live-map tracking.
Some merchants display a badge to show that they offer an extra feature called Shop Promise, which ensures deliveries arrive within five calendar days. However, this feature is in early access and may be limited to certain stores.
Flexible Payment Plans With Shop Pay
Shop Pay provides Buy Now, Pay Later services through its partnership with Affirm. There are two different plans available.
Make Your Money Work for You
| Plan | Available For | APR |
| --- | --- | --- |
| Four payments every two weeks | Orders between $50 and $999.99 | 0% |
| Monthly repayments (up to 12 months) | Orders between $150 and $17,500 | 10% to 36% |
Shop Pay Installments has plenty of benefits for both customers and Shopify merchants. Customers can split their payments up without hidden or late fees. In addition, there is no effect on a customer's credit score to use the four-payment Installment plan or apply for the monthly Installment plan. However, if the customer doesn't make their monthly payments, their credit score may take a hit, so they must use it wisely.
Merchants may also see an increase in average order value, fewer abandoned carts and better capability to analyze store data with integrated solutions. Sellers also aren't at risk if customers don't make their payments, because they receive the full amount up front.
Personalized Shopping Experiences With Shop Pay
The Shop app allows customers to create a personalized shopping experience by interacting with stores they like and adding products to their favorites list. They can also search for products, where results are sorted by relevance to their browsing behaviors. The Shop app creates collections that users can explore, and it recommends local shops that have had recent sales.
Security With Shop Pay
Shop Pay acts under the payment card industry compliance standards to always protect and encrypt its customers' data. It operates under a Limited Use policy, using data only to improve the overall customer experience. Users can delete their accounts at any time.
Carbon-Neutral Deliveries With Shop Pay
As deliveries can often contribute to carbon dioxide gas emissions, Shop Pay is offsetting climate change problems with its green initiatives. It works with partners such as Planetary and Remora to help decrease the amount of carbon dioxide being produced or staying in the atmosphere.
If you use the Shop app, you can check how much carbon dioxide Shopify has removed by visiting the Carbon removal section of your account.
Shop Pay vs. Shopify
While Shop Pay is associated with Shopify payments, they are two distinct parts of the shopping experience.
Shopify is the full shopping platform that allows e-commerce businesses to create stores and list products for sale. On the other hand, Shop Pay is a payment integration that Shopify stores can use to make the checkout experience easier. Shop Pay also extends to the Shop app, which allows customers to have a more in-depth shopping experience by tracking orders and interacting with Shopify merchants.
Final Take
Shop Pay is a useful payment tool for consumers, particularly as shopping via mobile devices becomes the default. Its service is convenient and customizable, and customers get peace of mind knowing that Shop Pay's service benefits the environment, too.
FAQ
Here are the answers to some common questions people ask about Shop Pay.
What happens when you use Shop Pay?

Shop Pay will store customers' payment information to make checkout easier. Users can also use the Shop app to track orders and view expected delivery times.

How does paying with Shop Pay work?

Shop Pay is available for U.S.-based Shopify merchants and those using Facebook and Instagram. If a store activates Shop Pay, the logo will appear on their shop. Customers must enter their information to be stored, verify their phone number and then check out with a simple click on future transactions.

Is Shop Pay safe to use?

Shop Pay uses extensive security measures to protect user data.

Is there a charge for Shop Pay?

Shop Pay is a free payment application. The only charges that apply are when a customer uses credit services to pay in installments.

Is Shop Pay the same as Afterpay?

Shop Pay Installments is similar to Afterpay, but not the same. Both services allow customers to split their purchases up into payments. However, Shop Pay is specifically used to integrate with Shopify stores, while Afterpay is used more widely across the retail industry.

Does Shop Pay hurt your credit score?

Shop Pay does not affect your credit score. If you use Shop Pay Installments and miss a payment, however, it will hurt your credit score.
David Granahan contributed to the reporting for this article.
Information is accurate as of Jan. 3, 2023, and is subject to change.
Editorial Note: This content is not provided by any entity covered in this article. Any opinions, analyses, reviews, ratings or recommendations expressed in this article are those of the author alone and have not been reviewed, approved or otherwise endorsed by any entity named in this article.
Make Your Money Work for You