What Is Shop Pay? A Complete Guide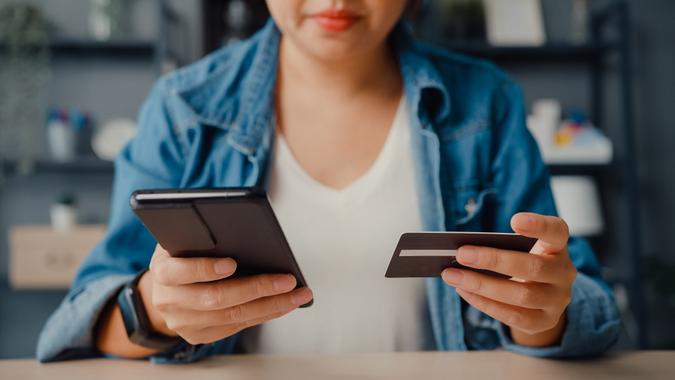 Tirachard / iStock.com
Shop Pay is an innovative payment solution developed by Shopify. It's an app that people can use just like a regular wallet to store their card details and information. 
Payments via Shop Pay are quick and seamless and take the hassle out of inputting information for every purchase. The app is a tool designed to benefit customers and business owners worldwide. 
How To Use Shop Pay
Shop Pay has a free app available for download on the App Store and on Google Play. Once the user has downloaded it, they can browse products from approved retailers on the app, or simply input their card details and shipping information for future online purchases.
What Is Shop Pay and How Does It Work?
Shop Pay is an integrated payment option that saves people time at online checkouts. The details required for online orders only need to be filled in once. Once this is set up, online businesses using Shop Pay can process transactions with a single tap of a button. 
Where Can I Use Shop Pay?
Although Shop Pay has grown considerably in popularity, it is still only available in the U.S. with participating brands. It is integrated fully with merchants that sell on Facebook and Instagram.
Make Your Money Work for You
What Are the Benefits of Shop Pay?
Shop Pay provides a number of benefits to its user in addition to instant checkout experiences. Some of these include:
Order tracking
Flexible payment plans
Personalized shopping experiences
Security at scale
Carbon-neutral deliveries
Order Tracking With Shop Pay
Shop Pay shows exactly what a user bought and who they bought it from. It tracks the order journey from start to finish for all purchases made, including receipts, so users can always see if their packages are arriving on time. Some merchants display a badge to show that they offer an extra feature called Shop Promise, which ensures deliveries arrive on time.
Flexible Payment Plans With Shop Pay
Shop Pay provides Buy Now, Pay Later services through its partnership with Affirm. These payments can be organized to suit each customer. Its plans are illustrated below — some are interest-free, whereas others charge an annual percentage rate on top of the purchase price.
| Plan | Available For | APR |
| --- | --- | --- |
| Four payments every two weeks | Orders between $50 and $999.99 | 0% |
| Monthly repayments (up to 12 months) | Orders between $150 and $17,500 | 10% to 30% |
Make Your Money Work for You
Personalized Shopping Experiences With Shop Pay
Shop Pay allows users to customize their shopping preferences by choosing their favorite brands, stores and products. It will also notify users when deals they might like become available. If a user is shopping locally, Shop Pay can also organize in-store pickup as well as convenient delivery options.
Security With Shop Pay
Shop Pay acts in accordance with payment card industry compliance standards to always protect and encrypt its customers' data. It operates under a Limited Use policy, using data only to improve the overall customer experience. Users can delete their accounts at any time.
Carbon-Neutral Deliveries With Shop Pay
As deliveries can often contribute to CO2 gas emissions, Shop Pay is offsetting climate change problems with its green initiatives. Shop Pay is currently planning to plant 4.6 million trees with partnered organizations and has already gone to lengths to protect rainforests internationally.
Final Take
Shop Pay is a useful payment tool for consumers, particularly as shopping via mobile devices becomes the default. Its service is convenient and customizable, and customers get peace of mind knowing that Shop Pay's service benefits the environment too.
Make Your Money Work for You
FAQ
Here are some questions people ask about Shop Pay.
What happens when you use Shop Pay?

Shop Pay will make customized recommendations based on preferences and processes transactions instantly

. Users can view orders and expected delivery times

.

How do you pay with Shop Pay?

Shop Pay is available on Facebook, Instagram and all other partnered merchants. If applicable, the Shop Pay logo will appear as an option at online checkouts.

What is Shop Pay and is it safe?

Shop Pay is an instant online payment solution for order tracking. It uses extensive security measures to protect user data.

Is there a charge for Shop Pay?

Shop Pay is a free payment application. The only charges that apply are when a customer uses credit services to pay in installments.
Information is accurate as of July 6, 2022.
Editorial Note: This content is not provided by Shop Pay. Any opinions, analyses, reviews, ratings or recommendations expressed in this article are those of the author alone and have not been reviewed, approved or otherwise endorsed by Shop Pay.