Allpoint ATM Near Me: Find Locations Nearby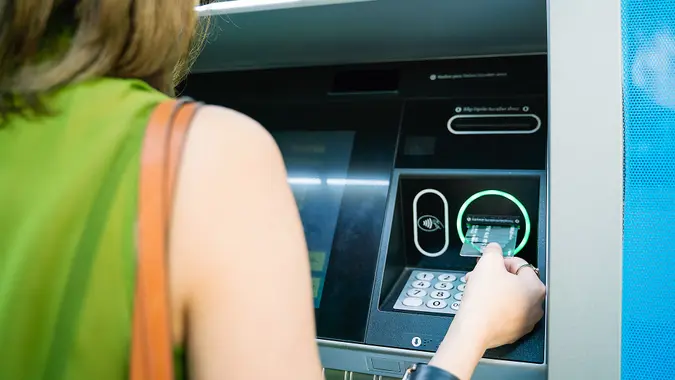 Enes Evren / Getty Images
ATM fees add up if you frequently make withdrawals using out-of-network machines. If your financial institution or prepaid debit card provider is part of the Allpoint network, you can make fee-free cash withdrawals at more than 55,000 ATMs worldwide, which can help you keep those fees, which Allpoint refers to as surcharges, in check. 
You can even make cash deposits at some locations. Take the following steps to find an Allpoint ATM near you.
How To Find an Allpoint ATM Near You
You can easily find the nearest Allpoint ATM using the locator on Allpoint's website or app.
To find an Allpoint ATM on the website:
Click the "Locations" menu option.
Enter your ZIP code or address.
Click the "View Search filters" button to narrow your search results if necessary.
Click any location icon on the map to get an address or send the address to your phone or email account.
Your bank may also have a locator on its website or mobile app that includes Allpoint ATM locations.
Do Allpoint ATMs Charge a Fee?
Allpoint ATMs do not charge a fee if your card provider is part of the Allpoint network. Check with your financial institution to determine whether it participates in the Allpoint network, or use the Allpoint app to verify whether you can use your card without incurring a fee at an Allpoint ATM.
If your bank is an Allpoint participant and you incur a fee using an Allpoint ATM, contact your card provider about reimbursement by calling the phone number on the back of the card. 
How Do I Know If an ATM Is in the Allpoint Network?
Most Allpoint ATMs have the Allpoint logo, but you may come across some that don't yet have one. If in doubt, use the Allpoint locator to verify whether the ATM is part of the Allpoint network.
When using an Allpoint ATM, you may encounter a surcharge screen at the start of a transaction. The ATM doesn't determine whether your card is in the Allpoint network until later in the transaction. Tap "Accept" to continue your transaction if you encounter this screen. You should not incur a fee.
How Much Cash Can You Withdraw From an Allpoint ATM?
The per-transaction withdrawal limit varies by Allpoint ATM, although Allpoint doesn't limit how many transactions you can make daily. However, your bank or prepaid card provider may have daily withdrawal limits.
Which ATMs Don't Charge a Fee?
Any ATM considered to be "in-network" by your card provider typically won't charge a fee, although some may. Check with your bank, credit union or prepaid card provider to locate an in-network, fee-free ATM.
Takeaway
If your debit card is part of the Allpoint network, you should be able to avoid most ATM fees by using the Allpoint locator to find an in-network machine for cash withdrawals. However, some card providers may charge a transaction fee or a similar fee when you use an ATM, even if you don't technically incur an ATM fee. So stay up to date on your card provider's fee schedule and requirements to know which fees to expect and avoid.
Editorial Note: This content is not provided by any entity covered in this article. Any opinions, analyses, reviews, ratings or recommendations expressed in this article are those of the author alone and have not been reviewed, approved or otherwise endorsed by any entity named in this article.