Here's Your Associated Bank Routing Number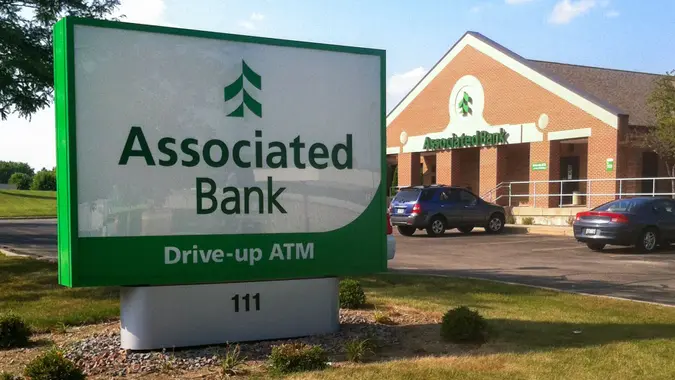 JD Milburn / Wikimedia Commons
Associated Bank was founded in 1970 after three banks in Wisconsin merged with each other. Associated Bank customers who have to send or receive money with another bank might be asking themselves; "What's Associated Bank's routing number?" Keep reading to find out.
Associated Bank Routing Number
When executing a wire transfer with your Associated Bank account, the routing number you'll need to provide is:
Associated Bank Routing Number
075900575
How to Find Your Associated Bank Routing Number
If you have an Associated Bank checking account, you can also find your routing number on a check — the check routing number is the first nine numbers in the lower left corner. You might not have a check handy, however, so you can also call Associated Bank any time at 800-236-8866 to find the routing number for your account. If you are at all confused about which number to use, you should consider calling Associated Bank because using the right number could mean the difference between your money going into the right or wrong account.
What Is a Routing Number?
A routing number is a nine-digit security code that identifies a financial institution. Routing numbers, also known as ABA numbers, were developed back in 1910, to identify check processing endpoints. Since then, routing numbers have "evolved to designate participants in automated clearinghouses, electronic funds transfers and online banking," according to the American Bankers Association.
Can Banks Have Multiple Routing Numbers?
Yes, banks can have multiple routing numbers. Although Associated Bank only uses one, larger banks, such as Wells Fargo and Citibank, use different routing numbers for different states. One of the reasons banks use multiple routing numbers stems from past mergers with other banks. However Associated Bank, despite having been through mergers and serving multiple states, only lists one routing number on its website.
How Do You Find a Routing Number on a Check?
The routing number on a check is located in the bottom-left corner, along with your account number. The unusual font that the routing number is written with is a form of what's known as a magnetic ink character recognition code, which allows machines to read the check.
What Is the Routing Number for International Transfers?
SWIFT codes, also known as bank identifier codes, or BIC codes, function as routing numbers for international wire transfers. In the event you want to receive or send funds outside of the U.S., you'll be required to provide your bank's SWIFT code. Associated Bank's SWIFT code is:
Associated Bank SWIFT Code
ABGBUS44
Like with routing numbers, it's important to provide the correct SWIFT code so the funds go to the right account.
This content is not provided by Associated Bank. Any opinions, analyses, reviews or recommendations expressed in this article are those of the author alone and have not been reviewed, approved or otherwise endorsed by Associated Bank.