Newest Santander Promotions: Best Offers, Coupons and Bonuses August 2020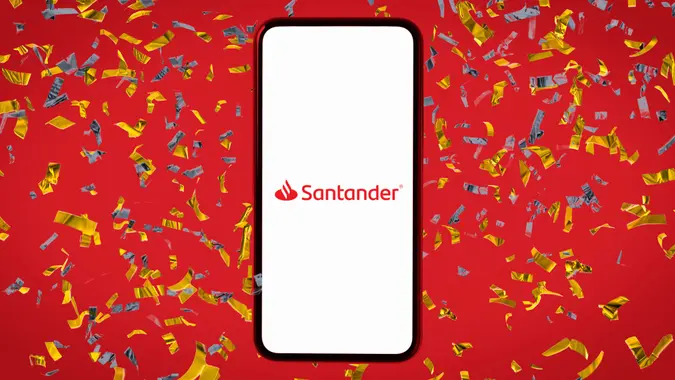 Santander is one of Spain's largest financial companies, but it also provides banking services for U.S. customers along the East Coast. The bank has branches in Connecticut, Delaware, Florida, Massachusetts, New Hampshire, New Jersey, New York, Pennsylvania and Rhode Island.
A recent GOBankingRates survey found that many Americans are missing out on free money because they don't take advantage of these promotions. Some of the bank specials are hard to find — which is one reason GOBankingRates updates you with new bank promotions each month.
Santander Promotions at a Glance
You can earn up to $500 by taking advantage of the latest Santander promotions. Here's a quick rundown:
Best Santander Promotions: August 2020
Account
Cash Value
Expiration Date
Santander Bank Referral Program
Up to $500
None
Current Santander Promotions
There's still time to take advantage of the Santander checking account bonus available last month. The bank is also continuing to offer its referral program and incentives for business customers.
Santander Bank Referral Program: Up To $500 Bonus
For every friend and family member you refer who also opens a select Santander account, you'll get free cash in the form of a $50 Visa Prepaid Card. You can earn this reward by referring up to 10 people, maxing out at $500 per year.
Here's how:
Cash value: Up to $500
Minimum deposit to qualify: $10-$50 for those being referred, depending on the account
Expiration date: None
How to get it: Sign up for the referral program on Santander's website and then refer friends or family using their email addresses or by receiving a link you can post to Twitter, Facebook or Messenger. The person you referred must open a qualifying checking account within 90 days of receiving the Santander referral invitation and then make the initial deposit and receive at least $250 in direct deposits in the first 60 days.
When you'll get it: You'll receive the Visa gift card within 14 business days after the referred person completes their requirements.
Terms and conditions: Each person referred to the bank qualifies one time for the referral bonus. This offer is not available for employees of the bank.
Monthly fee: N/A
Promotion page: Friends and Family Referral bonus offer
Past Santander Bank Promotions, Coupons and Offers
If you heard about a Santander promotion not listed here, it might have expired. Knowing which promotions Santander offered in the past might provide a glimpse into future bonuses.
Santander Investment Services IRA Promotion: Up To $1,000 Bonus
Cash value: Up to $1,000
Expiration date: Expired
How to get it: With this promotion, customers were instructed to open a new Santander Investment Services IRA. After that, they could roll existing IRA funds from another bank into Santander's IRA or fund their existing Santander IRA with a minimum of $25,000 before the expiration date.
Simply Right Checking: $225 Bonus
The Simply Right Checking account is a no-frills account with a nominal monthly maintenance fee. New account holders are eligible for a $225 bonus when they deposit at least $1,000 and keep the account open for at least 90 days.
Here are the details:
Cash value: $225
Expiration date: Expired
How to get it: Open a Simply Right Checking account before June 30 using the promotion code sent to your email account. Next, schedule and receive $1,000 or more in direct deposits and keep the account open for at least 90 days
Santander Merchant Services Account: $200 Bonus
A Santander Merchant Services account provides businesses with payment processing and management tools. New and existing Santander business customers can earn a $200 bonus when they open a new Santander Merchant Services account and link it to a business checking account.
Here's more:
Cash value: $200
Expiration date: Expired
How to get it: Open a Santander Merchant Services account before the promotion's expiration date and link it to a Santander Business Checking account, then receive at least two payments through Santander Merchant Services within 90 days of opening the account.
RUN Powered by ADP: Up To $400 Credit
In addition to merchant account services, Santander offers business customers tools like RUN, a payroll processing program powered by ADP.
New customers can receive a credit worth up to $400 when they sign up for a new account and use it to process payroll. The actual amount of the credit depends on the type of account you choose and ranges from $200 to $400.
Here are the bonus details:
Cash value: Up to $400
Expiration date: Expired
How to get it: Complete an ADP service sales order before June 30 and start processing payroll through the service by July 31. Continue processing payroll through the service for six consecutive months.
How To Open a Santander Account
You can open a Santander account online or in person, but you'll have to visit a local branch to open a joint account. To open a bank account online and take advantage of these Santander offers, you'll need to provide your Social Security number, email address and debit or credit card to fund your account.
If you're planning to visit a bank branch to open an account, make sure you bring the following:
Two forms of identification, including one government-issued photo ID and an additional form of ID to confirm your identity, such as an ATM or debit card, credit card, utility bill or birth certificate
Social Security Number or Individual Tax Reporting Number if you have one
Valid address and phone number
Method to fund the account, such as debit card, credit card or bank account and routing number
Is It Time To Switch to Santander?
Promotional offers and bonuses are a great incentive, but they shouldn't be the only factor to consider when choosing a bank. Make sure it offers the products and services you need to meet your financial goals.
If Santander passes that test, it might be worth the switch. Compared with similar offers from other banks, Santander Bank's promotions don't require large deposits or balance minimums to qualify, and you stand to earn big cash bonuses.
This content is not provided by Santander Bank. Any opinions, analyses, reviews or recommendations expressed in this article are those of the author alone and have not been reviewed, approved or otherwise endorsed by Santander Bank.
This article has been updated with additional reporting since its original publication.