Discover Early Pay: What It Is And How To Enroll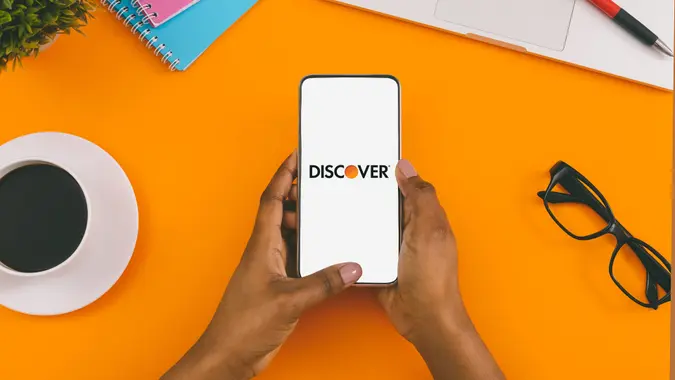 Discover Bank/Prostock-Studio / Getty Images/iStockphoto
The problem with a regular salary is that it's sometimes a little too regular. When bills fall due, or unexpected expenses come up, a salaried worker may not be able to wait until their next paycheck arrives to pay them. 
In some cases, paychecks deposited into accounts aren't immediately available, or only a portion of the deposit is available. When a check has to be physically deposited, the bank may not fully credit the account until the second business day.
This can be an issue for those who are living paycheck to paycheck and struggling to keep up with monthly bill payments. Even with a savings account set up, it can be difficult to keep track of balances from one day to the next. Late payments or overdrafts can incur fees, with some banks charging these fees on a continuous and daily basis.
One way to head off the problem of insufficient funds is to make a regularly occurring direct deposit available a day or two ahead of time. Discover is offering a way to make this happen in the form of Discover Early Pay. 
What Is Early Pay?
Early Pay is a service offered by Discover that gives account holders access to automated clearing house deposits up to two days before the funds arrive.
How Early Pay Works
Early Pay gives access to direct deposit funds as soon as Discover is notified of the pending transfer. 
How does it work? The payer, in most cases an employer, sends notice to Discover that the money is on the way. The account holder must have direct deposit set up with the payer, directing funds to be deposited in a Discover checking, savings or money market account. 
Certain accounts are not eligible for Early Pay. These include certificate of deposit accounts as well as savings and CD accounts opened as IRAs. Ordinary checking, savings and money market accounts are eligible.
Conditions and Limits
To set up Early Pay, the payer on an ACH deposit must be a business, a government entity or another organization. Social Security retirement or disability payments, for example, would qualify for Early Pay, as would a regular pension from a former employer.
Many employers now offer direct deposit of paychecks, which saves the expense and labor of creating printed checks that have to be distributed to employees. From an employee's side, direct deposit offers a more secure and accurate method of getting paid, which also spares the inconvenience of making trips to a bank or ATM to get the funds into an account.
Early Pay also depends on prompt notification of the pending transaction from the party that is issuing the payment. This could be as much as two days in advance, or it could be the day before or the same day. Since Discover has no control over the timing of this notification, it can't guarantee that the two-day advance will be available.
Discover does set a limit of $10,000 on Early Pay advances, per transaction. Regular payments that exceed that amount would have to be broken up into smaller deposits to qualify for Early Pay.
Setting Up Early Pay
The payee sets up Early Pay by arranging a direct deposit to a qualifying Discover account. Using a simple one-page form, the payee provides the Discover routing number and checks the box for savings, checking or money market account.
Once the regular ACH payments are authorized, there's nothing more to do. Discover sets up the necessary handling and notifications. Once in place, Early Pay makes the funds available to cover a written check or for the payee to make a cash withdrawal using a debit card linked to the account. Discover waits to make the debit from the account until the funds arrive as scheduled by the payer.   
Learning More About Early Pay
It might be surprising that Discover offers checking and savings accounts. For many consumers, Discover is still thought to be exclusively a brand of credit card.
In fact, Discover began offering "cashback checking" in 2013. The account paid 10 cents for every debit card purchase, online bill payment or check written on the account. Although these transaction rewards are no longer offered, the debit card does return 1% cash back on all purchases.
As offered in mid-2022, the account charges no monthly fees and requires no minimum balances. In addition, Discover offers no-fee ATM services throughout the U.S. as well as a mobile app linked to the account that allows mobile check deposit and bill pay.
Accounts are FDIC-insured up to the maximum amount allowed by law, which by 2022 has reached $250,000 per account owner and ownership category, per insured bank.
Early Pay adds another level of convenience for those with Cashback Checking as well as savings account holders.
For more information on account features and enrollment, contact Discover at 800-347-2683 or visit the company's website. 
Final Take
Setting up Early Pay will add convenient fast access to any regular ACH deposits into your account. There's no charge for the service, and no registration or approval process — the Early Pay feature kicks in whenever direct deposits are set up.
It's a smart way to avoid aggravating overdraft charges, and one of several consumer-friendly features that make Discover checking and savings accounts competitive with those offered by regular banks.
FAQ
Here are some common questions about Early Pay.
What's the fee for Early Pay?

There is none, as Early Pay is a regular feature of Discover checking and savings accounts. There's no fee charged for Early Pay availability and nothing deducted from the payment when it hits the account.

What if I accidentally overdraft the account anyway?

Discover offers no-fee overdraft protection for its checking accounts. Money to cover payments that exceed available funds can be set up for automatic transfer from another account. It's normal for most banks to offer this, but many will levy a fee or a series of fees when the overdrafts cascade over several payments.

Will Discover notify me of funds available through Early Pay?

Yes; there's no guessing involved. Account holders are automatically set up for email alerts and notifications. They can also unsubscribe, if desired. On the Discover mobile app, text or push notifications are also available. This makes it easy to verify that funds are available if an account holder is arranging a money transfer or bill payment out of the account.
Information is accurate as of July 19, 2022.
Editorial Note: This content is not provided by Discover. Any opinions, analyses, reviews, ratings or recommendations expressed in this article are those of the author alone and have not been reviewed, approved or otherwise endorsed by Discover.
Our in-house research team and on-site financial experts work together to create content that's accurate, impartial, and up to date. We fact-check every single statistic, quote and fact using trusted primary resources to make sure the information we provide is correct. You can learn more about GOBankingRates' processes and standards in our editorial policy.